Gearing Up for Hotel Ballina – Kennedy Motors Mayo Stages Rally 2015

Mayo & District Motorsport Club are delighted, under the guidance of clerk of the course Padraic Roche, to announce plans for the 2015 Mayo Stages Rally which takes place on Sunday March 8th.
It's a mixture of old and new for 2015 as, for the third year in succession, the Mayo Stages Rally will be based in the North Mayo town of Ballina. However competitors will face the challenge of three entirely new stages, each to run three times. Offering a total distance of approximately 116 stage kilometres and 127 road kilometres, they look set to provide a challenging test for competitors.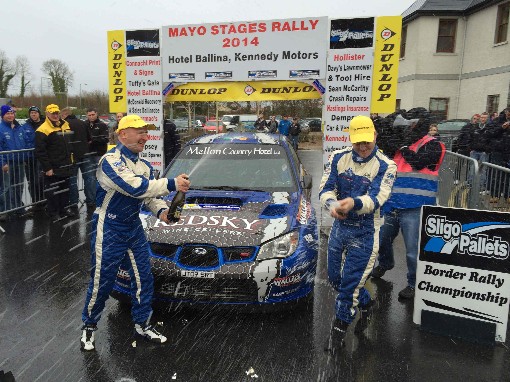 The Club is delighted to welcome on board again Hotel Ballina and Kennedy Motors as joint main sponsors of the 2015 Mayo Stages Rally and thank them for their support.
Hotel Ballina is once again Rally headquarters for the weekend. Just off the N26, but close to the town centre and with scrutiny, trailer park and Parc ferme adjacent to the hotel, this modern four star facility is ideally situated for easy access from all locations, and has proved to be a popular location with competitors and visitors to the rally in the past two years.
Exceptional accommodation deals are available at Rally HQ, Hotel Ballina, for crews and followers alike. Bookings and information at 096-23600
After a Rally Show in Ballina town centre on Saturday, March 7th, the event proper begins on Sunday morning when the cars leave parc-ferme.
The event is round one of the 2015 Sligo Pallets Border Rally Championship.
December Motorsport News

Finishing off their 2014 season, Abdulaziz AlKuwari and Killian Duffy took part in the Dubai International Rally which was the final round of the Middle East Rally Championships, the pair finished third on the event and third in the championships, also competing was John Higgins who was navigating for Khalid Al Suwaidi. On their first event together, they capped off a great weekend with a fourth place finish.

Three members brought their cars along to the recent MEC Rally sprint in Mondello Park, best of the pack was Michael Loughney who won his class in his recently built MK2 Escort, Sean McHugh in his Subaru Impreza and Tony Langdon in his Honda Civic also put in good times during the day.


Photo credit Ray Corkery – Rnc Rally Pics

At the Dunlop Motorsport Ireland Awards Ceremony held in Dublin on Wednesday, Derek Deane from Williamstown picked up his 2013 National Loose Surface Autocross Award, a series which he dominated in his Buggy, with a run of five overall wins from the opening five rounds.

Also at the Dunlop Motorsport Ireland Awards, neighboring Galway Motorclub member Dean Raftery was named the Young Rally Driver of the Year. He was presented with the prestigious Billy Coleman Award and will receive €50,000 worth of support for the 2015 season where he intends to compete in the Fiesta Trophy in the World Rally Championship. Mayo & District Motorsport Club would like to offer him our congratulations and wish him all the best in the coming season.

Duffy and Egan take home the Crystal
John Duffy and his navigator John Egan were presented with the overall Class 7 award at the Dunlop National Rally Championship Awards evening in the Sheraton Hotel Athlone on Saturday last. The Crossmolina driver took the title in his Honda Integra following a string of consistent results during the 2014 eight round championship, which kicked off at Mayo Stages Rally back in March. A large contingent from Mayo & District Motorsport Club made the trip to celebrate with the pair.

In other motorsport news from the weekend it was heart break for Kiltimagh's John Higgins who was taking part in the three-day Wales Rally GB. The event which came to a gripping end on Sunday, seen John, who was navigating for former British Junior Champion Marty McCormack retired with mechanical trouble in their Fiesta on the very last stage of the event. Photos by P Collier
Frenchman Sébastien Ogier won the event finishing 37.6 seconds ahead of Finn Mikko Hirvonen.The curtains may now be drawn on the 2014 World Rally Championship but the contenders will be back in action all too quickly, with the famous Rallye Monte-Carlo kicking off the 2015 season on 22 January.

Closer to home five Mayo members made the trip to Ballycumber in Offaly for the final round of the National Loose Surface Autocross Championships on Sunday. Best of the locals was Derek Deane who brought his Buggy home in fifth place overall, one place ahead of his brother Mervyn., who was followed by the third Deane brother Adrian. Next best was Foxford's James McGreal in his Subaru Impreza closely followed by fellow Foxford man Stephen Doherty, who was having his first outing in a four wheel drive car, double driving McGreals Subaru, the pair finished the day in nineteenth and twenty-seventh respectively. Photos by John Delaney

Motorsport Club End of Year Awards


With the motorsport year drawing to a close, members of Mayo & District Motorsport Club decided to enjoy a different kind of racing. Swapping horsepower for 'paw-power', members and friends gathered at the Galway Greyhound Stadium on Saturday last to celebrate another successful year, and to present club members with awards for their achievements throughout the season.
Among those to be honoured was Noel Murphy from Shrule who retained the Mayo Autocross Young Driver Champion Crown for the second successive year admit stiff opposition from Foxford's Alan Moran who pushed him all the way to the finishing flag. Designed to encourage young drivers looking to get started in motorsport, the Young Driver Championship has been a huge success, attracting large numbers of local competitors each year from all over the area. Noel also retained the Colin Grewer Memorial Cup as the Young Driver Champion.
A busy 2014 saw the club run the highly successful Mayo Stages Rally in March, as well as four Autocross events between May and August. Held at Harrington's Quarry near Swinford, Mayo & District Motorsport Club's Autocross venue is widely regarded as one of the best loose surface circuits in the country, and club Chairperson Matthew Murphy thanked Frank and Brian Harrington and their staff for their ongoing support and use of the facility, also thanked on the night were Hotel Ballina and Kennedy Motors who were the main sponsors of the Stages Rally. Without the help of our co-sponsors and associate sponsors it would not be possible to run an event of its size Murphy added, while also acknowledging that there would be no motorsport event of any kind in the county without the support and goodwill of residents and businesses along the chosen routes and surrounding areas.
Of course it takes a huge amount of work to organise and run these motorsport events, and in recognition of their work behind the scenes two special presentations were made to individuals who had worked tirelessly on behalf of the club all year. Marshal of the Year was awarded to Alan Mcguire from Westport, while the Mayo & District Motorsport Club Person of the Year Award was bestowed to Liam Healy from Achill.
Other awards presented on the night included the Overall Club Frank Harrington Autocross Awards with was won by Foxford's James McGreal who had a clear winning margin over second place Padraic Mullen from Ballymote, both competing in the championships in similar spec Subaru Imprezas. Mervyn Deane from Williamstown claimed third in his JB Buggy.
The club is already looking forward to 2015 with planning for the Mayo Stages Rally on Sunday March 8th in full progress, while a full Autocross season is also scheduled to be held, commencing in May. Also in the pipeline for 2015 is a return, after a 15 year absence, to forest rallying, with the Club planning to run a counting round of the Valvoline National Forest Championship in October. With so much young talent in the club presently, it was felt there should be a natural progression from loose surface autocross into forest rallying and it was time to encourage members to progress to the next stage of their chosen discipline.
Next date in the motorsport diary is the Clubs AGM which takes place on Sunday December 14th at 3pm in Hotel Ballina. All members are asked to please attend.
November Motorsport News
Duffy Number One in Oman


Killian Duffy secured a memorable win in his career when he navigated Abdulaziz Al Kuwari to first place at the Oman International Rally on Saturday last.
Everything went according to the plan for the Qatari Irish partnership, having finished the penultimate day with a comfortable lead of two minutes and twenty two seconds, they kept their cool and drove patiently on the final day to maintain the advantage and take home the title.
Duffy admitted that they didn't take any risks during the final day of the three day event. "We didn't want to risk our chances by putting pressure on the car. So we drove without losing our composure, the strategy worked well for us."
Their plan paid dividends and they kept their nearest competitor, Sheikh Khalid Al Qassimi of Abu Dhabi Racing who emerged fastest in all the five stages of the final day, at bay.
"It is a fantastic feeling to win the Oman International Rally, and the win will boost the team's morale as we prepare for the next round of the Middle East Rally Championship, the Dubai International Rally, which will be held from November 27-29 later this month." said the south Mayo man.
Also competing at the Middle East event was Kiltimagh man John Higgins, the former Irish National Champion was navigating Emirate driver Juma Al Falasi. The pair improved with every stage competed and finished the event in a fantastic eight place overall. Speaking afterwards Higgins said "The stages were very rocky, so we drove very carefully. It's a very challenging rally, we really learned a lot here in Oman and overall we were very satisfied with our performance."

In other motorsport news form the weekend a large crowd from Mayo & District Motorsport Club turned out at the Sligo Park Hotel to support Derek Bolton and Trevor O'Connell on receiving their class award at the Sligo Pallets Border Rally Championships Awards night.

Their first year taking part in the championships, the Ballaghaderreen/Ballina pairing were unlucky not to claim the top spot in Class 15 but after mechanical woes on the two final rounds of the championships curtailed their points scoring opportunities, they had to settle for the runner up spot in the class.
October Motorsport News
Donegal Harvest Stages


Photos courtesy of Declan Boyle( www.dbpics.net) and Brendan Flynn


In the Donegal Harvest on Saturday last, Declan and Brian Boyle in their Subaru WRC emerged victorious on the rally and also victorious in the Dunlop National Rally championship which has left them double champions having just secured the tarmac championship a number of weeks ago.
The last time both Championships were won in the same season, Meath's Tim McNulty was the man atop the podium – in the same S12 B Subaru now driven by Boyle. McNulty won both at the wheel of 'JT07 SRT' in 2011.
Winners of the Mayo Stages Rally back in March; the Donegal cousins have enjoyed a tremendous year to date.
They led from start to finish of the nine Donegal stages and held off the advancing Roy White/James O'Brien (MG ZR ) who were also fighting for the championship title. Donagh Kelly/Kevin Flanagan secured second on the rally in their Ford Focus WRC from former National Champion, Claremorris man, Paul McLaughlin who navigated Seamus Leonard to a well-deserved third place overall in their Subaru Impreza.

Speaking afterwards Paul said "You have to take your hat off to Seamus – his run in the S14 Subaru was his first time at the controls of a left-hand drive car. The stages were great," he said. "Plenty of narrow steering – that's what rallying is all about. We're happy where we finished and we enjoyed the day."

Unfortunate not to make the finish where South Mayo's John Warren and Ruthann O'Connor, who had been progressing well until an off road excursion forced their McHale's Engineering backed Toyota Corolla into retirement. Ballaghaderreen's Derek Bolton who had Ballina's Trevor O'Connell on the notes, needed to finish top class fifteen crew to capture the Border Championships class honours but they also retired with mechanical difficulties whilst going well.

Border Championship 2014: Moffett/Sherry grab 2014 Border Glory


by Brendan Flynn


The Monaghan pairing of David Moffett and Fintan Sherry have won the 2014 Sligo Pallets Border Rally Championship after taking a 4 class win in a row on the Donegal Harvest Rally. Due to the championship's class based structure, a number of crews were still in with a chance of taking the title going into the final round. Moffett/Sherry knew that a class win on the day would be enough to claim the title regardless of the opposition's results. After a titanic battle all day, the pair came through on the final stage to secure the class win and the overall Border championship. Former Border Champions, Brian Armstrong/Mark Tierney secured 2 overall in the championship with a class 12 win with Gene McDonald/Kevin Reilly finishing 3 overall in the series.

The Donegal Harvest Rally was based in Downings this year and included the classic Atlantic Drive stage as the 3 test of 3 with each test done three times. Slippy conditions were the order of the day making tyre choice critical. In class 11R, Moffett & Sherry were involved in a big battle with local crews Paul Carron/Andrew Browne and Paul Gallagher/Patrick Gallagher. Needing victory to secure the championship the pair traded the lead with their rivals throughout the day. Going into the final stage, Gallagher held an 11 second advantage, but the Monaghan crew would be 13 seconds quicker through the final stage to claim the class by a mere 1.2 seconds! Paul Carron/Andrew Browne finished 3 in class ahead of Kevin Bradley & Graham Henderson in 4. Brian Armstrong/Mark Tierney did all they could by taking victory in class 12 but it wasn't enough for them to take the class in the championship. Martin Toner/Sharon Clarke kept the pressure on them all day to finish 2 in class just 8 seconds behind. The pair also secured 1 in class 12 in the championship. Gene McDonald/Kevin Reilly claimed 3 place in class 9 to secure 3 place overall in the championship.


Class 1-8:
Johnny Wilhare/Darren Shields took the win in class 2 but it was Brian Quigley/Seamus McTigue who took the class in the championship despite retiring on this event. Eamonn Russell/Gavin O'Donnell finished 2 in class in the championship with Mark Boyle/Charles Gallagher in 3. Joe McCarthy/Jason O'Brien won class 3 on the event, but Mark Ewing had already wrapped up class 3 before Round 5. Trevor Bustard/John McCafferty secured class 4 in the championship after the retirement of Pat Kirk/John McElhinney left them in the clear. Eamon McCafferty secured another class 5 success in his Ford Puma. Paddy McDaid/Darragh Kelly won class 6 on the day but Liam Branley/Nathan Burrows claimed the class in the championship despite retiring. Roger Kennedy/Wendy Blackledge continued their remarkable run of success in class 7 with another win to secure the class once again in the championship. 2010 Border Champions, Declan & Brian Boyle stormed to another overall win, which was enough to add the National Championship to the Tarmac Championship they had already won.

Class 9-11R:
Michael & Ryan Brennan claimed class 9 in their Vauxhall Nova on the day but Laurence Sherry/Mark Sheridan secured class 9 in the championship as Gene McDonald/Kevin Reilly who topped the points in class 9 were promoted to 3 overall. Aaron Duffy/Thomas Wedlock finished 2 in class in the championship. John & Niall Kelly won class 10 on the day but Cathal Sheridan took class 10 in the driver's section after taking 3 in class on the day. Donegal brothers James & JP Logue won class 11F but 3 place secured the class in the championship for Sligo's Alan Lawson/Sean Harte. Kevin Bradley/Graham Henderson were crowned class 11R champions ahead of Declan Hall/Chris Corr and Barry Treanor/Colm Connolly. They inherited the class due to David Moffett/Fintan Sherry winning the championship outright.

Class 12-20:
Martin Toner/Sharon Clarke wrapped up class 12 honors after Brian Armstrong/Mark Tierney were promoted out of the class positions by finished 2 overall. James Cassidy/Declan Smith were runners-up in the class after finishing 5 in Donegal with Justin Smyth taking 3 overall driver. Colin Flanagan/Patrick Brides secured class 15 in the championship ahead of Derek Bolton/Trevor O'Connell after the latter failed to finish. Michael Carbin/Emmet McCooey secured class 20 in the championship taking 2 in class in Donegal behind Roy White/James O'Brien. Stefan McCann/Stephen McElroy had already secured victory in the Junior section even before this event. A great achievement for this crew in their 1 year competing.

Another year for the Sligo Pallets Border Rally Championship comes to a close with David Moffett & Fintan Sherry becoming 1 time champions, adding their names to the long list of winners. The 2014 Prizegiving will take place on Saturday 1 November in the Sligo Park Hotel, Sligo. Once again the Border Championship has proven to be the one of the most well supported and competitive championships in Ireland.


Cork 20 Report: Duffy's guidance brings result

Australia based Irish men, Pauric Duffy and Kevin Glynn made the long trip home to compete at the Cork 20 International Rally over the weekend, in their recently acquired Ford Fiesta R5. The pair, who made their rallying debut on the Galway International Rally in February of this year, took on the challenge of the new car and the tough Cork Stages.
Speaking from his Silverstrand HQ in Brisbane Australia, before the event Pauric commented, "I'm really looking forward to driving the new car in Cork, I will be using the R5+ version which will be a huge step up from the Citroen c2r2 I used all year. The biggest challenge will be that the Fiesta is left hand drive, in Australia you cannot drive a LHD car by law, so I am just going to Cork to, enjoy it and get some more rally km's completed before the 2015 season kicks off in Galway in February".
The car was prepared by Philip Case Rallysport, with the team getting assistance and tuition from Killian Duffy. Indeed it's the


Mayo man's job between navigating on the World Rally Stage and running his successful pace notes business that all needs of the Australia based Irish Rally Team are meet using his vast experience in Motorsport and on-event support.
Conditions were far from perfect in Cork on Saturday and Sunday but Pauric and Kevin surpassed expectations as they navigated their way through the long stages that were quiet a test of man and machine. In what was a superb result they finished fourth overall in the national section of the rally, winning Class 20 in the process.
Looking forward to 2015, Killian Duffy Motorsport and Silverstrand Rally partnership will certainly be one to watch!

Autocross news


Photos by Maggie Bonner


Closer to home this weekend seven members of Mayo and District Motorsport Club made the short trip to Saehan in Sligo for the Connacht Motorclub's Autocross event. Best to finish was Padraig Mullen who won Class 9 and finished eighth overall in his Subaru Impreza, next up was Foxford's Alan Moran who was double driving James McGreal's Subaru. Alan unfortunately broke the golden rule and went faster than the man who lend him the car, finishing runner up in Class 9 and fourteenth overall, it will remain to be seen if James, who could only manage twentieth overall but third in Class will hand over the keys in the future!
Kililla's Padraic Roche was fourth in Class 4 and sixteenth overall in his Escort MK2, Michael Loughney who gave his immaculate Escort its tarmac debut was delighted with second in Class 1 and twenty-sixth overall. Martin Burke was another to enjoy the day in his Mk2 sliding it to thirty-eight place. Raymond Carroll in his Nova was forty-sixth.
Competing at the Galway Motorclub Loose Surface Autocross held Ballycumber, Co. Offaly on Sunday, Westport's Alan McGuire, despite rolling his Peugeot 205 on his last run claimed third in Class 2, but faces a busy winter addressing his car for the 2015 season.

Other Recent Events:
Club members competing at GSMC Mini-Stages Rally on Sunday last, Aaron MacHale with Paul McGee on the notes finished 5th overall and won Class 4 while Darragh Mullen, navigating for David Leonard finished 10th and first in Class 20


Photos courtesy of Rally Through a lens

Alan McGuire who competed at a recent Galway Autocross
September Motorsport News
Clare Stages Rally


Photos by John Delaney


Donegal's Declan and Brian Boyle are celebrating again after a start-to-finish victory at the Clare Stages Rally. Winners of the Mayo Stages Rally back in March, they have enjoyed a tremendous year to date.
They had one minute fourteen seconds to spare in their Subaru WRC S12B over second placed Hugh Hunter and Andy Marchbank in their Subaru WRC S11. Roy White and James O'Brien in a MC ZR were third.
It was a mixed weekend for Mayo crews as the event proved very challenging, the nine stages pushed drivers and navigators to their limits.
Top of the list was the South Mayo; McHale Engineering backed pairing of John Warren and Ruthann O Connor.

Returning to tarmac rallying following engine failure suffered at Midlands Rally last March, the pair showed no signs of cobwebs and after what was intended to be an easy run to bed in the new engine, they climbed the leader board all day finishing fourth in the very competitive Class 13 and 19th overall.
Ballyhaunis man Shane Buckley had John Lynch from Cork on the notes and after mechanical trouble sidelined their Honda Civic on the first loop, they returned to the rally under Rally2 rules and finished 11th in Class 13 and 64th overall.
Not so lucky was John Duffy who had John Egan alongside, their Honda Integra succumbed to an electrical problem, which seen them only compete six stages.
In the Junior section of the rally, the top Mayo finisher was Jared Gill, navigating for Clare's Martin Casey and guiding him to seventh place overall. Next best was Shrule's Noel Murphy who had Headford's Stephen Monaghan alongside, finishing in tenth place. Ballina's Trisha Greavy who had Cork man Derek Butler on the notes did well to recover from high speed excursion to bring her slightly battered and bent Honda Civic home in twelfth place.

Podium for Duffy in Cyprus

A majestic weekend of rallying came to an end on Sunday as Abdulaziz Al Kuwari and Killian Duffy claimed a very impressive third place finish on the 2014 Cyprus Rally. In what was a one-of-a-kind event, two sanctioned FIA rounds ran side by side with the 9th round of the ERC and the 5th round of the MERC both taking place on the same weekend.
Al Kuwari, whose plan from the onset was to collect points for the MERC (Middle East Rally Championships) began his run to the podium early on Friday with the opening Super Special Stage in the streets of Nicosia. The Qatari with Duffy by his side battled the tough route conditions and scorching temperatures on the island over the next three days to arrive back at rally headquarters in Aglantzia, third in the overall standings and top registered MERC crew.

The result means that they close the gap to the championship leader, Nasser Al Attiyah to 6 points and set up what is bound to be a great fight at the final round in Dubai at the end of November.
Speaking afterwards Duffy said "We came here and took 25 points for the MERC, which was the most important thing. The championship is wide open now and we have a chance. If we win in Dubai and Nasser comes third, we win the championship, but also if Khalid Al-Qassimi were to win, he will take the overall. It's really good considering after the second round in Kuwait, we didn't have a sponsor to be able continue in the championships, but after backing from the ministry of youth and sport in Qatar, Abdulaziz and I are in contention with one round remaining."

Podium for Duffy in the Lebanon
Abdulaziz Al Kuwari & Killian Duffy finished third at the Middle East Rally Championship's (MERC) Lebanon leg, which was won by local driver Nicholas Ameona. Roderick Shepherd, also of Lebanon, finished second, as Abdulaziz prevented a Lebanon 1-2-3 with a gritty finish.
In an event which saw many crashes, including that of local favourite Roger Feghali and his brother Abdo, Abdulaziz & Duffy held their nerve for their second podium of the 2014 MERC season as the rally lived up to its reputation of proving tough for foreign drivers.
It was a bumpy ride for the Qatari & Irish pairing from the start as a puncture on the opening day cost them three minutes. They stormed back to second at one stage, but another puncture on the final day put paid to plans of stealing a win.
It was also an event that showcased an unknown talent of Killian; due to a fault with the lock of the Fiesta's passenger door that resulted in it refusing to close, He was left holding it closed with one hand while still reading pace notes for the duration of two full stages on the last day!
Killian has since not confirmed or denied the renaming of his onthepacenote business to onthedoorhandlenotes.
The MERC caravan now moves to Cyprus, where the penultimate round will be held from September 19. The series winds up with the Dubai Rally on November 27.

Hynes rues spinning in the rain
Round 9 of the 2014 MicksGarage.com Formula Sheane Championship travelled back across the border last weekend to the fast Kirkistown Race Circuit for the final time this year. The drivers arrived to testing on Friday morning to a very windy track that led to exciting scenes and very changeable lap times. After a troubled qualifying for Foxford's Sean Hynes, he hoped for better come the main event.
As the cars and crews were waiting in the pits with no less than a minute to go before they took up their grid positions, the heavens opened, resulting in them taking to a very wet track on a dry set-up. As one onlooker remarked "The rooster tails coming off the back of the cars would put an F1 car to shame".
As expected there was mayhem at the first corner. Somehow Hynes managed to avoid it and slot into 3rd from the back of the grid by the end of the first lap. He then went on to take 2nd away from Paul McLoughlin only briefly before Enda O'Connor dispatched McLoughlin and Hynes suffered a clumsy spin, ultimately relegating him to 4th as Kevin Sheane took the win.
Rounds 10 & 11 of the Micksgarage.com Formula Sheane Championship take place on the 20th and 21st of September in Mondello Park.
Mayo Autocross: Report from August 24th
Deane Wins Mayo Autocross, Tynan Takes Championship Title
Adrian Deane from Williamstown in Co. Galway achieved a long-held ambition on Sunday by claiming his maiden victory on Mayo & District Motorsport Club's final Autocross of the year. In doing so he became the third different winner of the popular loose surface series in as many events, in what has been an enthralling season of motorsport at the challenging 2.7 km circuit at Harrington's Quarry near Swinford.
It was also a successful day for Monaghan man Martin Tynan, whose second place finish was enough to ensure he won the 2014 Frank Harrington Trophy for Overall Autocross Champion.
Driving his Mitsubishi Evo 8, Tynan faced last year's champion Derek Deane in a shoot-out for the title, the two drivers having fought it out tooth and nail over the previous three rounds. Deane struggled early on, stopping on the stage on his first run with mechanical problems, While Tynan made his intentions clear, with a first run time five seconds ahead of local Foxford man James McGreal who lied in second place.
His buggy seminally restored to health, Deane took to the track for his second run, but again problems forced him to stop. Tynan seized the opportunity and improved his time by ten seconds; this time his closest challenger was Adrian, Derek Deane's younger sibling, who stopped the clock four seconds behind Tynan.
On the last run Derek failed to sort out the gremlins in his JCR Rally Kart, more mechanical trouble brought his run to a premature halt, ending his hopes of adding to his two successive Frank Harrington Championship victories over the last two years. Tynan went faster still and as it looked like the event win was in the bag, Adrian in his JB Buggy managed to complete his lap one tenth of a second faster to steal the win and leave the Monaghan man in second place.
The result left Derek and Martin tied on equal championship points, Tynan claiming the title thanks to his higher place finish on the final round.
Behind the top two of Adrian Deane and Tynan on the day, Fermanagh's Paul McDaid stole third with a blistering final run in his Buggy. Down's Ronan Mackle also in a Buggy, secured fourth, less than one second ahead of James McGreal in his Subaru Impreza. Donegal's Seamus Donnelly was sixth, just ahead of three other buggy drivers, Padraig Egan from Clare, James Cassidy from Derry and Donegal's Danny O'Donnell. The top ten was rounded out by the class four Impreza of Ballymote's Padraig Mullen.
Category winners included Ruairi Maguire from Castlederg who claimed class one honours in his Vauxhall Corsa ahead of Simon Hemphill, also from Castlederg, in a Vauxhall Nova. Cathan McCourt from Trillick was third in another Nova. Shrule's Noel Murphy dominated class two, finishing more than six seconds ahead of second placed Michael Nevin in an Escort, while Achill's Liam Healy grabbed a spirited third place in his Honda Civic. Murphy's excellent performance in his Honda Civic, which seen him finish top front wheel drive, provisionally secures the Mayo Young Driver crown, retaining the title he won last year.
Class three was won by Declan Campbell from Trillick who topped a trio of Mk2 Escorts ahead of Killala's Padraic Roche and Hollymount's Colin Loughney.
Tynan was the class four winner, beating the Subaru's of James McGreal and Padraig Mullen respectively. Class six was topped by aforementioned Paul McDaid with Ronan Mackle and Seamus Donnelly taking second and third.
Seventeen year old Patrick McEveney from Castlebar retained his stronghold on class seven with Crossmolina's Lorcan Moore only setting one time before an off track excursion leaves him with some panel beating to be carried out on his Citroen Saxo before the 2015 season.
Other local competitors made up most of class two with Achill's Joe Healy claiming the Mayo club award and a sixth place finish in class. Pater McManamon also from Achill finished eighth, four seconds ahead of Westport's Alan McGuire, both in Peugeots 205's. David Healy was twelfth in his Nissan Primera with Westport's David Jordan a further nine seconds behind. Patrick McEveney (Snr) brought the triple family driven Toyota Corolla home in fourteenth, half a second ahead of Stephen McGreal in a 205. Shauna McEveney was sixteenth and won the ladies award.
Now that the 2014 Mayo Autocross has come to an end it leaves us all begging for more. It has been an incredible year in Harringtons Quarry Swinford. The Mayo and District Motorsport Club would like to sincerely thank the Harringtons for the use of their quarry, the marshals who turned out in all weathers for the four events and especially the team who ran the events during the year.
Until next year!

Watch footage from Mayo Autocross August 24th courtesy of MDsRally
Did you hear the one about the Kerry Navigator??… 

Well the story goes like this…
Paul Nagle is a top Irish rally co-driver. He is currently teamed with driver Kris Meeke. They currently lie in 6th place in the WRC (World Rally Championships) and are taking part in Rallye Deutschland this weekend. As Paul is a Kerry man and staunt GAA supporter, a few Mayo & District Motorsport Club members came up with a cunning idea ahead of this weekend's All Ireland Football Semi Final.
Paul & Kris are also team mates of top Norwegian Rally Driver Mads Østberg; they both compete for Citroen Total ABU DHABI World Rally Team.
Mads competed in Mayo Stages Rally in 2010, a move that many Mayo people still say was instrumental in helping him get to where he is today, ranked No 4 in the World Rally Championships. As Mayo Club Chairman Matthew Murphy said recently, "Once you've mastered the back roads around Claremorris in an Escort MK2, Monte Carlo or Buenos Aires in a Citroen DS3 World Rally Car is a doddle"
So anyway the cunning men from the west managed to get a sealed package, addressed to Mads Østberg, to Paul Nagle before he left Killarney during the week.

Attached were strict instructions to present to Mads at this weekend's German round of the rally championships, and get him to open it while he was present.
The results you see in the photo, the Mayo Jersey I mean, not the look of shame on Paul's face as he grits his teeth and forces a smile for the camera. Not captured was the note inside the jersey that got Mads to whisper to Paul, those three magic words… Mayo 4 Sam.

Mayo & District Motorsport Club would like to thank Tom Walsh and Seamus Coffey who without their help this jersey wouldn't have made it out of Fordes shop in Ballyhaunis!

Galway Summer Rally


Declan Boyle led the Carlton Shearwater Galway Summer Rally throughout to maintain his bid for back-to-back titles in the Dunlop National Rally Championship.
Second-placed Welsh drive Hugh Hunter experienced problems throughout the day in his Subaru but held on to second place, arriving back to Ballinasloe 57 seconds later than Boyle after the nine stages. Roy White took third in his MG to remain in the title chase along with Steve Wood who finished fourth in his Subaru.
Although he retired with transmission woes, Tyrone's Paddy McVeigh is still in contention for the Dunlop series.
Two Mayo entries took part in the main field, and after stage two Shane Buckley had climbed to 25th overall in his Honda Civic with Corkman John Lynch calling the notes.

Also making ground was the two John's, Duffy and Egan who had their Honda Integra 1st in Class seven and 61st overall after the second stage. But that's as good as it got for both teams as Buckley retired with mechanical trouble and the two John's despite their ESB backgrounds couldn't solve an electrical problem later on during the day, as the Integra came to a halt on a road section between stages.
Faring better and securing finishes were the two Mayo entries in the Junior section of the rally. Justin Ryan and Andy Walsh couldn't match the pace of the top, more powerful junior entrants and could only manage 8th overall at the end of the six stages in their Honda Civic, one place ahead of Trisha Greavy who had Cork man Derek Butler on the notes on her third outing in her Honda Civic.

Mayo Club members at Sligo Autocross

At the receent Sligo Autocross, five members made the trip. Best finisher was Padraic Roche 8th overall and 2nd in Class, Padraig Mullen was 11th and won Class 9, Pat McGuinness was 26th, Martin Burke was 32nd and Sean Mchugh finished 34th.
Martin Tynan
Winner of Mayo Autocross July 27th 2014
Autocross July 27th Report: Tynan flies 'Sky' high in Mayo
Results Here
Martin Tynan from Clones, Co. Monaghan beat all challengers to claim victory on Mayo & District Motorsport Club's Loose Surface Autocross on Sunday. Driving a Mitsubishi Evo 8, he had to do it the hard way, coming from behind on the final run to beat local favourite Derek Deane.
A capacity entry gathered at Harrington's Quarry near Swinford for the third of four autocross events to be held this year. Clerk of the Course Paul McLaughlin and his team had once again laid on a superb course, with each competitor getting three runs of two laps over the demanding route.
Derek Deane, in his JCR Rally Kart, outlined his intentions from the start, setting a time of 3:58.89 almost fourteen seconds faster than the Evo of Tynan on the opening run, with another Monaghan visitor, Mickey Conlon, a further one second back. On the second run however, Deane failed to set a time due to a coming together with the final chicane that ground him to a halt.
Tynan was next on track and while taking over twelve seconds off his first attempt, stopping the clock at exactly 4:00.00, Deane still held the lead by just over a second.
With hopes high for a home win, Deane pulled out all the stops on the final run, but only managed a 4:02.98, leaving his first run time still his best. Was it to be enough?
Tynan put in a dazzling final run in the Red Mitsubishi to take a further two and half seconds from his previous best, and record victory.
Watching the battling duo closely all day was Sligo man John McGettrick who on his first day competing in a buggy was double driving Deane's JCR Rally Kart. He astounded regulars as he reserved his best for last, not only taking second overall ahead of Deane, but also winning class six with a time of 3:58.11 on his final run. Deane and Conlon took second and third respectively in class six.
Away from the leading protagonists, competition was just as fierce in the various classes. Foxford's James McGreal won Class four in his Subaru Impreza, ahead of Sligo's Padraic Mullen and Monaghan's Cormac McElvaney. Bekan's Sean McHugh finished fourth in that class and in twenty first place overall.
Damien McGauran from Fermanagh claimed the honours in Class three with another impressive showing in his rear wheel drive Toyota Corolla. Walter Burke from Williamstown finished second in his Escort MK2 and Kilalla's Padraic Roche was third, also in an Escort MK2.
Nobody could match Eighteen year old Derek Mackarel from Monagahan in his 1.6 Vauxhall Nova, not only did he win Class Two but was also top two wheel drive finishing in tenth place overall. Glen Irwin from Castlederg claimed second despite not setting a time on his last run, due to losing a wheel.
Shrule's Noel Murphy was third and also picked up valuable Young Driver points as his main challenge, Foxford's Alan Moran, could only managed fifth in Class two. Club Chairman Matthew Murphy was seventh in his Toyota Corolla. Achill man Joe Healy brought his Honda Civic home in tenth place. Westport's Alan McGuire guided his Peugeot 205 to a notable eleventh in Class winning the local 205 battle by a clear margin. Achill's Peter McManamon had to settle for second in the aforementioned 205 battle and sixteenth in class, afterwards saying that he was taking it a bit easier trying not to scuff the new paint job on his 205!
Liam Healy, also from Achill was seventeenth in his Honda Civic. David Walsh, home on holiday from Australia steered the family Sunbeam to eighteenth place in Class two. Mervyn Fahy who was double driving the Walsh Sunbeam lost the bragging rights, finishing one place behind in nineteenth. Patrick McEveney Snr brought the family triple driven Toyota Corolla home in twentieth place. John Warren was next placed having succumb to gearbox trouble and only setting one time. Stephen McGreal from Achill enjoyed the day, double driving a Peugeot 205 finishing twenty-second in Class two.
Sligo's John Rooney finished first in Class one, beating Foxford's Stephen Doherty by less than a second. Stephen Reynolds from Manorhamilton was third.
Class seven, for 16-18 year olds was won once again by Patrick McEveney from Castlebar in his Toyota Corolla, Colm Ronan from Bekan was second in his Nissan Sunny and Crossmolina's Lorcan Moore on a day hampered with fuel pump problems in his Citroen Saxo, claimed third.
The Mayo & District Motorsport Club award for the leading club member went to Adrian Deane while Shauna McEveney from Castlebar picked up the Ladies Award.
The event was also the fourth counting round of the 2014 National Loose Surface Autocross Championships, a series that Derek Deane won in 2013.
This championship, which is being sponsored by Batt O'Donoghoes Five Star Catering from Co. Cork, brought some more new faces to the Mayo venue, all of whom were delighted with the facilities on offer and the fast challenging Mayo track.
The final round of the 2014 Mayo & District Autocross season takes place on Sunday 24th August.

For full online album of photos go to the Facebook Set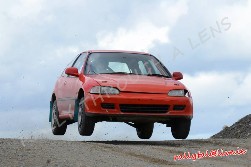 July Motorsport News:
Some Mayo members in Sligo Stages Rally 2014
Podium for Shrule teenager
Galway MotorClub held a two-day Grass Surface Autocross in Dartfield, Loughrea at the weekend. 14 year old Jason Murphy from Shrule was competing in the Junior class in his 1.4 Honda Civic. An excellent performance on day 1, saw him win the class and pick up valuable points for the championships. Heavy showers on day 2 made the surface very slippery and while finding it hard to get grip, Jason still managed another excellent result, this time claiming 3rd in Class.
A great set of results that during the summer holidays which has many of his school friends racing on Playstations and X-boxes, this young Mayo & District Motorsport member spends evenings in his garage fine tuning his own 'real' race car and on the track, learning car control in a controlled environment.


Photos courtesy of Jeremy Raftery

Midland Autocross
Foxford's Alan Moran recorded his best finish of the 2014 Autocross season to-date, with a class 2 victory at the recent Midland Motorclub's Loose Surface Event.
In total seven Mayo members made the trip with four picking up prizes.
With conditions ideal at the Ballyfeeney track for the 37 entrants, the day didn't disappoint, with one of the highlights being the battle between Alan Moran in his Peugeot 206 and Derek Mackarel from Clones in his Vauxhall Nova. When the final flag was waved the winning margin was point zero four (.04) of a second, or as one onlooker described it "The extra coat of paint on Moran's bumper made the difference".

The highest placed Mayo finisher was Adrian Deane, who after quite a number of events, and years, finally got the better of his brother Derek, as the siblings finished fourth and fifth respectively. Adrian wants the fact that Derek didn't compete a third run due to mechanical trouble in his buggy, not to take away from finally claiming the bragging rights at the kitchen table.
Foxford's James McGreal in his 4 wheel drive Subaru Impreza was first saloon car to finish in 9th place. After a day long battle with some younger machinery and drivers, James proved that he and his car still has what it takes to get the results.
Aforementioned Moran claimed 11th in the 2wd Peugeot 206. Bekan's Sean McHugh brought his Subaru Impreza home in 18th place overall and picked up 2nd in Class 4.
Westport's Alan McGuire showed speed and excellent commitment bringing his Peugeot 205 to an excellent 23rd in what is his first season of Autocross. Brian McDonnell who extended his holiday home from Australia to take part in the event wasn't disappointed, enjoying every second of the day and finishing in 31st place in his Toyota Corolla, his only gripe was the fact that he now has to leave his car behind as he heads back to Perth to continue work, promising to return as soon as he can for some more loose surface action.
The event, which was also Round 2 of the 5 Star Catering National Autocross Championship, leaves all classes wide open ahead of Round 3 in Clonakilty on July 13th and Round 4 in Mayo on July 27th.


Photos courtesy of James Foley
Mayo& District Motorsport Club Autocross Round 2: June 8th
There was thunder in the sky and lightening quick times on the track at Harrington's Quarry in Kilkelly on Sunday as Derek Deane once again dominated Mayo's Loose Surface Autocross event.
The Williamstown's man led from start to finish in his JCR Rally Kart. When the final flag was waved there was only half a second in it between first and second, Martin Tynan from Clones in his Mitsubishi Evo, having gotten closer and closer as the day went on, just failed to reel Deane's buggy and break his strong hold on the number one position. In third place was Ian Barrett from Maynooth, still getting familiar with his recently acquired buggy, and setting progressively times throughout the day.
Next best place local was another member of the Deane family, younger brother Adrian, who claimed the Mayo Club Award finishing in 7th place, in his JB Buggy.
Foxford's James McGreal finished in 15th and picked up 3rd in class four in his 4 wheel drive Subaru Impreza. Hollymount's Colin Loughney won Class three and finished 27th overall in his Ford Escort MK2. Castlebar's Patrick McEveny came out on top in the Junior class for 16-18 year olds just ahead of Lorcan Moore from Crossmolina. Patrick's sister Shauna picked up the Ladies award.
Shrule's Noel Murphy was highest placed in the hotly contested Mayo Young Driver's championships bringing his Honda Civic home in 28th. Bekan's Sean McHugh reported a good run in his Subaru Impreza finishing just inside the top 30.

Wesport native Ed Muldoon enjoyed a day's racing with the British RX Racing team who had their impressive British Rallycross machinery over for the day, Ed was very happy with the Mayo venue and also his result in the RX150 Buggy which he guided to 32nd overall.
Padraic Roche slid his Escort MK2 to 33rd place also picking up 2nd in class three along the way. Achill's Peter McManamon showed that recently becoming a dad again has put some extra pep in his step as he powered his Peugeot 205 to 34th place.
Alan Moran suffered mechanical problems in his Peugeot 206 only setting one run time and having to settle for 36th. Liam Healy from Achill never stopped smiling all day rounding off a great days driving with 38th place, one ahead of Club Chairman Matthew Murphy in his Corolla. Next up in 40th place was Alan McGuire from Wesport in his Peugeot 205.
Killalaa cousins Michael and Fergal Loughney were separated only by Stephen Doherty who finished between them in 46th place. David Healy from Skreen was another to succumb to mechanical woe, only setting a first run in his Nissan Primera but good enough for 49th place. Another Achill man Stephen McGreal enjoyed his first day in the Valley finishing in 50th place.
South Mayo's Brian McDonnell on a holiday home from Australia guided his Toyota Corolla to 53rd on his Autocross debut, one place ahead of another Autocross first timer Terry Greavy from Bonniconlon.
With local Mayo & District members making up 24 entries of the 56 that started the event, the forecast is bright with a good chance of more lightening times at Round 3 on July 27th. More details here on the club website.

Photos courtesy of Rally through a Lens