Murphy Claims Top Prize On Galway Grass Autocross

Sixteen year old Noel Murphy from Shrule put in a remarkable performance on last week-end's Galway Grass Autocross event held at Craughwell. Driving a one litre Nissan Micra with support from West Tyre Ballinrobe and Shrule, the young Mayoman recorded the fastest time of the day on Saturday for a saloon car. Putting the skills he developed last year when he won the National Junior Autocross Championship to good use, Noel made the most of the slippery conditions to defeat many far more experienced drivers in more powerful machinery.
With drier conditions on the second of the two day event, the advantage was back with the more powerful cars, but another strong performance saw Murphy almost claim another win, narrowly losing out to the Honda Civic of Cathal Leonard by a mere 0.24 seconds.
Mayo Competitors Win Drive of the Day on Cavan Rally
Ambrose Gaughan from Foxford and his Lahardane co-driver Derek Molloy put Mayo rallying firmly in the spotlight on Sunday by clinching the prestigious HASS Border Rally Championship Drive of the Day Award on the Cavan Stages Rally.
Competing in a Toyota Corolla, they won the award by being the fastest competitors in class 9 on special stage 4 of the rally, round five of the Dunlop National Rally Championship, and round 3 of the HASS Border Rally Championship.

Presented at each of the six rounds of the 2010 Border series, the HASS Drive of the Day Award is a very popular and highly competitive challenge within the overall rally.
A class and a special stage are selected at random before the start of the event, with the winners being the fastest competitors in the class on that stage to subsequently finish the rally.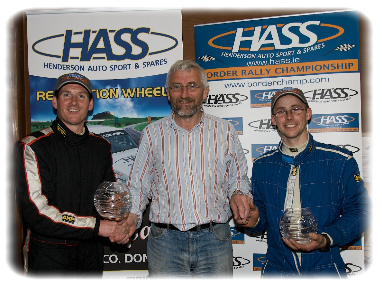 John Duffy, registrar of the Border Rally Championship congratulates Ambrose Gaughan and Derek Molloy on winning the HASS Border Rally Championship Drive of the Day Award.


Not that Ambrose and Derek had been too focused on winning the award as they tackled the stage. Moygownagh native Derek recounts "We were just concentrating on improving our times from the opening run. It was only when we realised that we had taken twenty seconds off our time from the first run over the stage that we remembered that it was counting towards the Drive of the Day."
Their time of ten minutes forty seconds proved to be second fastest in the class, the indecently rapid Mini of Lloyd Hutchinson and Kevin Flanagan setting the category benchmark. But to finish first, first you have to finish as the old adage goes, and as Ambrose and Derek arrived back at rally headquarters the Hotel Kilmore, it was to find that their rivals had fallen by the wayside. It meant the Mayo duo found themselves joining rally winners Tim McNulty and Paul Kiely on the finish ramp where they were interviewed by compére Doughie Hughes and presented with their Drive of the Day trophies. And to complete a successful day's rallying Ambrose and Derek also won class 9 on the rally by a comfortable margin of almost one minute.


…..for more news on Cavan Stages Rally 2010 go to Cavan Stages Rally 2010.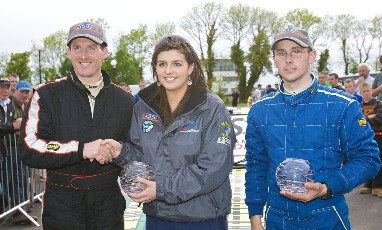 A delighted Ambrose Gaughan and Derek Molloy arrive back at rally finish to find they have won the HASS Border Rally Championship Drive of the Day Award.

Ambrose and Derek are presented with their trophies by Brenda Flynn representing the Border Rally Championship Committee.
Other Mayo & District Motorsport Club members had varying levels of success in Cavan. Williamstown's Mervyn Deane and Trevor Burke overcame brake and fan belt problems to bring their Escort home safely in 19th overall position and sixth in class 13. Killala's Fergal Loughney co-driving for Pauric McGee had been as high as first in class 2 but the pair lost over four minutes trying to get past another stricken car on stage 6 pushing them down to 72nd overall and 6th in class. Happier times though for Chrystal Culkeen from Castlebar who co-drove Donegal's Eamonn McCafferty to second in class 5 and 74th overall.
The hard luck story of the rally went to Bekan's Sean McHugh and John Rowland from Crossmolina. After suffering a series of retirements due to mechanical failures on recent events, the pair were desperate to record a finish in the fabulous sounding BMW M3. All was on course for a morale boosting result until, mid-way through the final stage, a rear driveshaft cried enough. Cue another retirement with the finishing line in sight. So near and yet so far.
Success For Mayo Competitors on Killarney International Rally
Cathal Doyle
Carrowmore-Lacken native Paul McGee is well on his way to clinching the prestigious 2010 Kick Energy Fiesta SportTrophy (FST) Ireland Championship. It follows another successful event for the Donegal based co-driver on this week-end's Killarney International Rally. Navigating for Monaghan's Stephen Wright, the duo took a dominant series victory in Kerry, their third successive win from the three rounds in the FST championship to date. With five rounds from six counting towards the title, Stephen and Paul are now in a very strong championship position ahead of June's Donegal International Rally. The winners of the FST Championship will get a Ford works supported drive in the 2010 Condroz Rally, the final round of the Belgian Rally Championship.

Another Mayo competitor putting in a strong performance in a one make series in Killarney this week-end was Shane Buckley. The Ballyhaunis man is competing in the Citroen Racing Trophy championship in his C2R2 Max. Despite some problems with power steering, Shane, who was co-driven by Meath's Thomas Maguire, was consistently on the pace throughout the event, and finished in a very creditable 3rd in the series and an impressive 13th overall. Another Mayo man, David Carney is also taking part in the championship, and the young Aughagower man brought his Citroen home safely in 22nd overall in the National section of the rally.
In the full International Rally, Mayo and District Motorsport Club's Aaron MacHale fought back well over the closing stages in his Ford Focus WRC to claim second overall behind event winner Denis Cronin. Another Mayo competitor to make his mark was Kiltimagh's John Higgins, who co-drove Cork's Brian O'Mahony to 6th overall as well as finishing the highest placed two wheel drive car in their Renault Clio S1600.

Top Finish For Buckley on Midland Rally


Cathal Doyle
Ballyhaunis rally driver Shane Buckley brought his Citroen C2R2 Max home in a fine 8th place overall on Sunday's Moto Midlands Stages Rally. As well as winning class six by nearly three minutes, Buckley and co-driver Thomas Maguire from Meath were the second highest placed front wheel drive finishers on the Rooskey based event. Indeed they had been as high as 5th overall before losing time on the last batch of stages with a wrong tyre choice.
Having entered the Midland Stages as a shakedown for this week-end's Circuit of Ireland Rally, Buckley will be confident of a strong result on the world famous Easter classic. The Circuit is the second round of the prestigious Citroen Racing Trophy Ireland Championship, and having finished 3 overall on the opening round in Galway in a lower specification C2R2, Shane has now upgraded to the more competitive C2R2 Max that the majority of his rivals are using. With the strong Midland Stages result under his belt, hopes are high for another top finish this week-end.
Also competing on the Midland Stages Rally were Ballinrobe's Adrian and Aidan Fahy who were pleased to bring their Ford Escort safely home in 37th place overall.
Photo courtesy of Ciara Buckley.
Mixed Fortunes For Mayo Competitors In Nenagh
The Birr Stages Rally, the opening round of the Dunlop National Rally Championship (of which the Mayo Stages Rally is round two) took place at the week-end.
Two Mayo crews headed to the Nenagh based event but returned home with differing level of success. Belmullet's Ciaran Kennedy and his Ballina co-driver Paul McGinnis brought their Honda Civic home safely in 59th position overall, and fifth in class two, scoring valuable championship points in the process.
Bekan's Sean McHugh had a less successful day, losing a lot of time on the opening stage after stopping to change a puncture. That time-loss became immaterial however when a broken rear suspension part on his BMW M3 forced an early conclusion to proceedings after stage 3.
The rally was won by Welsh visitor Melvyn Evans ahead of Derek McGarrity. All eyes now turn westwards for the McWilliam Park Hotel Mayo Stages Rally in two weeks time.

Photos by Martin Walsh

Mayo Young Driver Championship Winner News Update
Galway International Rally Report

Eighteen year old Justin Ryan from Headford drove superbly to finish the Junior section of the Galway International Rally in a credible eighth overall. Justin who had never competed on a rally before took to it like a duck to water.It was an early start on Sunday morning for Justin and father John who was navigating in their blue Honda Civic. The pair were taking part in the Junior event which utilised the six stages that made up the Sunday loop of the rally.

It was a bad start unfortunately, as a delay on the start of the first stage saw them waiting over a half and hour to get underway. This was not good for the nerves! Finally as the stage was given the all clear Justin got the count down from his father and the pair started the experience of a life time. As this was his first time driving on a tarmac stage Justin was obviously nervous and took his time to bed into the car. With John shouting the notes Justin managed to complete the stage with no mishaps. When he reached the end of the stage he had a big smile on his face and was thoroughly enjoying the experience. "Once I got past the first corner I was away!"

However the smile would be wiped off his face on the second stage. As they started the stage Justin began to push gaining confidence in himself and the car with every kilometer. Justin takes up the story " After about two kilometers into the stage dad called a note "200 two right over crest". I took it flat out. Big mistake! The car became airborne and landed sideways. I just remember seeing the spectators running! We were heading towards the wall when luckily the car straightened up and we continued if only a bit slower!" A big moment certainly. The wind seemed to be knocked out of Justin's sails as he was caught on the stage by Colm King from Tuam. Justin pulled over and Colm sped past in his Ford Escort. The moments were coming thick and fast for the pair. As Colm disappeared into the distance Justin returned to his previous rhythm. Without warning he rounded a square right to find Colm blocking the road after hitting a tree stump. Justin jammed on the brakes and slid wide hitting the bank "I thought it was all over. We hit the bank with a bang and I thought we were finished" The Civic was made of tougher stuff and shrugged off the assault with the bank.


The pair completed the rally relatively trouble free and thoroughly enjoyed the experience. Justin commented at the finish " It was the best experience of my life! A pure adrenaline buzz, I was surprised at how easy it was to drive at speed in a controlled environment. I am now completely hooked cant wait for the next event"Justin's next rally will be his home event the Mayo Stages Rally 2010. This years event is based in Claremorris and will take place on the 14th of March.Justin would like to thank his sponsors M&R Motors Shrule, West Tyre Ballinrobe, his parents and his aunt Wini for all there support, also all his friends and anyone who were out on the stages supporting him on the day.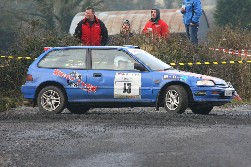 Success For Mayo Competitors on Galway International Rally

Cathal Doyle
Mayo & District Motorsport Club member Aaron MacHale finished in a strong third overall on the Safety First Galway International Rally at the weekend. The Ford Focus WRC driver overcame a puncture early in the event to overhaul the Mitsubishi of Alistair Fisher for the final podium position on the last stage.Making it a double celebration for the MacHale family on the opening round of the Citroen Tarmac Rally Championship, Aaron's brother Gareth clinched overall victory after a trouble-free event in his Focus WRC. He adds his name to the illustrious list of Galway International Rally winners, including his father Austin who won the event on no fewer than five occasions. Young Craig Breen from Kilkenny put in an impressive performance to take second overall in the brand new Ford Fiesta S2000.Another Mayo competitor was also tasting champagne at the rally finish. Shane Buckley from Ballyhaunis finished17th overall, but more importantly took third position on the prestigious Citroen Racing Trophy in his Citroen C2 R2, a result all the more impressive by the fact that both competitors ahead of him were using more powerful C2 R2 Max cars. Competing in the National section of the rally, David Carney from Aughagower brought his C2 R2 Max home safely in 22nd overall. In the Fiesta Sport Trophy section, Carrowmore-Lacken's Paul McGee co-drove Monaghan's Stephen Wright to first in the category and 19th in the overall event.Also having good rallies were John McGeehan from Williamstown and Seamus Coffey from Claremorris who brought their Subaru home in 23rd place in the National section, while 2010 Mayo & District Motorsport Club Young Driver of the Year Justin Ryan from Headford, ably navigated by dad John Paul, was delighted to finish his first tarmac rally in 8th place in the Junior section of the event.Not so fortunate were James Culliney from Bekan and co-driver Michael Loughney from Killala who set fastest time in class 12 on stage 1, but were forced to retire on the following stage after hitting a telegraph pole following brake failure.


All Set For Thrills and Spills on Galway International Rally

Cathal Doyle
The 2010 rally season kicks off in earnest this week-end with the Safety Direct Galway International Rally, opening round of the Citroen Tarmac Rally Championship. The traditional season-opener has received a near capacity entry, and promises plenty of exciting action over the two day event.The recent announcement that Citroen is to be the title sponsor of the Tarmac Championship for 2010 is a major boost for Ireland?s popular international rally series. The French car manufacturer is synonymous with rallying at world level, and currently holds the FIA World Rally Championship title for manufacturers, while Citroen driver Sebastian Loeb has won the driver?s title for the past six years.Based in Oranmore, the Safety Direct Galway International Rally will get underway with a ceremonial start in the village on Friday evening, before competitors tackle nine stages on Saturday followed by another six stages on Sunday.Number one seed Gareth MacHale in his Ford Focus World Rally Car returns for another tilt at the Tarmac Championship title, having finished runner up last year. The Dubliner will face stiff competition from fellow championship regular Tim McNulty in a Subaru WRC, but both men will be keeping a close eye on the stage times of car number 3 ? that of reigning British Rally Champion Keith Cronin. The Corkman has the disadvantage of competing in a Group N showroom class Mitsubishi, but if he carries through the pace that brought him to the British title last year, he will almost certainly be in contention for overall honours.
At four is the leading Mayo & District Motorsport Club competitor Aaron MacHale who wheels out his trusty Focus WRC, while National Rally Champion Patrick Elliott and fellow national regular Kevin Barrett will be ready to pounce if the leading runners slip up. There will also be much interest in car number nine, the brand new Ford Fiesta S2000 of Craig Breen. This car, on which Ford?s world rally championship contender from 2011 will be based, recently won the prestigious Monte Carlo Rally on its debut event. Galway marks its first competitive appearance on Irish soil in the hands of the exciting young Kilkenny driver.
The Galway International Rally also plays host to a number of one-make championships, of which one in particular has significant local interest. The new Citroen Racing Trophy is open to competitors using Citroen C2 R2 and C2 R2 Max rally cars. Aimed at unearthing young driving talent, it offers the largest prize fund of any rally championship in the country, and includes two Mayo drivers among those who will be vying for glory. Shane Buckley from Ballyhaunis had a successful season last year competing in Ford?s Fiesta Sport Trophy one-make series. Starting at number 87 in Galway in a C2 R2 he will hope to use his experience to good effect this year. Young Aughagower man David Carney seeded at 89 has less rallying miles under his belt than his fellow Mayoman, and with a new C2 R2 Max at his disposal, will be hoping primarily to bring the car home safely. With Citroen also sponsoring the overall championship, the series is sure to attract plenty of high-profile interest. And while it may be a world away, the fact that World Champion Sebastian Loeb started his career in equivalent Citroen rally cars is without doubt something of which all the competitors will be fully aware.
Other local competitors hoping for a succesful rally include James Culliney from Bekan and his Killala co-driver Michael Loughney who compete at number 82 in James? Escort Mark 2. At number 106 Williamstown?s John McGeehan and Seamus Coffey from Claremorris are in a Subaru Impreza 555, while two Mayo co-drivers are taking part in the Fiesta Sport Trophy one-make series. Paul McGee from Carrowmore-Lacken navigates Monaghan?s Stephen Wright in the number one seeded FST1, and Anthony Concannon from Westport is in the passenger seat of FST5 driven by Colm O Keefe.
Report on Oct 11th event
Justin Ryan clinches the Young Driver Championship title for 2009 in his honda civic.
Eamonn Mimnagh wins the final Mayo and District autocross for 2009.
He came, he saw he conquered.
Well, another year draws to a close for the Mayo Loose Surface Autocross and what a year it has been, we have seen local man James McGreal return to winning form and a massive track expansion that has made the Mayo autocross venue one of the best in the country. With all credit due to Brendan Walsh and his Team.
On Sunday it was new man Eamonn Minmagh that would take the victory. He came, he saw and he conquered the 2.5km Mayo Track driving his Mitsubishi Evo 5 finishing the event just 0.4 of a second ahead of local man James McGreal. James in his ageing Subaru put in a sterling effort to finish such a small distance behind just showing how tight the racing at Harringtons Quarry can be.
Brian Dunlop was the first 2wd home. The Clogher man piloted his Mark 2 Escort to a fine third overall just 4 seconds behind James McGreal. James Lannon brought his immaculate Mitsubishi Evo 9 home in 4th just 0.5 of a second behind Brian. The red Evo popping and banging its way sideways around the Mayo circuit. Williamstown Walter Burke finished in 5th just 2 seconds behind James Lannon. Mervyn Galbraith put in an incredible drive to finish 6th in his class 2 Nova The Omagh man drove the door handles off the car all day to finish a mere 5 seconds behind Walter Burke. Patrick Barrett brought his beautiful Mark 2 escort home in 7th 2 seconds behind. Gerry Ronan set the early pace leading after the first stage his flamboyant style was evident as usual as he flung his Evo through the corners but unfortunately the car cried enough on the second run. His first time was enough to net him 8th a small consolation for what promised to be a very good day for the Bekan driver.
Now that the 2009 Mayo Autocross has come to an end it leaves us all begging for more. It has been an incredible year in Harringtons Quarry Swinford. The Mayo and District Motorsport Club would like to sincerely thank the Harringtons for the use of their quarry, the marshals who turned out in all weathers for the five events and especially the team who ran the events during the year.
Until next year!
Sean Hassett
---
Report from August 9th

McGreals Hat trick
James McGreals run of good luck continues as he annihilates the competition at round three of the Mayo & District Motorsport Club's loose surface Autocross at Harrington's Quarry near Swinford.
Since his first win James seems unstoppable as he now makes it three wins in a row. McGreal put in an incredible time on the second run of the day to be over 3 seconds ahead of Shane McGirr in his Starlet. (Remember that 4wd cars incur a 2.5% Penalty on their times.)
Shane managed to fend off the challenges of Mark Kennedy in his impressive Kartcross Buggy to finish second. Williamstown's Walter Burke took 4th just .8 of a second ahead of Conor Kelly from Tyrone in his Nissan Sunny. Brian Dunlop entertained his way to 6 in his ever-sideways Escort Mark 2.

In 7th position was Killian Duffy, Killian swapped his usual passenger seat for the drivers seat and proved his worth in the Derek Jobb Evo 6. James Lannon from Boyle brought his Mitsubishi Evo 9 home in 8th while Derek Jobb and Conor Mckenna rounded out the top 10.
With one round left in October 2009, James McGreal is the man to beat following his hatrick of victories. Hopes will be high in the Mayo club that for the first time since its inception, a Mayo driver can claim the prestigious Frank Harrington Award for overall Autocross series champion.

Written by Sean Hassett
---
Report from July 5th

McGreal's Got That Winning Feeling
They say in sport getting the first win is the hardest, that once that elusive inital victory has been achieved, subsequent success is easier to come by.
James McGreal might not agree about the easy bit, but what is without argument is the fact that having waited nearly fifteen years to achieve success on his local autocross, the Foxford man has now made it two wins from two in quick succession.
Just three weeks ago, McGreal dominated Mayo & District Motorsport Club's loose surface Autocross at Harrington's Quarry near Swinford, setting fastest time on each of the three runs. On Sunday however, on the third Autocross event of the season he had to work much harder, clinching victory in his Subaru Impreza only on the final run of the day.
Making him work hard for that win was another Mayo competitor, Gerry Ronan from Bekan. The Mitsubishi driver was flying on the early runs, holding a lead of over six seconds ahead of the field going into the final timed test, a lifetime in motorsport terms. McGreal meantime was struggling, failing to set a time on the first run when his car lapsed onto three cylinders, and not happy with his performance on the second test which saw him down in fifth position, over eight seconds off the pace.
On the final run Gerry Ronan took another 1.5 seconds off his previous best time but it was not to be enough for the Bekan driver. Feeling that his chance of victory had gone, McGreal decided to adopt a smooth and tidy approach, eschewing his normal flamboyant style. It proved remarkably effective, the red Impreza scorching to victory by over two seconds.
Fermanagh visitor Gerard Farmer took third in another Mitsubishi, another competitor to put in a strong last run, finishing just 0.13 of a second behind Gerry Ronan, while in fourth was Adrian Donnelly, the Escort driver taking the award for class 4 into the bargain. In fifth was Wexford's Mark Kennedy in a Kartcross Buggy, the first time for one of these purpose-built specials to compete on a Mayo Autocross.
Conor Kelly from Tyrone took sixth and the class 3 award, while a trio of local competitors were next up. Sean McHugh from Bekan sliped down the order after holding second in his Impreza following the first run, while Williamstown's Walter Burke took over that position after run two but the Escort driver was unable to improve sufficiently on the final test. In 9th position, Castlebar's Brendan Corcoran put in one of the drives of the day, not only bringing his Honda Civic into the top ten, but winning the hard fought class 2 in the process. The top ten was rounded out by the Mitsubishi of James Lannon from Boyle, while Noel Lappin scooped the class one award despite only recording one time for the day, the Cavan man beating Foxford's Alan Moran for the prize.
Five local competitors in the top ten despite competition from all corners of the country, and many more local drivers competing throughout the field, the popularity of Mayo & District Motorsport Club's Loose Surface Autocross continues to grow. With two further rounds to run in 2009, and James McGreal the man to beat following his brace of victories, hopes will be high that for the first time since its inception, a Mayo driver can claim the prestigious Frank Harrington Award for overall Autocross series champion.
Many thanks to Sean Hassett for his photos. Check out his website at www.hasrallypics.com for more photos from the event.
---
Report from June 14th
McGreal The Maestro Of Mayo Autocross
James McGreal did on Sunday what he has been threatening to do for a while – take overall victory on a round of Mayo & District Motorsport Club's Loose Surface Autocross.
It marks a significant milestone for the popular Foxford man, a long time competitor and Mayo Motorsport Club stalwart, who counts the 2000 Border Rally Championship title among his many achievements. Only last year he had feared that his days of competing might have been over, after sustaining a back injury following an accident on the Galway International Rally.
Thankfully a full recovery was made, and on Sunday's event, driving his self-prepared Subaru Impreza, McGreal was on inspired form, setting fastest times on each of the three runs to finish nearly four seconds ahead of his nearest challengers.
The second round of Mayo & District's 2009 Loose Surface Autocross series was held as usual at Harrington's Quarry near Swinford, and attracted a strong entry of nearly fifty competitors, including a large contingent from Northern Ireland. The Mayo venue is highly regarded as one of the best autocross tracks in the country, and once again Clerk of the Course Brendan Walsh and his team had laid on a challenging circuit to test drivers to the limit.
With McGreal storming to a highly popular local win, the runner-up spot was taken by Fermanagh visitor Gary McBrien, winner of last month's opening round at the same venue. Keeping it in the family, Gary's brother Sean finished in third position, the siblings sharing the same Mitsubishi Evo 6.
Tyrone's Brian Dunlop was fourth overall and the highest placed runner in class 4 in his Ford Escort. He finished just ahead of the similar car of Walter Burke, the local club member from Williamstown a former winner of the event. Another multiple former winner was sixth overall, Conor Kelly from Tyrone having to be satisfied this time with class 3 honours in his Nissan Sunny. And demonstrating the popularity of the event, two further visitors made it a worthwhile trip from the east of the country, Maynooth's Ciaran McCullagh winning class 2 and taking 7th overall ahead of Oldcastle's Lauris Zdanovcis by a mere 0.6 of a second. Benny Quinn and Mervyn Galbraith rounded out the top ten finishers, while Longford's Tommy Donlon, a regular visitor to the Mayo track, took another victory in class 1.
Other local competitors to score strong results included Alan Moran from Foxford who finished 3rd in class 1, while in class 3 Peter Conroy from Kilmaine, Headford's Allen Higgins and Eoin McGreal from Castlebar fought it out to finish second, third and fourth in the category.
But this was undoubtedly James McGreal's day. Receiving his trophy at the prizegiving he thanked Frank Harrington and his staff for the continued use of their excellent venue. Reminiscing that it was about fifteen years since his last overall success at a Mayo Autocross event, he promised to be back to defend his title on the next round in July. If he can replicate Sunday's form, few would give odds on another fifteen year wait.
---
Report from May 17th

Mayo & District Motorsport Club's first loose surface autocross event of the year got off to a strong start on Sunday, with some close racing and plenty of action throughout the field.
Held at Harrington's Quarry at The Valley near Swinford, 30 competitors gathered to do battle over the extended track, widely acknowledged as one of the best loose surface autocross locations in the country.
Overall victory went to Gary McBrien from Enniskillen driving a Mitsubishi Evo 6, one of a number of competitors from Northern Ireland to take part in the event. Indeed on a day when the Fermanagh football team successfully launched its All-Ireland championship bid, the county's motorsport fraternity were not to be out-done, claiming the top three spots courtesy of the similar Mitsubishis of Gerald Farmer and Sean McBrien.
Fourth overall was the top local driver James McGreal, the Foxford man making a return to competition following his accident on the 2008 Galway International Rally. Driving a Subaru Impreza he was instantly on the pace, holding second overall after the second run. Unfortunately for supporters hoping for a local victory that was as good as it got. On the final test the Impreza lost power for a few vital seconds after a jump, and with others improving, James had to settle for fourth.
Tyrone visitors Conor Kelly and B. Dunlop led the two wheel drive contenders home in fifth and sixth, in the process taking category wins in classes 2 and 4 respectively. Two more local drivers were close behind, Bekan's Sean McHugh taking seventh in his Impreza followed by Claremorris driver Gerry Ronan in eighth driving a Mitsubishi.
Former Mayo & District Motorsport Club Young Driver Champion Allen Higgins from Headford was another competitor setting impressive times in a Toyota Corolla, finishing 9th overall and 1st in class 3.
Rounding out the top ten finishers was Longford's Tommy Donlon who also took the prize for fastest runner in class 1 in his Peugeot 206.
Mayo & District Motorsport Club will be holding a number of further autocross rounds during the year with the next event scheduled for 14th June.
Action photos courtesy of Sean Hassett www.hasrallypics.com
Here are some of the local competitors who took part in this year's Mayo Stages Rally.