Tenth Podium of the Season for Duffy in Cyprus
In truly imperious form, Nasser Al-Attiyah and Giovanni Bernacchini in their Ford Fiesta RRC clinched victory and a ninth Middle-East Rallying Championship in the CNP Asfalistiki Cyprus Rally 2013.
The best battle of the three day event however was between Emirati driver Sheikh Khalid Al Qassimi and Qatari Abdulaziz Al-Kuwari, who entered Sunday's final eight stages with only 1.6 seconds separating them.
Al-Kuwari, who as usual had Mayo's Killian Duffy navigating, suffered a puncture early on the final day. Determined, the pair promised to drive flat-out in the afternoon and that is exactly what they did. Unfortunately for Seashore Ford Fiesta crew they came within four seconds of Al Qassimi and had to settle for third, which is the same position they currently hold in the Middle-East Rallying Championship.
The result adds to an amazing tally for Duffy in 2013. Twelve rally starts, resulting in ten podium finishes.
MAYO MEN MAKE THEIR MARK IN SLIGO

Report by Justin Ryan


There were a number of Mayo competitors in action last Sunday in the Sligo Loose Surface Autocross, achieving some impressive results.
Ballina's Padraig Roache in his Ford Escort Mark II had a great run and eventually finished in 7th overall and 3rd in class 4.
Padraig put in three impressive and consistent times and he finished just over ten seconds off the winner of the event, Philip Harte in his Vauxhall Nova.
Mervyn Deane, from Williamstown, finished just outside the top 10 after three steady times to come home in 11th overall.
Next Mayo competitor home was Derek Bolton. The Ballaghadereen man enjoyed his day, winning class 9 in his Subaru Impreza and finishing 29th overall.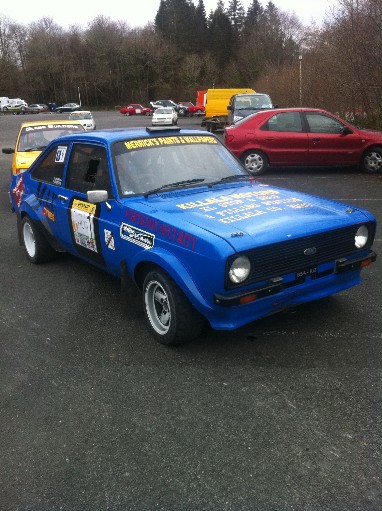 Then there was the "Battle of the 206" as three Mayo & District Motorsport Club members' treble-drove a Peugeot 206 Cup Car. Bekan's Sean McHugh, Alan Moran and James McGreal, both from Foxford, had the 206 out for the first time and the fight was on to see who would be quickest of the three drivers. After a tight battle all day, the experienced McHugh eventually came out on top, by less than a second over young gun Moran, with McGreal a further three seconds back.
Finally, Gavin and Ray Carroll from Killala had their class 1 Vauxhall Nova out in action. They enjoyed their day in Sligo and finished 33rd and 54th overall respectively.
Duffy's Delight Down Under

Abdulaziz Al-Kuwari and Killian Duffy were victorious in the WRC 2 class of Rally Australia and have moved to the top of the FIA championship standings.
The Qatari and Mayo partnership that rally the Seashore backed Ford Fiesta RRC, began Sunday's last leg of the four day event with a comfortable 1min 13sec lead over Ukrainian, Yuriy Protasov. They lost just 0.4sec of this margin by the end, claiming top WRC2 crew and finishing in tenth place overall.

It wasn't all plain sailing for the pair, after moving into the lead on stage 12, they continued to push hard, sometimes a little too hard. They were lucky to get away with a spin on stage 15 that seen the fiesta end up in a field. With calm restored they headed for service in Coffs Harbour, not relinquishing their lead again.
It was the third WRC 2 victory of the season for Al-Kuwari and Duffy who also took maximum points on the other long-haul rounds in Mexico and Argentina. The pair now lead the WRC 2 drivers and co-drivers standings respectively.
"Three wins this year, leading again and I equal my best result which was 10th in Greece, so it's feeling really good,"said Al Kuwari."I'm pleased to have made top-10 in an RRC car, my pace was really good, even against the top drivers, and every time the gap is getting closer. The team did a great job, as did my co-driver Killian, it's been a very nice weekend."
The WRC 2 does not have a fixed calendar. Instead, teams and drivers competing in the series are free to contest any of thirteen rallies that form the 2013 World Rally Championship. They must nominate up to seven events to score points in, and their best six results from these seven events will count towards their final championship points score.
There are three events left in the 2013 calendar, and Al-Kuwari and Duffy's last nominated event is also the last event of the series, Rally GB in November. While nothing is decided yet, the pair have put themselves firmly in the driving seat.
Mathematicians in the Mayo and District Motorsport Club already have the calculator's at-hand, hoping that over the remaining rounds, the Claremorris based Crossmolina man can hold onto his co-drivers lead to become World Champion.
Well done to club members Tony Langdon and Eddie Quinn on their finish on Clare Stages Rally. The pair brought their Class 6 Honda civic home in 60th place overall.
Motorsport at Bonniconlon and Ballycastle Shows

Mayo & District MotorSport Club exhibited at the recent Bonniconlon and Ballycastle shows. The aim of the stands was to promote and introducing motorsport to the public. Visitors got the chance to learn first hand about motorsport, speaking with club members and experiencing the machinery from inside!
Mullen clinches Ulster win

Mayo and District Motorsport Club member Darragh Mullen from Ballisadore navigated Derek McGeehan in their Mini to an overall win on the national section of the two-day Ulster Rally on Friday and Saturday last. The pair came from behind on the last few stages, and although having to content with a misfire in their John Cooper Works WRC spec car, they managed to set a blistering pace to win the event by 24 seconds ahead of Frank Kelly in his Escort.
Westport man David Carney along with his regular navigator Ray Fitzpatrick from Laois was taking part in the British Rally section of the Northern Ireland event. Following a good solid drive on day one which seen them sitting in tenth place overnight, they went one better on Saturday to finish in ninth place overall and securing fourth place in class six in their Citroen C2R2.
Photos courtesy of M2merallyphotos
Hunter Fastest in Galway
Hugh Hunter took an impressive victory on the Carlton Shearwater Galway Summer Rally in Ballinasloe, at the weekend.
The Welsh driver finished the nine-stage event with a winning margin of one minute and eleven seconds over the Subaru WRC of Welsh rival, James Belton.
Daragh O'Riordan was third in the Ford Fiesta WRC, eleven seconds further behind.

Best of the local Mayo and District Motorsport Club crews were Sean McHugh and Liam Healy who brought their BMW M3 home in 56th place overall.
David Doherty who had Eamon Walsh on the notes claimed a class 7 win in their Peugeot 306 and finished in 73rd overall.
Young Castlebar man Conor Duffy who was navigating in a rally for the first time had a gratifying and enjoyable day alongside Eamonn McCafferty from Donegal. The pair won class 5 and brought their T-Rex Clothing backed Ford Puma home in 77th place.
Not so lucky were the Ballinrobe pairing of John Warren and Ruthann O'Connor, the engine of their Toyota Corolla cried enough on stage two, bringing a unfortunate end to their rally.

Photos courtesy of Rally Through a Lens

Sunset Rally August 2013
Mayo & District Motorsport Club member, Darragh Mullen from Ballisodare, has made it 2 wins in a row now for himself and his driver, Derek McGeehan in their Mini World Rally Car after their success on the night stages of the Sunset Rally held in the forests around Draperstown, Northern Ireland on Friday Night last.
The pair dominated the opening loop and held a comfortable lead at the service halt.
This was a unique rally in which crews got one run through the forests in daylight before service to bolt on the spot lights for the thrill of doing the two stages again this time in the dark.
It just kept getting better for the McGeehan Motorsport crew, on the final loop of stages they continued to set fastest stage times and returned to the finish ramp in Draperstown in first place.
This weekend's win follows a triumph on the national section of the two-day Ulster Rally a week previous, for the flourishing Sligo and Derry partnership.
Sligo Park Hotel Stages Rally
Donegal driver Declan Boyle and his cousin Brian increased their stranglehold on this year's Dunlop National Rally Championship by taking their Subaru Impreza to their fourth win from five rounds on the Sligo Park Hotel Stages Rally.
They were the clear winners, finishing more than a minute ahead of Niall Maguire and co-driver Enda Sherry despite the rally being shortened from nine stages to six when the extreme heat caused problems with the road surface in places.
The Moffett brothers, Sam and Josh, took the top two places in the Group N class and finished third and fourth overall, while Jonathan Pringle's Escort took fifth position and was the highest placed two-wheel-drive car home.

Best placed of the Mayo Club members home was Darragh Mullen who was navigating for David Leonard. They finished in 8th place overall and won Class 20 in the process. Also navigating was Aidan Gannon who directed his driver Anthony O'Brien to 15th place in their Mitsubishi Evo 8.
Kenneth McHale and Derek McCarthy, both from Ballina had a steady run in their Subaru Impreza to finish in 34th place.
Father and son team Adrian and Aidan Fahy from Ballinrobe survived a few high speed moments to finish in 45th place.
The Bekan Motor Works team of Sean McHugh and Liam Healy brought their BMW home to a Class 14 win, the first event that the distinguished M3 has finished in exactly one year,

Sligo Stages 2012 being the last time the car consummated a competitive outing.
Shrule's Noel Murphy and Stephen Murphy from Headford finished 3rd in the Junior section of the rally as Noel continues to gain valuable experience in his first season in stage rallying. Alan Moran from Foxford with Jared Gill from Ballina finished one behind in 4th.
Other locals not so lucky included the Ballinrobe partnership of John Warren and Ruthann O'Connor who suffered a broken steering rack when their corolla clipped a concrete post on stage 3, bringing a sudden end to their rally.
Derek Bolton from Ballaghaderreen and Trevor O'Connell from Ballina had an unfortunate premature end to their return to stage rallying, the pair, after setting an astonishing 5th fastest time overall on stage 4, had a coming together with a bank on stage 6, although not causing much damage to their Subaru Impreza they became stranded, unable to get back on the road inside the allotted time period.

Photos courtesy of James Burke www.jamesburke.biz
Boyles clinch Dunlop title with fifth win
Donegal cousins Declan and Brian Boyle in their Subaru Impreza WRC won their first Dunlop National Rally Championship after an emphatic win in the Tipperary Stonethrowers Rally.
The battle for second and third place saw Roy White of Tipperary in an MG Rover edge out James Belton from Wales in his Subaru WRC.


Local man David Carney from Westport, who had Ray Fitzpatrick from Laois on the notes, was on an intermission from the British Rally Championships. The pair had a rewarding day competing, winning Class Six and finishing thirteenth overall in their Citroen C2R2.
The Dunlop title win for the Donegal cousins sees the Vard Memorial Trophy pass from last year's champions, Cork's Brian O Mahony and John Higgins from Kiltimagh.