http://www.mayomotorsportclub.com/files/mayo_autocross_2010_promo_video1.wmv
Report from October Autocross:

Click here for Results


Lannon Wins Mayo Autocross, McGreal Takes Championship Title
Cathal Doyle
James Lannon from Boyle in Co. Roscommon achieved a long-held ambition on Sunday by claiming his maiden victory on Mayo & District Motorsport Club's final Autocross of the year. In doing so he became the fifth different winner of the popular loose surface series in as many events, in what has been an enthralling season of motorsport at the challenging 2.7 km circuit at Harrington's Quarry near Swinford.
It was also a successful day for local hero James McGreal whose third place finish was enough to ensure he retained the Frank Harrington Trophy for Overall Autocross Champion for the second successive year.

Winner of Mayo Autocross on Sunday, James Lannon negotiates the watersplash.


Once again an exciting day's action saw an incredibly close finish, with Lannon taking victory over the similar car of Peter McCullagh of Maynooth by a mere 0.08 seconds. Indeed after two runs, McCullagh had eased his way to the top of the leaderboard by over a second, but a determined effort from Lannon on the final test saw him take the win by the slimmest of margins. A regular at Mayo Motor Club's autocross events, the Roscommon man was delighted to have finally achieved the top podium position, after coming close on previous events.
For once James McGreal was unable to match the pace of the leading protagonists, finishing nearly four seconds adrift in third. However another consistent season which has included a win, two seconds and a fourth has ensured the Foxford man in his trusty Subaru Impreza has once again clinched the overall Autocross Championship ahead of Lannon and the winner of the previous round, Walter Burke.

Fourth place on Sunday went to Martin Tynan from Clones in another Mitsubishi, while in fifth was the leading two-wheel drive competitor Benny Quinn from Omagh, who also took the award for winning class 4 in his Escort. Clones man Michael Tynan was sixth ahead of the fabulous sounding JB Buggy of Jason Harron from Kesh who won class 6.
In 8 overall was one of the drivers of the day, Padraic Cawley from Coolaney beating a host of more powerful cars to win class two in a Peugeot 205. The Escort of Williamstown's Walter Burke suffered gearbox problems on his final run, finishing ninth and second in class 4, while Brian Dunlop from Clogher in Tyrone rounded out the top ten, taking third in class 4 in the process.

Other competitors picking up class awards included Ryan Donnelly from Beragh and Ciaran McCullagh from Maynooth, second and third respectively in class 2. Leroy and Nigel Mills from Trillick in Tyrone were first and second in class 1 in their shared Vauxhall Corsa ahead of Sean Mullervy from Drumlish. On her first visit to a Mayo Autocross, seventeen-year-old Amy Cox from Omagh impressed with her speed in an Escort and collected the ladies award. The Mayo & District Motorsport Club award for the leading club member was presented to Derek Bolton from Ballaghaderreen.

Click here for full results for Frank Harrington Challenge

---
Report from August Autocross

Click here for results


Burke Wins Mayo Autocross By A Whisker

An extraordinary close finish saw Walter Burke from Williamstown take victory on Mayo & District Motorsport Club's Loose Surface Autocross event on Sunday. The Ford Escort driver defeated James McGreal from Foxford by the smallest possible of margins – a mere one hundredth of a second!
A healthy field of forty competitors had assembled for round four of Mayo Motorsport Club's popular autocross series held at Harrington's Quarry near Swinford, with all eyes on James McGreal to see if the Subaru driver could repeat his victory of the previous round. The Foxford man wasn't long getting into his stride, setting a fastest time of 4:26.07 on the first of three timed runs. He was less than half a second up on nearest challenger Andrew Mackarel from Fermanagh, with the class 2 Vauxhall Nova of Maynooth's Ciaran McCullagh an incredible third overall – this despite breaking an engine mount, and up against much more powerful machinery.
Walter Burke languished in eighth place at this point, but things were to get worse for the Williamstown man. Clipping a bank, he failed to set a time on the second run, pulling out with damaged steering. McGreal meanwhile was on a mission, taking a whopping fifteen seconds from his first effort. Nobody could live with his pace, the Mitsubishi of Martin Tynan from Clones now the nearest rival, but nearly six seconds behind – a lifetime in motorsport terms.



On to the final run, and when McGreal pulled another two and a half seconds out of the bag to set a time of 4:08.24, most assumed that victory was his. That was to ignore former winner Burke however. Fired up after the disappointment of his second run, and with the Escort now back to full health, Walter positively flew around the course, stopping the clocks at 4:08.23, nearly twenty three seconds faster than his opening attempt. Victory was his, but it couldn't have been closer.
Andrew Mackarel took third in his Mitsubishi albeit over four seconds adrift of the leading duo, with James Lannon from Boyle in another Mitsubishi fourth. Martin Tynan was fifth ahead of the leading class 6 buggy of Joe Cullen from Wexford.
The top ten was rounded out by Michael Sweeney from Boyle in another Mitsubishi followed by the leading class 2 car – the Peugeot 205 of Padraic Cawley from Coolaney. Behind him Ciaran McCullagh had failed to set times on either the second or third runs, but his effort from the opening test was still good enough to net ninth overall and second in class 2. Another Mayo competitor was tenth, Shrule's Matthew Murphy putting in a fine drive in his Toyota Corolla to win class 3 in the process.
Other award winners included Ballinrobe's David Walsh and Mervyn Fahy, first and second in class 4 double-driving the same Opel Astra, while in class 1 Sean Mullervy beat his Drumlish team-mate Eamonn Brady by just over half a second in their shared Honda Civic. The Chris Culkeen award for highest placed Mayo Motorsport Club competitor went to Justin Ryan from Headford.
After a period of domination of Mayo autocross events by four-wheel-drive cars, Walter Burke proved on Sunday that a well driven rear-wheel-drive Escort is still a force to be reckoned with. The final round of the 2010 series takes place in October – will the 4WD men bounce back then? Cathal Doyle

Click here for results after round 3 in the Frank Harrington Challenge

---

Report from July autocross:

Click here for results


McGreal Returns to the top


Foxfords James McGreal returned to winning form at Harringtons Quary for the 3rd round of the Mayo & District Loose surface autocross 2010. It was the penultimate round of the 2009 championship when James last won. Since then he has been pipped to the post by Eamon Mimnagh twice and Mark Donnelly once but there was nothing that Eamon could do to reel in the Mayo man on the 4th of July event. James took the event by a convincing two second margin to his nearest rival.
That rival was Damian O'Hagan from Omagh in his Mitsubishi Lancer Evo 6. Damian set consistant 2 fastest times all day netting him second place overall. Next up was Andrew Mackarel in his older Mitsubishi Evo 5 gaining the last place on the podium by a scant .6 of a second from Eamon Mimnagh from Omagh.

Sligo's James Lannon brought his immaculate Mitsubishi Lancer Evo 9 home in 5 after setting the fastest time on the 2 run but unfortunately he was left in the dark on the 3 run posting a time over ten seconds slower than James McGreal winning time. James lannon has shown great pace over the last few events, a podium finish surely must not be far away for the Boyle man.
Stephen Dixon was the first two wheel drive home in an incredible 6 place overall, It was Stevens first time in Harringtons quarry but he showed his sheer talent as he set a scintillating time on his last run just .7 of a second behind the four wheel drive machine of James Lannon. Right on Stephens heels was Conor Kelly from Tyrone in his Nissan Sunny finishing just .6 of a second behind.
Williamstown's Walter Burke was next up in his Ford Escort Mark 2 as per usual Walter drifted his way around the 2.7km course in his tail happy car. He set his best time on his final run to net him 8 place overall. Over two seconds behind was Martin Tynan in his Mitsubishi Lancer.
Rounding out the top ten was Ciaran McCullagh the Meath man put in a stirling drive to clinch the final space inside the top ten.
Galway man Frank Byrnes swapped his single seater hillclimb machine and the tarmac of the hills for the gravel of Harringtons quarry and his Peugeot 206 Cup car. He finished the event in 12 place overall.
Second Mayo man home was Pat Higgins from Granard debuting his Subaru Impreza to a fine 13 place overall just .1 of a second behind Frank Byrnes.
Joe Cullen made the long trip from Wexford bringing his amazing motorcycle engined cart cross buggy. The buggy screamed its way around the track setting a time identical to Pat Higgins. Both drivers stopped the clocks at 4:26.77, Pat eventually finished one place in front after a tie breaker.
Next up in 15 place was Matthew Murphy from Shrule he was ahead of a host of Mayo Drivers: Derek Bolton finished 21 position, Alan Moran from Foxford had an incredible run in his class one Astra finished 22, Adrian Fahy from Ballinrobe was 23, Sean McHugh from Bekan had a torrid day being plagued by mechanical trouble in his Subaru and he finished 24. Mayo & Districts Motorsport Club young driver 2009 Justin Ryan was next in 25 after a bad day also.
Foxford's Stephen Doherty was two places behind in 27 place. Coming home in 28 place was Jared Gill from Bofeenaun in his Peugeot 205, four places ahead of the similar car of Peter MCManamon from Achill.
Eoin McGreal was another four places behind as his day was cut short with mechanical problems. Aidan Fahy from Ballinrobe finished in 40 position overall.
But the day and the overall honours were to belong to one man, James McGreal. The Foxford man shone through with is flat out driving style rewarding him with victory over a very stong field of drivers.

---
Report from June autocross:
Donnelly Heads Tyrone Top Three Triumph On Mayo Autocross

Click here for Results

On his first visit to Mayo & District Motorsport Club's Loose Surface Autocross at Harrington's Quarry near Swinford, Mark Donnelly from Omagh in Co. Tyrone belied his inexperience to claim victory in his Mitsubishi Evo 8. In doing so he emulated the success of his name-sake and neighbour, that Mark Donnelly who is now forging a successful career in Citroen C2R2s having tasted victory on Mayo Autocross events in 2007.
Indeed it was a successful day all round for Omagh competitors as Eamonn Mimnagh and Damian O'Hagan, double driving the same Mitsubishi Evo 5 took second and third respectively.
James McGreal from Foxford in a Subaru Impreza was the highest placed local finisher in fourth after holding second for much of the day, with James Lannon from Boyle in an Evo 9 rounding out the top five.
Over 20 seconds off the pace on the opening of three runs, Mark Donnelly, fresh from his third place finish on the previous week-end's Mourne Rally, rapidly got to grips with the challenging circuit, on a day when heavy rain showers made conditions difficult for competitors.

Mark Donnelly receiving his trophy for fastest drive of the day from Secretary Kathleen Kennedy and Clerk of the Course Brendan Walsh.

An improvement of over 19 seconds on his second run moved him into contention for a strong finish, but it was his final run of 4 minutes 19.24 seconds, taking another 8 seconds from his previous run that nobody could match. Eamonn Mimnagh, the winner of the opening Mayo Autocross last month, was the nearest challenger but his time was still over 1.5 seconds off the pace of his young rival.
With four wheel drive machinery dominating the leaderboard, another former winner Conor Kelly, also from Tyrone, was the top two wheel drive finisher in his class 2 Nissan Sunny ahead of the class 4 Escort of Williamstown's Walter Burke.

Class 1 was won by Glen Irwin from Castlederg ahead of Foxford duo Alan Moran and Stephen Doherty. In class 2 Ciaran McCullagh from Maynooth and Brendan Corcoran from Castlebar claimed the runner's up positions behind Conor Kelly.
Matthew Murphy from Shrule won class 3 ahead of the similar Toyota Corolla of Allen Higgins from Headford and Peter Conroy from Kilmaine. The class 4 runnner's-up spots were filled by Benny Quinn and Sammy Hamilton, while Joe McHale was the sole representative in class 6 in his fabulous sounding buggy.
Achill's Brian Lavelle claimed the award for Best Mayo & District Motorsport Club member for the second successive event.
With only three weeks to the next Mayo Loose Surface Autocross on July 4th, planning for the event is already well under way. With two different winners from two events, who will break the Tyrone stranglehold in 2010?

Brian Lavelle accepting his award as highest placed Mayo Club competitor from Chrystal Culkeen.

Photos from June 13th Autocross in Harrington's Quarry Kilkelly 2010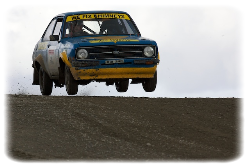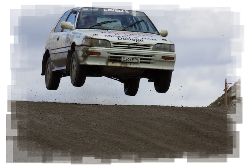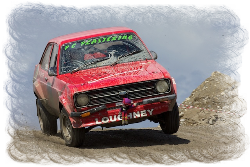 ---
Report from May Autocross 2010:

Click here for results

Mimnagh Wins Autocross Opener
Cathal Doyle

Eamonn Mimnagh from Enniskilen, Co. Fermanagh beat all challengers to claim victory on Mayo & District Motorsport Club's Loose Surface Autocross on Sunday. Driving a Mitsubishi Evo 5, he had to do it the hard way, coming from behind on the final run to beat local favourite James McGreal.
A strong entry of 51 competitors had gathered at Harrington's Quarry near Swinford for the first of five autocross events to be held this year. Clerk of the Course Brendan Walsh and his team had once again laid on a superb course, with each competitor getting three runs of two laps over the demanding route.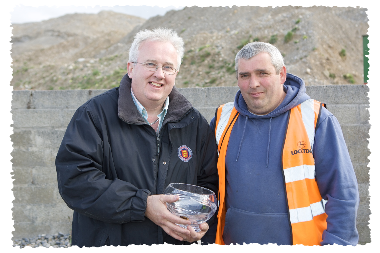 Mimnagh outlined his intentions from the start, setting a time two seconds faster than the Subaru of James McGreal on the opening run, with another Fermanagh visitor, Francis Fee, a further three seconds back. The tables were firrmly reversed on the second run however, with the Foxford man taking nearly ten seconds off his first attempt to lead the Fermanagh duo by two and three seconds respectively.

With hopes high for a home win, McGreal pulled out all the stops on the final run to improve his time by almost another four seconds. It was not enough though. Eamonn Mimnagh put in a dazzling final run in the white Mitsubishi to take almost eight seconds from his previous best, and record victory by two seconds. Behind the battling duo another local – Walter Burke from Williamstown – also reserved his best for last, not only taking third overall ahead of Francis Fee but also winning class four and finishing highest placed two wheel drive competitor in his Ford Escort.
Away from the leading protagonists, competition was just as fierce in the various classes. Behind Water Burke, Enniskillen pair Neil Harron and Ronnie Coulter took the remaining awards in class 4. Nobody could match Conor Kelly in class 3, but locals Matthew Murphy from Ballinrobe and Allen Higgins from Headford kept the Tyrone man on his toes throughout the day to claim the runner-up positions in the category.
Ciaran McCullagh from Maynooth claimed class 2 ahead of Lauris Zdanovics from Oldcastle, while Castlebar's Brendan Corcoran recovered well from not setting a time on the opening run to take third in class. Of note was young Brian Lavelle from Achill who put in one of the drives of the day to finish fourth in class in his Toyota Corolla. In class 1 Glen Irwin from Tyrone took victory, with Alan Moran from Foxford and Andy Walsh from Ballinrobe maintaining local honour with second and third respectively.
A dramatic start then to the Mayo Autocross season. Last year, James McGreal took victory on three of the five events and claimed the Frank Harrington Trophy for overall Autocross Champion. The Foxford man clearly has carried that form into 2010, but with a host of challengers lining up to dethrone him, he faces a tough batte to retain his title. Round two awaits on June 13th.