The excitement was evident as Mayo & District Motorsport Club gathered in Óstán Oileán Acla last Friday night for the launch of the Óstán Oileán Acla/Connacht Print & Signs Mayo Stages Rally 2017. Guests arriving for the Achill People of the Year Awards which was also taking place in the Óstan got a preview of what's in store on Rally weekend as they inspected a fine array of rally cars on display in the car park for the launch.
Clerk of the Course Trevor O'Connell kicked off proceedings by officially welcoming everyone to Óstán Oileán Acla, which will be Rally Headquarters for the weekend of the 11th and 12th March. He welcomed all the sponsors and had a special welcome for Andrew Mullen, MD of 'Sligo Pallets' who travelled from Sligo and Brendan Flynn from the 'Border Championship' who travelled from Monaghan especially for the night. The Mayo Stages Rally has been the first round in the 'Sligo Pallets Border Championship' for the last number of years and their support is much appreciated. Trevor thanked Cathal McLoughlin and his staff in the Óstán Oileán Acla for all their assistance and support in the lead up to the event, he welcomed joint title sponsor, David Devers, Connacht Print & Signs to the Island and thanked him for his ongoing support of the Mayo Stages Rally.
Trevor explained that the final touches are being put in place to ensure the Rally runs as smoothly as possible and that it will be a weekend to remember for the competing crews, spectators, sponsors and most importantly the local residents who have been so accommodating and welcoming to all. He added that without local support and sponsorship, it would not be possible to run the Mayo Stages Rally and he thanked everyone who has come on board – sponsors of Service Area, Marshal Meeting Points, Programme Sponsors, Stage & Scrutiny Sponsors. The weekend is a free family friendly event, one not to be missed and he asked that everyone support the sponsors as without their generosity events such as these would not be possible.
Trevor also welcomed Mary Gallagher and Emmet Callaghan of Achill Tourism and thanked them for their assistance and guidance in promoting the event. Emmet told all assembled that the Mayo Stages Rally will kick start the 2017 Summer Tourism Season in Achill and they are all looking forward to the Rally weekend. Trevor thanked Sgt Brian Murphy, his team in an Gardai Síochana and Mayo County Council, in particular Gerry McDonnell and Councillor Paul McNamara who have been very helpful. Wrapping up the formalities Trevor thanked his Deputy Clerk of the Course local man Peter McManamon and all the team for all their support and hard work and said they were all looking forward to the big event on the 11th/12th March. If anyone would like to help out over the weekend they can contact Trevor, Peter or any member of the Rally Team through the Motor club's Facebook, Twitter or website.
by Andy Walsh
In the aftermath of Storm Callum heavy rain on Saturday allowed Brian Moore to exercise his supreme talent in atrocious conditions, the Mayo driver had his brother Lorcan, alongside in the co-drivers seat of their Honda Civic as they took an emphatic victory in the Triton Showers Junior category of the Donegal Harvest Rally.
The Crossmolina brothers were fastest on all but one of the stages in the Ballybofey based event. They finished just over three minutes ahead of the Toyota Twincam of Donegal's Darragh McNern and Trevor Graham with Ry
an Moore and Christopher Moffett also from Donegal, 22 seconds further behind in third in their Honda Civic.
"It was a great day, conditions were very tough, but the stages were mighty," said eldest brother Brian after emerging from the final stage. He was full of praise for Lorcan, "He kept me in it, the car felt like a speedboat in the standi
ng water on the roads. Lorcan worked so easy with me on the notes, We're absolutely delighted with the win".
Elsewhere on the event the main-field victory went to Monaghan's Sam Moffett and his Cork co-driver Karl Atkinson in their Fiesta R5, they finished 7.9 seconds ahead of the Fiesta WRC of the Monaghan/Limerick combination of Josh Moffett and Keith Moriarty. The Donegal/Monaghan duo of Donagh Kelly and Conor Foley in a Ford Focus WRC were a minute further behind in third.
The rally.ie award for highest placed two-wheel drive in the Triton championship series was won by Cavan's Chris Armstrong and his Donegal co-driver Chris Melly in their Ford Escort Mk2. Their rival Stuart Darcy crashed his Darrian T90 on the penultimate stage of the rally.
Donegal's Declan Boyle finished in 8th position but that was enough to crown him the 2018 Triton Showers National Rally Champion. It's the third national rally title for Boyle, who on this occasion had James O'Reilly as co-driver. Boyle previously lifted the Vard Memorial trophy in 2013 and 2014.
Other Mayo interest in the event was with Trisha Greavy from Bonniconlon who finished a fantastic second in Class 11R co-driving for Cavan's Paul Crosby in a Toyota Starlet while Derek McCarthy from Ballina finished third in Class 1 co-driving for Stephen Reynolds from Leitrim in a Honda Civic.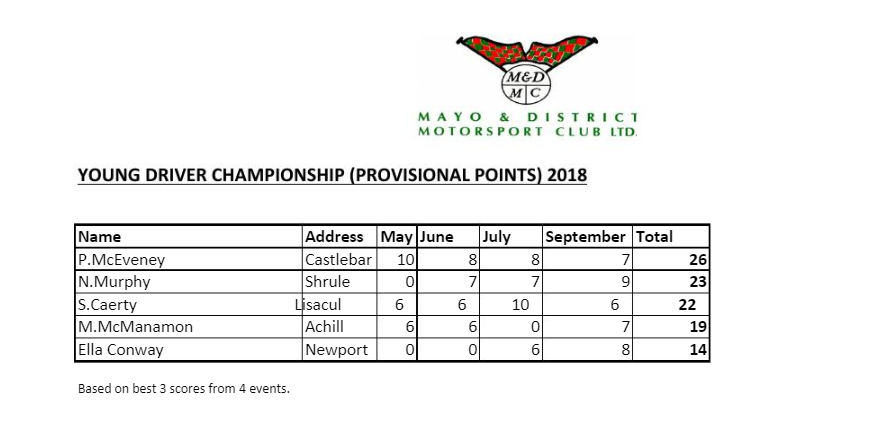 The club stress that these results are currently provisional
Click on the links to download:
September 2018 Autocross Regulations
September 2018 Autocross Entry Form
The Galway Summer Rally took place on Sunday 19th August in the Tuam area and the event consisted of
three loops with three stages in each. After days of heavy rain the roads had dried up well and conditions
were perfect for all of the stages which were a mixture of fast and technical. The entry list was competitive
with crews coming from all over Ireland and Mayo Motorsport Club was well represented.
After the first three stage loop, Derek McCarthy co-driving for Stephen Reynolds in a Honda Civic were
leading class 1, with Mark Taheny and Stephen Gallagher also in a Honda Civic in 2nd place. Ronan Denning
and Karl Egan were leading class 2 in their Peugeot 208 R2. In class 11R Barry Cuffe and Stephen McGing
were the highest placed Mayo crew in 8th place with John McCarthy co-driving for Florian Niedermueller
and father & son team Tadgh and Shane Buckley not far behind. In class 14, Lorcan Moore co-driving for
John Reddington in a Ford Escort were in 5 th place; Sean McHugh & Kathleen Kennedy had issues in the
morning but rejoined under rally 2 regulations. John Warren and Ruthann O'Connor had gearbox problems
with their Toyota Corolla Twin Cam on Saturday and after a great team effort and a late night they were
back on track and finished the first loop in 7th position in class 13R.
After the second loop, Derek McCarthy and Stephen Reynolds were still leading class 1, unfortunately their
classmates – Mark Taheny and Stephen Gallagher had problems which ended their day early after stage 5.
In class 2 Ronan Denning and Karl Egan slipped to 2nd place, while in class 14 Lorcan Moore and John
Reddington held on to 5th place. In class 11R all three Mayo crews had climbed a few places with Barry
Cuffe and Stephen McGing in 7th; John McCarthy co-driving for Florian Niedermueller in 8 th and the
Buckley's in 11th, while in class 13R John Warren & Ruthann O'Connor had worked their way up to 4th.
A shower of rain before the final loop in the early afternoon did not affect the surface too much and the
road dried quickly for the last three stages. It was a good day overall for Mayo Club members with Derek
McCarthy co-driving for Stephen Reynolds taking the honours in class 1 in their Honda Civic. Ronan
Denning and Karl Egan took 2nd place in class 2. In class 14 Lorcan Moore co-driving for John Reddington in
a Ford Escort took 3rd place. In the same class Sean McHugh & Katheen Kennedy were 5th.
In Class 11R, there were three Mayo entries – Barry Cuffe & Stephen McGing were 6th, John McCarthy
co driving for Florian Niedermueller came 7th and father & son crew Tadgh & Shane Buckley were 10th. After
a testing weekend for John Warren and Ruthann O'Connor, they were unfortunate not to finish after
completing eight of the nine stages in their Toyota Corolla.
Well done to Galway Motor Club for running a great event and a big thank you to all Mayo Motorsport
members who officiated and marshalled on the day.