Mayo Autocross: Report from August 24th
Deane Wins Mayo Autocross, Tynan Takes Championship Title
Adrian Deane from Williamstown in Co. Galway achieved a long-held ambition on Sunday by claiming his maiden victory on Mayo & District Motorsport Club's final Autocross of the year. In doing so he became the third different winner of the popular loose surface series in as many events, in what has been an enthralling season of motorsport at the challenging 2.7 km circuit at Harrington's Quarry near Swinford.
It was also a successful day for Monaghan man Martin Tynan, whose second place finish was enough to ensure he won the 2014 Frank Harrington Trophy for Overall Autocross Champion.
Driving his Mitsubishi Evo 8, Tynan faced last year's champion Derek Deane in a shoot-out for the title, the two drivers having fought it out tooth and nail over the previous three rounds. Deane struggled early on, stopping on the stage on his first run with mechanical problems, While Tynan made his intentions clear, with a first run time five seconds ahead of local Foxford man James McGreal who lied in second place.
His buggy seminally restored to health, Deane took to the track for his second run, but again problems forced him to stop. Tynan seized the opportunity and improved his time by ten seconds; this time his closest challenger was Adrian, Derek Deane's younger sibling, who stopped the clock four seconds behind Tynan.
On the last run Derek failed to sort out the gremlins in his JCR Rally Kart, more mechanical trouble brought his run to a premature halt, ending his hopes of adding to his two successive Frank Harrington Championship victories over the last two years. Tynan went faster still and as it looked like the event win was in the bag, Adrian in his JB Buggy managed to complete his lap one tenth of a second faster to steal the win and leave the Monaghan man in second place.
The result left Derek and Martin tied on equal championship points, Tynan claiming the title thanks to his higher place finish on the final round.
Behind the top two of Adrian Deane and Tynan on the day, Fermanagh's Paul McDaid stole third with a blistering final run in his Buggy. Down's Ronan Mackle also in a Buggy, secured fourth, less than one second ahead of James McGreal in his Subaru Impreza. Donegal's Seamus Donnelly was sixth, just ahead of three other buggy drivers, Padraig Egan from Clare, James Cassidy from Derry and Donegal's Danny O'Donnell. The top ten was rounded out by the class four Impreza of Ballymote's Padraig Mullen.
Category winners included Ruairi Maguire from Castlederg who claimed class one honours in his Vauxhall Corsa ahead of Simon Hemphill, also from Castlederg, in a Vauxhall Nova. Cathan McCourt from Trillick was third in another Nova. Shrule's Noel Murphy dominated class two, finishing more than six seconds ahead of second placed Michael Nevin in an Escort, while Achill's Liam Healy grabbed a spirited third place in his Honda Civic. Murphy's excellent performance in his Honda Civic, which seen him finish top front wheel drive, provisionally secures the Mayo Young Driver crown, retaining the title he won last year.
Class three was won by Declan Campbell from Trillick who topped a trio of Mk2 Escorts ahead of Killala's Padraic Roche and Hollymount's Colin Loughney.
Tynan was the class four winner, beating the Subaru's of James McGreal and Padraig Mullen respectively. Class six was topped by aforementioned Paul McDaid with Ronan Mackle and Seamus Donnelly taking second and third.
Seventeen year old Patrick McEveney from Castlebar retained his stronghold on class seven with Crossmolina's Lorcan Moore only setting one time before an off track excursion leaves him with some panel beating to be carried out on his Citroen Saxo before the 2015 season.
Other local competitors made up most of class two with Achill's Joe Healy claiming the Mayo club award and a sixth place finish in class. Pater McManamon also from Achill finished eighth, four seconds ahead of Westport's Alan McGuire, both in Peugeots 205's. David Healy was twelfth in his Nissan Primera with Westport's David Jordan a further nine seconds behind. Patrick McEveney (Snr) brought the triple family driven Toyota Corolla home in fourteenth, half a second ahead of Stephen McGreal in a 205. Shauna McEveney was sixteenth and won the ladies award.
Now that the 2014 Mayo Autocross has come to an end it leaves us all begging for more. It has been an incredible year in Harringtons Quarry Swinford. The Mayo and District Motorsport Club would like to sincerely thank the Harringtons for the use of their quarry, the marshals who turned out in all weathers for the four events and especially the team who ran the events during the year.
Until next year!

Watch footage from Mayo Autocross August 24th courtesy of MDsRally
Martin Tynan
Winner of Mayo Autocross July 27th 2014
Autocross July 27th Report: Tynan flies 'Sky' high in Mayo
Results Here
Martin Tynan from Clones, Co. Monaghan beat all challengers to claim victory on Mayo & District Motorsport Club's Loose Surface Autocross on Sunday. Driving a Mitsubishi Evo 8, he had to do it the hard way, coming from behind on the final run to beat local favourite Derek Deane.
A capacity entry gathered at Harrington's Quarry near Swinford for the third of four autocross events to be held this year. Clerk of the Course Paul McLaughlin and his team had once again laid on a superb course, with each competitor getting three runs of two laps over the demanding route.
Derek Deane, in his JCR Rally Kart, outlined his intentions from the start, setting a time of 3:58.89 almost fourteen seconds faster than the Evo of Tynan on the opening run, with another Monaghan visitor, Mickey Conlon, a further one second back. On the second run however, Deane failed to set a time due to a coming together with the final chicane that ground him to a halt.
Tynan was next on track and while taking over twelve seconds off his first attempt, stopping the clock at exactly 4:00.00, Deane still held the lead by just over a second.
With hopes high for a home win, Deane pulled out all the stops on the final run, but only managed a 4:02.98, leaving his first run time still his best. Was it to be enough?
Tynan put in a dazzling final run in the Red Mitsubishi to take a further two and half seconds from his previous best, and record victory.
Watching the battling duo closely all day was Sligo man John McGettrick who on his first day competing in a buggy was double driving Deane's JCR Rally Kart. He astounded regulars as he reserved his best for last, not only taking second overall ahead of Deane, but also winning class six with a time of 3:58.11 on his final run. Deane and Conlon took second and third respectively in class six.
Away from the leading protagonists, competition was just as fierce in the various classes. Foxford's James McGreal won Class four in his Subaru Impreza, ahead of Sligo's Padraic Mullen and Monaghan's Cormac McElvaney. Bekan's Sean McHugh finished fourth in that class and in twenty first place overall.
Damien McGauran from Fermanagh claimed the honours in Class three with another impressive showing in his rear wheel drive Toyota Corolla. Walter Burke from Williamstown finished second in his Escort MK2 and Kilalla's Padraic Roche was third, also in an Escort MK2.
Nobody could match Eighteen year old Derek Mackarel from Monagahan in his 1.6 Vauxhall Nova, not only did he win Class Two but was also top two wheel drive finishing in tenth place overall. Glen Irwin from Castlederg claimed second despite not setting a time on his last run, due to losing a wheel.
Shrule's Noel Murphy was third and also picked up valuable Young Driver points as his main challenge, Foxford's Alan Moran, could only managed fifth in Class two. Club Chairman Matthew Murphy was seventh in his Toyota Corolla. Achill man Joe Healy brought his Honda Civic home in tenth place. Westport's Alan McGuire guided his Peugeot 205 to a notable eleventh in Class winning the local 205 battle by a clear margin. Achill's Peter McManamon had to settle for second in the aforementioned 205 battle and sixteenth in class, afterwards saying that he was taking it a bit easier trying not to scuff the new paint job on his 205!
Liam Healy, also from Achill was seventeenth in his Honda Civic. David Walsh, home on holiday from Australia steered the family Sunbeam to eighteenth place in Class two. Mervyn Fahy who was double driving the Walsh Sunbeam lost the bragging rights, finishing one place behind in nineteenth. Patrick McEveney Snr brought the family triple driven Toyota Corolla home in twentieth place. John Warren was next placed having succumb to gearbox trouble and only setting one time. Stephen McGreal from Achill enjoyed the day, double driving a Peugeot 205 finishing twenty-second in Class two.
Sligo's John Rooney finished first in Class one, beating Foxford's Stephen Doherty by less than a second. Stephen Reynolds from Manorhamilton was third.
Class seven, for 16-18 year olds was won once again by Patrick McEveney from Castlebar in his Toyota Corolla, Colm Ronan from Bekan was second in his Nissan Sunny and Crossmolina's Lorcan Moore on a day hampered with fuel pump problems in his Citroen Saxo, claimed third.
The Mayo & District Motorsport Club award for the leading club member went to Adrian Deane while Shauna McEveney from Castlebar picked up the Ladies Award.
The event was also the fourth counting round of the 2014 National Loose Surface Autocross Championships, a series that Derek Deane won in 2013.
This championship, which is being sponsored by Batt O'Donoghoes Five Star Catering from Co. Cork, brought some more new faces to the Mayo venue, all of whom were delighted with the facilities on offer and the fast challenging Mayo track.
The final round of the 2014 Mayo & District Autocross season takes place on Sunday 24th August.

For full online album of photos go to the Facebook Set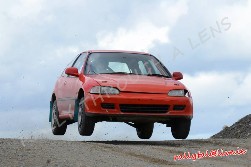 Mayo& District Motorsport Club Autocross Round 2: June 8th
There was thunder in the sky and lightening quick times on the track at Harrington's Quarry in Kilkelly on Sunday as Derek Deane once again dominated Mayo's Loose Surface Autocross event.
The Williamstown's man led from start to finish in his JCR Rally Kart. When the final flag was waved there was only half a second in it between first and second, Martin Tynan from Clones in his Mitsubishi Evo, having gotten closer and closer as the day went on, just failed to reel Deane's buggy and break his strong hold on the number one position. In third place was Ian Barrett from Maynooth, still getting familiar with his recently acquired buggy, and setting progressively times throughout the day.
Next best place local was another member of the Deane family, younger brother Adrian, who claimed the Mayo Club Award finishing in 7th place, in his JB Buggy.
Foxford's James McGreal finished in 15th and picked up 3rd in class four in his 4 wheel drive Subaru Impreza. Hollymount's Colin Loughney won Class three and finished 27th overall in his Ford Escort MK2. Castlebar's Patrick McEveny came out on top in the Junior class for 16-18 year olds just ahead of Lorcan Moore from Crossmolina. Patrick's sister Shauna picked up the Ladies award.
Shrule's Noel Murphy was highest placed in the hotly contested Mayo Young Driver's championships bringing his Honda Civic home in 28th. Bekan's Sean McHugh reported a good run in his Subaru Impreza finishing just inside the top 30.

Wesport native Ed Muldoon enjoyed a day's racing with the British RX Racing team who had their impressive British Rallycross machinery over for the day, Ed was very happy with the Mayo venue and also his result in the RX150 Buggy which he guided to 32nd overall.
Padraic Roche slid his Escort MK2 to 33rd place also picking up 2nd in class three along the way. Achill's Peter McManamon showed that recently becoming a dad again has put some extra pep in his step as he powered his Peugeot 205 to 34th place.
Alan Moran suffered mechanical problems in his Peugeot 206 only setting one run time and having to settle for 36th. Liam Healy from Achill never stopped smiling all day rounding off a great days driving with 38th place, one ahead of Club Chairman Matthew Murphy in his Corolla. Next up in 40th place was Alan McGuire from Wesport in his Peugeot 205.
Killalaa cousins Michael and Fergal Loughney were separated only by Stephen Doherty who finished between them in 46th place. David Healy from Skreen was another to succumb to mechanical woe, only setting a first run in his Nissan Primera but good enough for 49th place. Another Achill man Stephen McGreal enjoyed his first day in the Valley finishing in 50th place.
South Mayo's Brian McDonnell on a holiday home from Australia guided his Toyota Corolla to 53rd on his Autocross debut, one place ahead of another Autocross first timer Terry Greavy from Bonniconlon.
With local Mayo & District members making up 24 entries of the 56 that started the event, the forecast is bright with a good chance of more lightening times at Round 3 on July 27th. More details here on the club website.

Photos courtesy of Rally through a Lens
May 11th Autocross Report:
Results
DEANE DOMINATES AGAIN
The first Mayo & District Motorsport Club Autocross of 2014 took place on Sunday in Harrington's Quarry, Kilkelly with a capacity entry for the first time in a number of years.
Derek Deane from Williamstown won the event, continuing his amazing record on his home event, and proving that's it's the man and not the machine as his one week old JCR Rally Kart made its debut on the loose surface track. Second home, Martin Tynan from Clones was the early leader, making use of the abolition of the 4 Wheel Drive Penalty for 2014 in his Mitsubishi Evo, but in the end he had to settle for second behind Deane. There were three members of the Deane family in the top 4, as Derek's brothers Mervyn and Adrian were third and fourth respectively in their JB Buggies.
Next up was James McGreal from Foxford who finished fifth overall and claimed second in class 4 for 4WD cars. Other locals to fare well were Colin Loughney from Hollymount who came home second in class 3 in his Ford Escort. Foxford's Alan Moran put in a blindingly quick last run in a Peugeot 206 to claim second in the highly competitive class 2 and gain valuable Mayo Young Driver Championship Points. David Carney from Westport fresh from a podium on the last round of the British Rally Championship won the Mayo & District Club Award using the event to get further seat time in his Citroen DS3-R3T. Club stalwart Padraic Roche was fourth in Class 3 while Club Chairman Matthew Murphy was sixth in class 2. Sean McHugh from Bekan was seventh in class 4 in his Group A like sounding Subaru Impreza. Last year's Mayo Young Driver's Champion Noel Murphy from Shrule began the defence of his title with a fourth place finish in class 2. David Jordan from Westport finished seventh in that class in his Corolla, with Alan McGuire also from Westport in ninth in a Peugeot 205. Liam and Joe Healy from Achill double drove their Civic and had a great battle with Liam just coming out on top.
MAYO AUTOCROSS 2014 PREVIEW

Always popular with competitors, once again, Mayo & District Motorsport Club will be running two championships as part of its Autocross season. The Frank Harrington Challenge trophy is awarded to the overall champion driver and all competitors are automatically eligible, with points awarded on overall finishing positions. Driver's best three scores from the four events count towards final championship totals. Derek Deane from Williamstown is aiming for an unprecedented three titles in a row in his family run JB Buggy. He won't have it all his own way, however, with last year's runner up Mickey Conlon from Monaghan a real contender having switched to a buggy. The 4Wheel-Drive Penalty has been abolished for 2014, so the likes of Peter McCullagh, James Lannon and James McGreal could be back in contention with their selection of powerful Subaru's and Evo's.
Additionally, the Mayo Young Driver Challenge will return in 2014. This competition is open to Mayo & District Motorsport Club members under the age of 30 on the first of January 2014, and has seen some highly competitive driving from up and coming competitors over the years. Champion from last year Noel Murphy from Shrule will be back to defend his title with his main competition sure to be from previous two-time Champion Foxford's Alan Moran and fellow Foxford man Stephen Doherty. There is also a possibility of former Champion Justin Ryan from Headford making a return after two years out of Autocross action but he will miss the first round due to injury.
Held at the popular Harrington's Quarry near Swinford, Mayo & District Motorsport Cub's autocross track is recognised as one of the best venues in the country, regularly attracting entries from all corners of Ireland, as well as overseas.
The first of the four rounds rev's into action on this Sunday May 11th, followed by Round 2 on June 8th, Round 3 July 27th and the final Round on August 24th.