Josh Moffett and Jason McKenna took a start to finish victory on Sunday at Round Six of the 2015 Valvoline Motorsport Ireland National Forestry Championship, Mayo & District Motorsport Club's – Crockets on the Quay Mayo Mini-Stages Forestry Rally.
Fantastic weather greeted crews and competitors as they returned to the 'Plain of the Yew Trees' after a fifteen year sabbatical of Forest Rallying overlooking the Atlantic Ocean in the west of Ireland.
In his Mitsubishi Evo Josh blitzed the competition on the opening stage setting a time 25 seconds ahead of his nearest challengers Martin Cairns & Gary McElhinney in a Subaru WRC. He maintained that margin until service and then went on to add a further 10 seconds to it, despite suffering a puncture on stage three, while afore mentioned Cairns fought and narrowly lost a battle for second place to Michael and James O' Brien in their WRC Ford Focus.  Frank & Stephen O'Brien in their Mitsubishi Evo 6 held fast in fourth place all day.
Retirement for Cork's Gerard Lucy and JJ Cremin on the final stage handed Fifth place to Top 2 Wheel-Drive crew John Gordon and Thomas Wedlock in their Ford Escort.
Meath's John Reid & E. Sheils took sixth place and the win in Class 7 in their fabulous Toyota Corolla WRC. Finishing the day in seventh place and first place in Class 4 were Ashley Dickson and Fabion McAleer in their Mitsubshi Evo 9. Damien McGauran and Michael McGinn brought their Corolla home eighth and topped Class 13.
In the hotly contested Junior battle, Patrick O' Brien with Aine McGuigan along side in his Citroen C2R2 was in charge at the halfway service, holding the lead over Derek Mackarel in his Vauxhall Nova and Foxford's Alan Moran in his Peugeot 206. It was stage 3 that proved the turning point as Mackarel and Moran both took time back off O'Brien and a further charge by the tenacious Mackeral on the final stage seen him steal the honours relegating O'Brien to second with Moran and his navigator John Burke finishing in third. The trio of crews were separated by less than 20 seconds at the end of the day, as they finished in ninth, tenth and eleventh respectively.
Westport's Ed Muldoon with regular co driver Mark Byrne alongside was next best local in thirteenth overall  and second in Class 20, despite a slight off in to a drain after a chicane on stage 1, more slowing him as appose stopping him as he was grateful of the 4wheel drive in the DJ Rally Hire Mitsubishi Evo.
The Tyrone pairing of Stephen Dickson and Tommy Hayes were Class 3 winners in their Ford Fiesta, finishing in fourteenth place overall. Mike Garahy and Sean Moynihan topped Class 10 finishing in sixteenth place.
Westport man David Carney with Ray Fitzpatrick alongside, were seventeenth and winners of Class 11F in a Honda Civic. The all Mayo MotorClub crew of Sean McHugh and Paul McLaughlin put in a spirited drive in their Subaru Impreza to win Class 15 ahead of Foxford's James McGreal and Chris Mitchell and also claim local four wheel drive bragging rights! Joe Stanley and Paul Dowling topped class 2 in their Peugeot.
Winners of the Mayo Motorclub top crew award were Peter McManamon and John McCarthy in their Peugeot 205 who pipped the father and daughter crew of Pat & Shauna McEveney in their Corolla.
Special mention deserved for the local crew of Padraig Connelly and Liam Walsh, who on their first Forest event finished a very respectful fifth in Class 11F.
Retirements on the event included Mickey Conlon and Ciaran McPhilips who ended their day early turning their Ford Escort on its roof midway through stage 1, Darren Barrett and Ciaran McCullagh on their first Forest Rally got caught out on a bumpy section losing control of their Honda Civic and succumbing to the scenery. Father and son Michael and Martin Tynan had the unlucky coincidence of both suffering engine trouble in their similar Mitsubishi Evo's.
Overall it was a very successful return to Forestry rallying for the Mayo & District Motorsport Club, as COC Trevor O'Connell and his hard working team ran a safe and enjoyable event and the challenging route through the forests of Ballycastle proved a hit with competitors.
 In overall Valvoline championship standings the results from Mayo mean that both the Overall and the Junior championships' go right down to the last event in the Calendar, the Glens of Antrim Forest Rally on November 7th .
At first service Josh Moffett leads the Mayo Forest Rally, In his Mitsubshi Evo he blitzed the competition on the opening stage setting a time 25seconds ahead of second placed Mick o Brien in a focus Wrc, he takes that margin into the midpoint service, two more stages to go in the Forest's around Ballycastle.
In the junior battle, foxfords Alan Moran is 3rd behind Patrick O Brien & Derek Mackarel.
Westport Ed Muldoon is next best local in 15th overall despite a slight off in to a drain after a chicane on stage 1.
Only casualty after open loop was Mickey Conlon who put his Mk2 escort on its roof & out off the event, crew are both ok, with pride the only injury.
Bekan's Sean Mchugh is 21st & Westports David carney is 23.
Two more stages to go, will O'Brien catch Moffett.
Click on the link to download Final Instructions 1 for Mayo Forest Mini-Stage Rally 2015:
This Sunday sees the sixth round of the 2015 Valvoline Motorsport Ireland National Forestry Championship, the Mayo & District Motorsport Club's- Mayo Mini Stages- Forest Rally, based in beautiful Ballina.
Clerk of the Course Trevor O'Connell and his team have brought forestry rallying back to the area after a fifteen year absence, and there is great enthusiasm for this important penultimate championship round. The rally is designed as a user friendly event with centralised service in Ballycastle on tarmac and Rally HQ, Crockets on the Quay in Ballina. Coupled with a 40km compact loop of stages, the stage is set for another chapter in this intriguing Valvoline series.
For championship leader Mick O'Brien in his Focus WRC, this penultimate round is crucial, especially after a drama filled Lakeland Stages event, where Mick struck trouble and finished back the field and Josh Moffett in his Evo 9, took a well-deserved second place and a useful haul of points. The calculators at the ready, and it's all a lot closer than the thirty-one point margin reflected in the overall points tally. With Mayo new to everyone it's a level playing field, and the question is will the stages suit the O'Brien combination in the Focus WRC, or the surprisingly nimble Gerry McGarrity built Group A Evo of Josh Moffett? Bearing in mind Josh is contesting he Cambrian Rally the day before in his Fiesta WRC, it's going to be a hard task for Mick O'Brien. "I haven't really weighed up what way to play it" said Mick. "The stages will be new to everyone and probably haven't been used for a long time, so we don't know what they are like. It's whether to go flat out or make sure we finish it. It certainly is a good way to end the season with the title still in contention!"
Micky Conlon has wrapped up the Valvoline 2wd title, after a season with remarkable consistency to date, as well as some impressive overall performances which see him still lie second in the series before dropped scores are counted. Second place still has to be decided, in the two wheel drive race, with the MK2 Escort's of John Gordon and Hugh McQuaid very much in the hunt.
The Junior battle is fascinating, with the championship turning on its head on the Lakeland Stages event. Patrick O'Brien had made a rapid start in his C2 R2, but slid off on the final stage, leaving Ian Downey in his Corsa the delighted recipient of the two Kumho Tyres from Ears Motorsport Ireland. Second placed Alan Moran in his 206 Cup Car now moves into the coveted Junior series lead, just four points ahead of O'Brien with Derek Mackrel now third, joint one point ahead of Dylan Curley.
It could still all go down to the season finale in November on the Glens of Antrim event, for the overall and junior honours.
Valvoline Motorsport Ireland National Forestry Rally Championship Points after Round Five:
1 Michael O'Brien 91pts
2 Michael Conlon 78
3 Gerard Lucey 64
4 John Gordon 60
= Josh Moffett 60
6 Andrew Fanning 53
7 Niall Henry 52
8 Hugh McQuaid 43
9 Owen Murphy 42
10 Ian Graham 41
For more information including registration details for the series visit- www.irishforestrally.com
F: Irish Forestry Championship T:@IrlForestchamp
Official Press Release issued by Andrew Bushe Promotions
Copyright credit www.barronpix.com
Michael O' Brien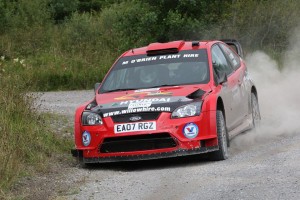 Alan Moran
GPS co-ordinates for HQ. Scrutiny and Parc Ferme at HQ:
N 54* 07'54.6″ W 009* 08′ 14.8″
Trailer Park is located at St. Oliver Plunkett N.S and Ballina Rugby Club, Creggs Road, Ballina:
N 54* 07′ 52.6″ W 009*07′ 49.3″
 
Click the link below for Time & Distance schedule for Mayo Forest Rally: