Some photos of last Sunday's Mayo Stages Rally Prizegiving in Hotel Ballina:
Monaghan's Niall Maguire and Enda Sherry stormed to an emphatic victory on Sunday's Hotel Ballina and Kennedy Motors Mayo Stages Rally, finishing just over a minute ahead of their nearest rivals Frank Wray and Kieran McGrath. Wray, finishing in a career best second place, was closely followed by Mayo & District Motorsport Club crew Aaron McHale and Paul McGee.
In a battle of sheer concentration, the victors would always be those who could best negotiate the scenic by-roads of North Mayo, in what was a rain soaked first loop. The opening stage twisted wildly around Kilcummin, however the drivers had little time to admire the view. Stage two started scenically through Lacken Hill before skirting Ballycastle. Kilfian hosted the third stage which proved the kindest to the drivers. Each stage was driven three times and a cumulative time decided the winners.
93 crews left rally headquarters at Hotel Ballina on Sunday and reassembled for service at Asahi plant. The conditions faced by contestants were challenging to say the least, heavy rain over the weekend had left the stages extremely testing for the drivers as muck and surface water provided extra obstacles on the course.
As expected, the World Rally Cars at the head of the field set the pace from the start, with Niall Maguire fastest on the opening test by 17 seconds, a lead he was not to relinquish throughout the day. Marty Toner and Sharon Clarke were the surprise early leaders of the unofficial two wheel drive modified battle in their Talbot Sunbeam, although it was clear from the start that this would be a closely fought contest, with the likes of Jonathon Pringle, Damian Toner & Pat Donegan all setting top ten stage times from the off.
By first service Maguire had established a lead of 40 seconds and professed himself happy with his pace, despite noting the difficulty of the stage in the wet conditions. Paddy McVeigh & Gary McElhinney in their newly acquired Subaru had been Maguire's nearest challenger until they were forced to retire following a brush with the local scenery. Local honours were being upheld by Road Safety Ambassador Aaron McHale & Paul McGee in their Mitsubishi Evo as they were lying second overall, with Niall Maguire's son Shane in third in another Evo.
The second loop of stages saw greatly improved conditions, with Niall Maguire continuing to extend his lead to over 50 seconds by the time they returned to Asahi for the final service. However, his closest challenger was now Frank Wray who had upped his pace in his Subaru WRC to climb to second overall. Maguire felt comfortable after the exit of McVeigh and hoped to see out the rest of the event at a steady pace. Local crew Aaron McHale & Paul McGee, who's parents needed only to look out the window to see him pass, were still competing well and were keeping the pressure on Wray, lying a mere ten seconds behind. The modified battle was now being edged by Pat Donegan, with David Moffett and Jonathon Pringle nipping at his heels. Marty Toner had slipped back after a rapid start.
True to form, Niall Maguire and Enda Sherry set a fast but steady pace to consolidate their lead on the final loop, before duly returning to rally headquarters at Hotel Ballina to a warm welcome as event winners. Frank Wray & Kieran McGrath made no mistakes to take second, while Aaron McHale & Paul McGee were delighted to finish third overall on home soil. Shane Maguire was the group N winner in his Evo and finished fourth overall. In the battle for modified honours, Pat Donegan / Alan Keena in their Ford Escort finished just under 20 seconds ahead of the Toyota Starlet of David Moffett & Fintan Sherry with Jonathon Pringle / Martin Byrne in their Mark II.
Top local finishers other than McHale were Barry Cuffe & Aidan Gannon from Castlebar, finishing 20th overall third in class 11R in his Elvery's backed Escort. Ballyhaunis man Shane Buckley had been the top local, running as high as 12th overall until his rally came to end on the penultimate stage. Belmullet man Shane Barry was on the notes for Padraic McGee and guided him to a class 1 victory and 22nd place overall. Kenneth McHale from Knockmore came home second in class 15 after a good run. Westport pairing David Healy & Stephen McGing finished second in class 1, following up their recent result in Birr. Club secretary John Duffy & John Egan from Claremorris won class 3 in his Honda Integra, fairing slightly better than Club Chairman Matthew Murphy with brother Ronan on the notes who managed to come home fourth in class 11R after an eventful day behind the wheel.
Tony Langdon & David Loughney in their Civic finished second in class six after setup issues hampered their day. Brian Lavelle, on his first time out, finished a respectable seventh in class 1 and 42nd overall in his Devers Garage backed Civic. Castlebar pairing Padraig Conneely & Liam Walsh finished third in class 11F for front wheel drive car. Experienced local navigator Jared Gill was calling notes for Stephen Kelly and they finished 48th overall and seventh in class 11R. Father and son crew Patrick McEveny Snr and Jnr, managed to bring home their Corolla fourth in class 11F on their first time out. David Moran and Robert Culliney finished third in class 10 in a Citroen Saxo. Killala's Aubrey Carson and Mary McAndrew came home fourth in class 10, while Raymond Carroll with Crystal Culkeen on the notes hot on their heels in fifth in the class.
The Junior category had a number of Mayo entrants with Justin Ryan battling for the lead throughout the day and eventually finishing second. Stephen Doherty & Alan Moran from Foxford finished fifth in their Opel Kadett. Local woman Trisha Greavy on her return to rallying was happy to finish sixth. Mayo Young Drivers' Champion Noel Murphy from Shrule eventually finished seventh despite visiting the scenery on stage one, using Rally 2 rules to re-enter the event.
Unfortunately, a number of local crews failed to complete all stages due to various issues. Event sponsor Ciaran Kennedy from Ballina with Paddy O'Hora will be disappointed to have bowed out early in the event after an off road excursion. Lacken man Colin Loughney & Seamus Murphy were unlucky not to finish in their Escort after engine problems. Michael Loughney, who had cousin Fergal Loughney on the notes, was driving a similar Escort to his Coin and retired due to similar technical problems. Father and son crew Ronan & Lorcan Moore had retire in the final loop following engine mount problems. Martin Cawley and Kenny Langan also had to retire with engine problems at the end of stage 3.
Once again Mayo & District Motorsport Club put on an excellent rally that ran right on schedule, testament to the huge effort put in by Clerk of the Course Padraic Roche and his team. In addition to their sponsors, the club would like to thank the residents and locals along the rally route for all their support and co-operation.
Full results available here: MayoStagesFinalResults final[1]
Photo credits – James Burke Photography
– Brendan Flynn
Road Safety Message for local schoolchildren
Pupils from Banagher, Creevagh and Templemary National Schools got a special opportunity to learn firsthand about the safety measures that are in place to run a rally, as well as a demonstration of safety equipment on board a rally car. Presented by rally co-driver John Higgins and Mayo & District Motorsport Club's Road Safety Officer, Maggie Bonner, together with other members from the motorclub, and in co-operation with the R.S.A, Mayo County Council, Bus Eireann and An Garda Siochana, the event was received with lots of questions and much excitement about the forthcomingrally.
Credit Photo: © Michael Donnelly
Tomas's
The Wolf Dog Tavern
Killala
Co. Mayo
B&B Rooms available
Contact 09632183
——————–
Avondale B&B,
Quay Road,
Killala
Co. Mayo
———————
Lissadrone B & B
Family friendly, wifi, all facilities, family rooms, singles & doubles.
Next to Lacken Strand, all amenities including fishing, walking trails etc.
Contact lissadrone@gmail.com or 086 8755957
PDF available: Copy of Mayo Stages 2015 Seeded Entry List 03.03.15 1.1
Mayo Stages Rally 2015 Entry List
Car no. Driver/ Codriver Address Make Class
1 Paddy McVeigh/ Gary McElhinney Co Tyrone/ Co Donegal Subaru Impreza S12B 8
2 Niall Maguire/TBA Co Monaghan Subaru Impreza WRC 7
3 Frank Wray/ TBA Co Tyrone Subaru Impreza WRC 7
4 Aaron McHale/ Paul McGee Co Kildare/Co Mayo Mitsubishi Evo 9 4
5 Shane Maguire/ Stephen Thornton Co Monaghan Mitsubishi Evo 9 4
6 Trevor Bustard/ Kenny Bustard Co Donegal Evo 9 4
7 Pat Kirk/ John McElhinney Co Armagh/ Co Donegal Mitsubishi Evo 9 4
8 Jonathon Pringle/Martin Byrne Co Cavan Ford Escort MkII 14
9 Damian Toner/ Damien Fleming Co Armagh Ford Escort MkII 14
10 Pat Donnegan/ Alan Keena Co Meath/ Co Westmeath Ford Escort MkII 14
11 David Moffett/ Fintan Sherry Co Monaghan Toyota Starlet 13
12 Daniel Conaghan/ Terence Magee Co Donegal Ford Escort 13
14 David Armstrong/ TBA Co Down Ford Escort MkII 14
15 Fintan McGrady/ Gavin Campbell Co Antrim/ Co Down Ford Escort 14
16 Raymond Conlon/ Sarah Whelan Co Monaghan/ Co Galway Toyota Carolla 13
17 Micheal Carbin/ Emmet McCooey Co Monaghan Mitsubishi Evo IV 20
19 Conor Watters/Paddy Mc Crudden Co Donegal Ford Escort 14
20 Shane Buckley/ John Lynch Co Mayo/ Co Cork Honda Civic 13
21 Calvin Beattie/Darragh Mullen Co Down Ford Fiesta R2 2
22 Marty Toner/ Sharon Clarke Co Armagh/ Co Sligo Talbot Sunbeam 12
23 Declan McNaughton/TBA Co Armagh Ford Escort MkII 14
24 Seamus Connolly/ Gary McCrudden Co Monaghan Ford Escort G3 11R
25 Callum Devine/ Brian Hoy Co Derry/ Co Fermanagh Ford Fiesta R2 2
26 Brian Armstrong/ Mark Tierney Co Tyrone/ Co Monaghan Ford Escort MkII 12
27 Colin Loughney/ Seamus Murphy Co Mayo Ford Escort MkII 12
28 Dermot Cannon/ Bobby Trimble Co Donegal Ford Escort MkII 13
29 Willie McFadden/ Brendan McElhinney Co Donegal Ford Escort G3 13
30 Pat Price/ Patrick Price Co Dublin Mitsubishi Evo 6 20
31 Enda McCormack/ Colin Fitzgerald New York Skoda Fabia S2000 7
32 Shane ORourke/ Alan McGovern Co Leitrim/ Co Dublin Mitsubishi Evo 9 4
33 Padraic McGee/ Shane Barry Co Donegal/Co Mayo Honda Civic 1
34 Shane Forde/Seamus McTigue Co Donegal Honda Civic 2
35 Paul Gallagher/ Paddy Gallagher Co Donegal Ford Escort 11R
36 Kevin McLaughlin/ TBA Co Donegal Honda Civic 11F
38 Derek Bolton/ Sean Hassett Co Mayo Subaru V45TI 15
39 Brendan McAree/ Johno Doogan Co Monaghan Porsche 911 14
40 John Coyne/ Christy Farrell USA/ Co Meath Talbot Sunbeam Lotus 19
41 Kenneth McHale/ Derek McCarthy Co Mayo Subaru Impreza 15
42 Marty Gallagher/ Dean OSullivan Co Donegal Honda Civic 11F
43 Keelan Maguire/ Martin McGarrity Co Tyrone/ Co Fermanagh Honda Civic 16
44 Barry Cuffe/ Aidan Gannon Co Mayo/ Co Sligo Ford Escort 11R
45 Mark Ewing/ TBA Co Donegal Honda Civic Type R 2
46 Vincent McAree/ Martin Connolly Co Monaghan Ford Escort 13
47 Drew Stewart/ Steven Park Co Antrim Ford Escort MkII 13
48 Ciaran Kennedy/Patrick O Hora Co Mayo Honda Civic 1
50 Mark Boyle/ Charles Gallagher Co Donegal Honda Civic 1
51 Sean McCaul/ Frank Clerkin Co Monaghan Ford Escort G3 11R
52 Cartha Boyle/ Johnny Rooney Co Donegal/ Co Leitrim Ford Escort 11R
53 Declan Hall/ Chris Corr Co Armagh/ Co Tyrone Toyota Corolla 11R
54 Christy Gallagher/ Pauric Carr Co Donegal Toyota Starlet 11R
56 Gene McDonald/ Kevin Reilly Co Cavan Ford Escort MkII 9
57 Liam Regan/ David McElroy Co Antrim/ Co Down Ford Escort 12
58 Damien Scanlon/ James McDermott Co Sligo Honda Civic 2
59 Roger Kennedy/ Wendy Blackledge Co Antrim/ Co Fermanagh Peugot 306 3
60 John Duffy/ John Egan Co Mayo/ Co Meath Honda Integra 3
61 Martin Swinburne/ Gretchen Fegan Co Monaghan Corolla Twincam 16
62 Matthew Murphy/ Ronan Murphy Co Mayo Toyota Carolla 11R
63 Simon Michael/ Connor Dunlop Co Antrim Ford Escort MkII 12
64 William Carey/ Jimmy Graham Co Antrim Ford Escort MkII 13
65 Brendan OReilly/ TBA Co Cavan Ford Escort 9
66 Michael Ryan/ Billy Shealy Co Tipperary Honda Civic 6
67 JF Shovelin/ Terence Furey Co Donegal Subaru Impreza 15
68 Adrian Sweeney/ Shane Buckley Co Donegal Peugeot 207 11F
69 Peter McCarry/ Mick Bonner Co Donegal Ford Escort 13
70 Philip Hamilton/ Damian Kelly Co Armagh/ Co Tyrone Citroen C2 11F
71 Charlie Heraghty/ Barry McBride Co Donegal Toyota Carolla 11R
72 Paul Crosby/ Fintan Lennon Co Cavan/ Co Monaghan Ford Escort G3 16
73 Justin Ryan/ John Burke Co Galway Honda Civic 16
74 Declan Connolly/ Alison Hughes Co Monaghan Honda Civic 9
75 Gerard Gibbons/ Adrian Rankin Co Donegal Ford Escort 11R
76 Ruairi McCaffrey/ Domhnall Lennon Co Tyrone/ Co Louth Honda Civic 1
77 David Healy/ Stephen McGing Co Mayo Honda Civic 1
78 Tony Langdon/ David Loughney Co Mayo Honda Civic 6
79 Michael Loughney/ Fergal Loughney Co Mayo Ford Escort 9
81 Eamonn McCafferty/ Micheal Donnellan Co Donegal Ford Puma 2
82 Noel Murphy/ Stephen Monaghan Co Mayo/ Co Galway Honda Civic 16
83 Kevin Cole/ Matthew Kirwan Co Cavan Ford Escort 12
84 Johnny Orr/ Marty McBearty Co Donegal Honda Civic 1
85 Johnny Treanor/ Adrian Foley Co Monaghan Vauxhall Nova 9
86 Ivan Warwick/ Evelyn Warwick Co Antrim Audi Quattro SWB 20
87 Shane Carr/ Gary Lockhart Co Donegal Vauxhall Nova 10
88 Andrew Stewart/ Tony Gallagher Co Donegal MGZR 9
89 Stephen Campbell/ Billy Fanneran Co Donegal Honda Civic 1
90 Karl Fallis/ Steven Monaghan Co Fermanagh Honda Civic 2
91 Mark Murphy/ Paul Stuart Co Sligo Ford Escort 12
92 Ronan Moore/ Lorcan Moore Co Mayo Ford Escort 2
93 Trisha Greavy/ Thomas Wedlock Co Mayo/ Co Cavan Honda Civic 16
94 Stephen Kelly/ Jared Gill Co Mayo Ford Escort MkII 11R
96 Michael Feeney/ Paul McGinnis Co Galway/ Co Mayo Volkswagon Golf 18
97 Martin Cawley/ Kenneth Langan Co Mayo Peugeot 205 GTi 10
98 Aubrey Carson/ Mary McAndrew Co Mayo Vauxhall Nova 10
99 Raymond Carroll/ Chrystal Culkeen Co Mayo Ford Escort 10
100 Brian Lavelle/ Shane Byrne Co Mayo Honda Civic 1
101 Patrick McEveney/ Patrick McEveney Jnr Co Mayo Toyota Corolla 11F
102 Gerard McHugh/ Paul Gallagher Co Donegal/ Co Derry Suzuki Swift 16
103 Padraig Conneely/ Liam Walsh Co Mayo Toyota Corolla 11F
104 David Moran/TBA Co Mayo Citroen Saxo 10
105 Stephen Doherty/Alan Moran Co.Mayo Opel Kadette 16
"Start your engines", Mayo Stages Rally Launched
The countdown to the 2015 Hotel Ballina – Kennedy Motors Mayo Stages Rally is firmly on following a successful launch at Hotel Ballina, headquarters for the March 8th event.  A large crowd was in attendance on Friday night last to hear information about this year's rally from a selection of speakers, including Clerk of the Course Padraic Roche and Chairman of Mayo & District Motorsport Club Matthew Murphy, who thanked all the sponsors who have made the running of the 2015 Mayo Stages Rally possible.
Among those attending was Andrew Mullen, sponsor of the Sligo Pallets Border Rally Championship, of which the Mayo Stages is the opening round, Brendan Flynn representing the Border Rally Championships, and Joe Corcoran from Motorsport Ireland. Local representatives included member of An Garda Síochána, members of Ballina Chamber of Commerce and local county councillors, founding Ballina Motorclub members and representatives from all the event sponsors.
With one week to go Mayo & District Motorsport Club reports that a surge of competitors have entered the Mayo Stages Rally in recent days, with seeding taking place on Sunday night an entry list will be available on www.mayomotorsportclub.com thereafter.
Continuing on from the success of last year's events in Ballina Town Center, the rally festival with an array of entertainment returns on the Saturday evening. This kicks off at 5.30pm in the Market Square featuring a Rally School Ireland display, F1 Pit stop challenge, Mattie Griffin Freestyle Motorcycle Display, display of Rally Cars from 8pm and much more family entertainment.
For spectators intending to visit the rally next weekend, plenty of time should be allowed to get to the stages to park and find a safe viewing location, as some of the stages have only limited access. Always obey the marshals and follow their instructions, as they are there to ensure that everyone has a safe day's rallying. A Rally Programme with a detailed map will be available to purchase in the area in the coming days costing €5.
The 2015 Mayo Stages Rally is continuing the high standard of previous years with news and information available to rally fans. In order to keep competitors and spectators as informed and up-to-date as possible, Mayo & District Mo-torsport Club utilizes a range of communication tools in the build up to, and during rally week-end. The Club is already providing regular updates via its Twitter account MayoMotorClub and Facebook page Mayo Motorsport Club. Also on the Sunday of the event when the rally itself roars into action, regular live updates and interviews will be broadcast on Mid West Radio's Sunday Sports Show. www.midwestradio.ie & 96.1fm
Credit for Pictures: John O'Grady
The launch of the 2015 Hotel Ballina – Kennedy Motors Mayo Stages Rally takes place next Friday, February 27th in Hotel Ballina at 7.30pm. There will be a display of rally cars on show outside the hotel and photographs will be taken with sponsors, rally championship representatives and the organising committee, along with guest speakers on the evening. The launch is open to the public and everybody is invited to come along to get into the Rally mood, ahead of the event which takes place on Sunday 8th of March.
Tomas's
The Wolf Dog Tavern
Killala
Co. Mayo
B&B Rooms available
Contact 09632183
Gearing Up for Hotel Ballina – Kennedy Motors Mayo Stages Rally 2015

Mayo & District Motorsport Club are delighted, under the guidance of clerk of the course Padraic Roche, to announce plans for the 2015 Mayo Stages Rally which takes place on Sunday March 8th.
It's a mixture of old and new for 2015 as, for the third year in succession, the Mayo Stages Rally will be based in the North Mayo town of Ballina. However competitors will face the challenge of three entirely new stages, each to run three times. Offering a total distance of approximately 116 stage kilometres and 127 road kilometres, they look set to provide a challenging test for competitors.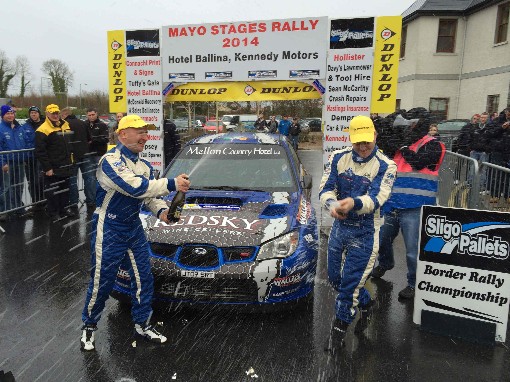 The Club is delighted to welcome on board again Hotel Ballina and Kennedy Motors as joint main sponsors of the 2015 Mayo Stages Rally and thank them for their support.
Hotel Ballina is once again Rally headquarters for the weekend. Just off the N26, but close to the town centre and with scrutiny, trailer park and Parc ferme adjacent to the hotel, this modern four star facility is ideally situated for easy access from all locations, and has proved to be a popular location with competitors and visitors to the rally in the past two years.
Exceptional accommodation deals are available at Rally HQ, Hotel Ballina, for crews and followers alike. Bookings and information at 096-23600
After a Rally Show in Ballina town centre on Saturday, March 7th, the event proper begins on Sunday morning when the cars leave parc-ferme.
The event is round one of the 2015 Sligo Pallets Border Rally Championship.