Mixed Fortunes For Mayo Competitors In Nenagh
The Birr Stages Rally, the opening round of the Dunlop National Rally Championship (of which the Mayo Stages Rally is round two) took place at the week-end.
Two Mayo crews headed to the Nenagh based event but returned home with differing level of success. Belmullet's Ciaran Kennedy and his Ballina co-driver Paul McGinnis brought their Honda Civic home safely in 59th position overall, and fifth in class two, scoring valuable championship points in the process.
Bekan's Sean McHugh had a less successful day, losing a lot of time on the opening stage after stopping to change a puncture. That time-loss became immaterial however when a broken rear suspension part on his BMW M3 forced an early conclusion to proceedings after stage 3.
The rally was won by Welsh visitor Melvyn Evans ahead of Derek McGarrity. All eyes now turn westwards for the McWilliam Park Hotel Mayo Stages Rally in two weeks time.

Photos by Martin Walsh

Mayo Young Driver Championship Winner News Update
Galway International Rally Report

Eighteen year old Justin Ryan from Headford drove superbly to finish the Junior section of the Galway International Rally in a credible eighth overall. Justin who had never competed on a rally before took to it like a duck to water.It was an early start on Sunday morning for Justin and father John who was navigating in their blue Honda Civic. The pair were taking part in the Junior event which utilised the six stages that made up the Sunday loop of the rally.

It was a bad start unfortunately, as a delay on the start of the first stage saw them waiting over a half and hour to get underway. This was not good for the nerves! Finally as the stage was given the all clear Justin got the count down from his father and the pair started the experience of a life time. As this was his first time driving on a tarmac stage Justin was obviously nervous and took his time to bed into the car. With John shouting the notes Justin managed to complete the stage with no mishaps. When he reached the end of the stage he had a big smile on his face and was thoroughly enjoying the experience. "Once I got past the first corner I was away!"

However the smile would be wiped off his face on the second stage. As they started the stage Justin began to push gaining confidence in himself and the car with every kilometer. Justin takes up the story " After about two kilometers into the stage dad called a note "200 two right over crest". I took it flat out. Big mistake! The car became airborne and landed sideways. I just remember seeing the spectators running! We were heading towards the wall when luckily the car straightened up and we continued if only a bit slower!" A big moment certainly. The wind seemed to be knocked out of Justin's sails as he was caught on the stage by Colm King from Tuam. Justin pulled over and Colm sped past in his Ford Escort. The moments were coming thick and fast for the pair. As Colm disappeared into the distance Justin returned to his previous rhythm. Without warning he rounded a square right to find Colm blocking the road after hitting a tree stump. Justin jammed on the brakes and slid wide hitting the bank "I thought it was all over. We hit the bank with a bang and I thought we were finished" The Civic was made of tougher stuff and shrugged off the assault with the bank.


The pair completed the rally relatively trouble free and thoroughly enjoyed the experience. Justin commented at the finish " It was the best experience of my life! A pure adrenaline buzz, I was surprised at how easy it was to drive at speed in a controlled environment. I am now completely hooked cant wait for the next event"Justin's next rally will be his home event the Mayo Stages Rally 2010. This years event is based in Claremorris and will take place on the 14th of March.Justin would like to thank his sponsors M&R Motors Shrule, West Tyre Ballinrobe, his parents and his aunt Wini for all there support, also all his friends and anyone who were out on the stages supporting him on the day.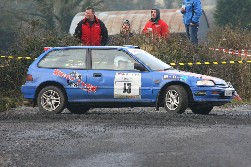 Success For Mayo Competitors on Galway International Rally

Cathal Doyle
Mayo & District Motorsport Club member Aaron MacHale finished in a strong third overall on the Safety First Galway International Rally at the weekend. The Ford Focus WRC driver overcame a puncture early in the event to overhaul the Mitsubishi of Alistair Fisher for the final podium position on the last stage.Making it a double celebration for the MacHale family on the opening round of the Citroen Tarmac Rally Championship, Aaron's brother Gareth clinched overall victory after a trouble-free event in his Focus WRC. He adds his name to the illustrious list of Galway International Rally winners, including his father Austin who won the event on no fewer than five occasions. Young Craig Breen from Kilkenny put in an impressive performance to take second overall in the brand new Ford Fiesta S2000.Another Mayo competitor was also tasting champagne at the rally finish. Shane Buckley from Ballyhaunis finished17th overall, but more importantly took third position on the prestigious Citroen Racing Trophy in his Citroen C2 R2, a result all the more impressive by the fact that both competitors ahead of him were using more powerful C2 R2 Max cars. Competing in the National section of the rally, David Carney from Aughagower brought his C2 R2 Max home safely in 22nd overall. In the Fiesta Sport Trophy section, Carrowmore-Lacken's Paul McGee co-drove Monaghan's Stephen Wright to first in the category and 19th in the overall event.Also having good rallies were John McGeehan from Williamstown and Seamus Coffey from Claremorris who brought their Subaru home in 23rd place in the National section, while 2010 Mayo & District Motorsport Club Young Driver of the Year Justin Ryan from Headford, ably navigated by dad John Paul, was delighted to finish his first tarmac rally in 8th place in the Junior section of the event.Not so fortunate were James Culliney from Bekan and co-driver Michael Loughney from Killala who set fastest time in class 12 on stage 1, but were forced to retire on the following stage after hitting a telegraph pole following brake failure.


All Set For Thrills and Spills on Galway International Rally

Cathal Doyle
The 2010 rally season kicks off in earnest this week-end with the Safety Direct Galway International Rally, opening round of the Citroen Tarmac Rally Championship. The traditional season-opener has received a near capacity entry, and promises plenty of exciting action over the two day event.The recent announcement that Citroen is to be the title sponsor of the Tarmac Championship for 2010 is a major boost for Ireland?s popular international rally series. The French car manufacturer is synonymous with rallying at world level, and currently holds the FIA World Rally Championship title for manufacturers, while Citroen driver Sebastian Loeb has won the driver?s title for the past six years.Based in Oranmore, the Safety Direct Galway International Rally will get underway with a ceremonial start in the village on Friday evening, before competitors tackle nine stages on Saturday followed by another six stages on Sunday.Number one seed Gareth MacHale in his Ford Focus World Rally Car returns for another tilt at the Tarmac Championship title, having finished runner up last year. The Dubliner will face stiff competition from fellow championship regular Tim McNulty in a Subaru WRC, but both men will be keeping a close eye on the stage times of car number 3 ? that of reigning British Rally Champion Keith Cronin. The Corkman has the disadvantage of competing in a Group N showroom class Mitsubishi, but if he carries through the pace that brought him to the British title last year, he will almost certainly be in contention for overall honours.
At four is the leading Mayo & District Motorsport Club competitor Aaron MacHale who wheels out his trusty Focus WRC, while National Rally Champion Patrick Elliott and fellow national regular Kevin Barrett will be ready to pounce if the leading runners slip up. There will also be much interest in car number nine, the brand new Ford Fiesta S2000 of Craig Breen. This car, on which Ford?s world rally championship contender from 2011 will be based, recently won the prestigious Monte Carlo Rally on its debut event. Galway marks its first competitive appearance on Irish soil in the hands of the exciting young Kilkenny driver.
The Galway International Rally also plays host to a number of one-make championships, of which one in particular has significant local interest. The new Citroen Racing Trophy is open to competitors using Citroen C2 R2 and C2 R2 Max rally cars. Aimed at unearthing young driving talent, it offers the largest prize fund of any rally championship in the country, and includes two Mayo drivers among those who will be vying for glory. Shane Buckley from Ballyhaunis had a successful season last year competing in Ford?s Fiesta Sport Trophy one-make series. Starting at number 87 in Galway in a C2 R2 he will hope to use his experience to good effect this year. Young Aughagower man David Carney seeded at 89 has less rallying miles under his belt than his fellow Mayoman, and with a new C2 R2 Max at his disposal, will be hoping primarily to bring the car home safely. With Citroen also sponsoring the overall championship, the series is sure to attract plenty of high-profile interest. And while it may be a world away, the fact that World Champion Sebastian Loeb started his career in equivalent Citroen rally cars is without doubt something of which all the competitors will be fully aware.
Other local competitors hoping for a succesful rally include James Culliney from Bekan and his Killala co-driver Michael Loughney who compete at number 82 in James? Escort Mark 2. At number 106 Williamstown?s John McGeehan and Seamus Coffey from Claremorris are in a Subaru Impreza 555, while two Mayo co-drivers are taking part in the Fiesta Sport Trophy one-make series. Paul McGee from Carrowmore-Lacken navigates Monaghan?s Stephen Wright in the number one seeded FST1, and Anthony Concannon from Westport is in the passenger seat of FST5 driven by Colm O Keefe.