Mayo & District Motorsport Club at Bonniconlon Show
Good result for Sean in Mondello

After managing to avoid a first corner pile up, as shown in the video below, Mayo Club member Sean Hynes, from Foxford, went on to finish 6th and 4th in his two Formula Sheane races in Mondello on Sunday, While he struggled for pace, he was happy to get two finishes on what was a very tough outing.
The races were part of the Formula Vee festival, which ran in Mondello Park this weekend.
The Formula Sheane cars are all mechanically identical. Once they have left the Sheane factory, the engines and gearboxes may not be opened. This means winning is down to the driver, not the engineer or wallet size!
They have a top speed of around 150 MPH and will hit 60 MPH in under four seconds. Their lap times are faster than a Ferrari 360.

The results after the weekend still leaves the 2012 championship wide open with 5 races left to contest.
To stay up to date with Sean and his achievments, read his regular column in the Western People, and for information on Formula Sheane or any areas of Irish motorsport come along to our monthly motorclub meetings on the first Wednesday of every month.
Check here for venue details, new members always welcome.

http://www.youtube.com/watch?v=6HFtysx9i98
photos from Con Connolly http://www.facebook.com/con.connolly
Mayo Club Members compete in
Sligo Stages Rally 2012

Well done to all the Mayo competitors who took part in the Sligo Stages Rally 2012.

Huge congratulations go to Andrew Mullen and Elaine Doherty who took the 3rd overall prize.

Below are some photos from the day's events.


Photos by James Burkewww.jamesburke.biz

Mayo Motorsport Club Competitors make their mark on Sligo Rally

The recent Sligo Stages Rally saw a healthy contingent of Mayo & District Motorsport competitors head northwards for the popular summer event, with a number of competitors scoring strong results.
Top club finishers were Andrew Mullen and Elaine Doherty from Balisodare who brought their Sligo Pallets Mitsubishi Evo home in third place overall. This was a fine result for the husband and wife team after losing time early on with brake problems.
Pat McGuinness from Lavagh was debuting his recently acquired Subaru Impreza and co-driven by Cian Gorman, made the most of his local knowledge to finish 36 overall and fourth in class 15. In 40 overall, the Bekan /Achill combination of Sean McHugh and Liam Healy also had a fourth place class finish in class 14 in their BMW M3, in spite of suffering two punctures on one stage.
Tubbercurry husband and wife team Paul and Kathleen Kennedy were taking part in their first stage rally for over five years, but weren't long dusting off the cobwebs to claim second in class 3 and 46 overall in their Honda Civic.
Cousins Fergal and Michael Loughney were pleased to finish in 48 place in their class 9 Suzuki Swift, fifth in the category their reward. One place behind was Ian Henry, the Tubbercurry driver a coveted win in class 6 in the process in his Peugeot 206.
In 55 place Derek McCarthy from Ballina co-drove Donegal's Eamonn McCafferty to a category win in class 5 in their Ford Puma. The Ballina / Castlebar combination of Tony Langdon and Chrystal Culkeen were 61 and 5 in class 2, while the last place finish of John Duffy and John Egan was an unfair reflection of what had been a strong run by the Crossmolina / Dublin pairing before a problem with the master switch left them sidelined for a long time. A category win in class 7 was some consolation.
Foxford's Alan Moran and Trevor O'Connell from Ballina finished second In the Junior section of the rally as Alan continues to gain valuable experience in his first season in stage rallying.
Adrian and Aidan Fahy from Ballinrobe had been having an excellent run in their class 13 Escort despite co-driver Aidan feeling under the weather, but were disappointed to have to retire with gearbox problems after stage 5.


Higgins Storms to National Rally Win in Carlow

Kiltimagh's John Higgins claimed his first overall national rally success on Sunday when he co-drove Cork's Brian O'Mahony to victory on the Carlow Stages Rally, round four of the Dunlop National Rally Championship. The Subaru WRC pairing won by fourteen seconds from the similar car of Thomas Fitzmaurice and Fionn Foley.
The win puts the Cork / Mayo duo into a strong position to challenge for the 2012 Dunlop National Rally Championship title, with four rounds still to run.
Photos courtesy of Killian Duffy-Ultimate Rally News and Rally Through a Lens.
Murphy Claims Junior Award on Sligo Autocross
Noel Murphy from Shrule, driving a Honda Civic, won the Junior Award on Sunday's Autocross event in Sligo organised by Connacht Motor Club. Also upholding local honours was Bekan's Sean McHugh who narrowly missed out on second in class 9 in his Subaru.
David Carney claimed one of the biggest victories of his career to date by winning the Citroen Racing Trophy section of the Killarney Rally of the Lakes at the weekend. In the process, the Aughagower driver finished a highly creditable sixth overall on the International category of this prestigious rally. Despite early brake problems on his Citroen C2R2 Max, Carney held a comfortable second in category from the start, initially behind championship leader Kevin O'Connor, with Kieran Daly then taking over the lead.
When Daly hit gearbox problems on the second day, the Mayo driver was ideally placed to sweep to his first victory of the season, and revitalise his championship hopes after three of six rounds.

The Rally of the Lakes was won by Corkman Daragh O'Riordan for the second year in succession, with Tarmac Championship leader Darren Gass in second.
Tim McNulty and Eugene Donnelly were among the big names to fail to make it back to the finish, as were two other Mayo & District Motorsport Club competitors. Aaron MacHale retired his Focus WRC midway through the first day with clutch problems, while Castlebar's Chrystal Culkeen who was co-driving for Kerry's Jonathan Courtney went no further than stage two after suffering engine failure on their Ford Escort.
Colin "Dan" Grewer R.I.P.
The death has occurred after an illness of Mayo Motorclub member Colin "Dan" Grewer of Cahereevagh, Cloonameeltogue, Shrule, Co.Mayo and formerly of York, England & La Pointe camping, Chateaulin, Brittany.

Click on any of the photos below to see some great pictures from Dan's motorsport career.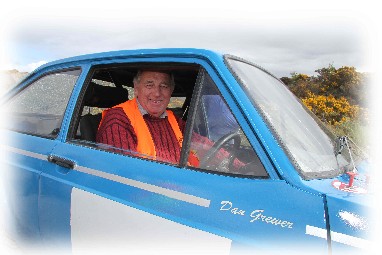 Oh so close for Higgins as Morley takes Drive of the Day on Kerry Rally


Cathal Doyle


Kiltimagh co-driver John Higgins lost out on success on Sunday's Kerry Stages Rally by the narrowest of margins, after he and driver Brian O'Mahony finished the eight stage event in a dead heat with the similar Subaru WRC of Thomas Fitzmaurice and Fionn Foley from Kerry. It was the local crew though who were to claim victory on tie-break rules, after setting a time one second faster than their rivals on the final stage.
Nonetheless this was a battling performance from the Cork / Mayo crew, who see their Dunlop National Rally Championship challenge back on track after a disappointing retirement on the previous round, the Mayo Stages Rally. After a slow start, including a spin on the opening test, they had dropped 37 seconds to Fitzmaurice by first service, but thereafter put in a series of blistering times to move into the lead of the rally by a single second after the penultimate stage. On the crucial final test though, Fitzmaurice and Foley put in a huge performance to stop the clocks one second faster than their rivals. With both crews having recorded total stage times of 53 minutes and 23 seconds, tie-break rules had to be brought into play, handing victory to a delighted Fitzmaurice and Foley, their second win in three events on this year's National Rally series.
Behind the understandably disappointed O'Mahony and Higgins, Niall Maguire and Enda Sherry – winners of the Mayo Stages Rally last time out – took third, ahead of a trio of hard charging Escorts headed by Frank Kelly and Liam Brennan.
There were smiles at the finish though for Knock's Niall Morley who was co-driving the class 2 Honda Civic of Sligo's Adrian Cannon. The pair dominated the category, winning by 1 minute and 48 seconds ahead of their nearest rivals. In recognition of this excellent performance, Cannon and Morley were jointly awarded the Dunlop Drive of the Day by the championship organizers.

Moran Continues Rallying Adventure With Strong Run on Midland Rally

Fresh from a successful stage rallying debut two weeks ago on the Mayo Stages Rally, Foxford's Alan Moran continued his learning curve with a battling run to eighth in the Junior category on Sunday's Midland Stages Rally. Co-driven by Trevor O'Connell from Ballina, Moran revelled in the fast flowing stages on the Roscommon based event, setting very competitive times in his Opel Astra, and gaining valuable experience in the process.

Ballisodare's Andrew Mullen and Elaine Doherty were the leading Mayo & District Motorsport Club finishers, taking eighth overall and second in class 4, while Sligo's Padraig Mullen had club member Ian Henry from Tubbercurry co-driving, the Peugeot 206 crew finishing forty-fifth overall and third in class 6.
Adrian and Aidan Fahy from Ballinrobe had a strong run in their Ford Escort, thirty-fifth overall after the first stage, but suffered from misaligned steering after hitting a bale on stage four, before the gearbox eventually expired on stage seven.
Other Mayo & District Motorsport Club members who failed to make it back to the finish included Derek Deane and Martin Flynn from Williamstown who retired after stage three while fifth in class, while Kenneth McHale from Knockmore who was co-driving the Ford Escort of Eamonn McCafferty in the Historics category didn't make it past stage two.
The rally was won by Daniel McKenna from Monaghan ahead of the similar Escort of Donegal's Declan Boyle. Another Monaghan driver Maurice Moffett was third, ahead of his son Richard, father and son both in Toyota Starlets.