Downloads

October 2nd 2011
Click Here For The Results

Harrington Challenge Points after Round 5


Young Driver Championship Points after Round 5

Report from August Autocross
Deane's Double Top By The Smallest Of Margins


(Scroll to bottom of page for all photos…)



Derek Deane from Williamstown claimed victory for the second event in succession on Sunday's

Loose Surface Autocross organised by Mayo & District Motorsport Club. The JB Buggy driver's

margin of victory was far from a comfortable affair though – just 6/100's of a second separated

him from the Mitsubishi Evo 9 of Peter McCullagh at the end of three timed runs. The Maynooth

driver was left rueing a half-spin on the last corner of the final run, when he had looked well place

to consolidate the lead he had established after run two. Deane took full advantage, taking over

five seconds off his previous best effort with a time of 4 minutes 7.12 seconds. It was enough – just.

If the entry list of thirty competitors was down on previous rounds of Mayo & District Motorsport

Club's popular Autocross series held at Harrington's Quarry near Swinford, the same could not be

said about the quality of the field, the event continuing to attract some of the leading Autocross

drivers from all over the country – and abroad. Bringing a touch of glamour to the paddock on this

occasion was the impressive outfit of former British Rallycross Champion Ollie O'Donovan, his

Buggy just one of nine to start the event. The London domiciled Limerickman wasn't long getting

into his stride, setting the third fastest time on his opening run, before eventually finishing fourth overall.
Gareth Mimnagh made the journey from Omagh worthwhile with victory in class 1 in his Nova, finishing a very creditable 12th overall. Alan Moran's second place consolidates his lead in Mayo Motor Club's Young Driver Championship with just one round remaining, the young Foxford driver once again impressing with his pace in his Opel Kadett. John Burke from Galway, driving the Ford Focus of absentee Andy Walsh, took third in the category.
Donegal took class 2 honours courtesy of the Honda Civic of Michael Boyle, while Achill brothers Liam and Joe Healy battled it out to be best of the rest in their Honda Civic, Joe coming out on top on this occasion.
Matthew Murphy was the sole class three representative, but the Shrule man was as spectacular as ever in his Toyota Corolla, and was pleased to finish ahead of the leading class 4 contenders. The Toyota of Damien McGauran from Belleek was the winner of that category, with Trevor Elliott from Kesh in an Escort second, and Enniskillen's Rodney Donaldson making it an all-Northern Ireland podium.
With one further Loose Surface Autocross event to run in October, the battle for the Frank Harrington Challenge to determine the overall Mayo Autocross Champion for 2011 is hotting up nicely, with Peter McCullagh Snr, Lionel Percy and James Lannon among those in contention to claim the title. The man on the move though is Derek Deane, and despite missing the opening round, the Williamstown driver is now firmly in the mix for championship honours. Can he make it a hat-trick of victories in October?
Photos from Aug 7th 2011…courtesy of Vincent Fahy, Whitethorn Photos and below courtesy of Cathal Doyle, Club PRO.
Celebrating at the finish of the Mayo Stages Rally:
Danny McHugh – McWilliam Park Hotel, Aaron MacHale – Mayo Motorsport Club, Kathleen Kennedy – Mayo Motorsport Club, Kevin Barrett, Sean McHugh – CoC, Mayo Stages Rally, Sean Mullally – winning co-driver, Seamus Coffey – Mayo Motorsport Club, Ella and Danny McHugh – Costcutters and Supermacs Balindine.
Masterful Display From Barrett on Mayo Stages Rally


A year ago Kevin Barrett was the bridesmaid, the runner-up who had to watch as Melvyn Evans sprayed the victory champagne on the finish ramp of the 2010 Mayo Stages Rally. Twelve months on and there was no watching from the sidelines. This time around the genial Kildare man not just won the Mayo Stages Rally, he dominated it.
A measure of his commitment could be seen from his time on the opening test Woodstock near Irishtown. Last year, this stage proved the difference between Evans and the Triton Showers sponsored Subaru, Barrett unable to match the Welshman's times on any of the three runs. By the end of the first stage in 2011, the rest of the field knew that Barrett and co-driver Sean Mullally meant business. They had set a time twenty-five seconds faster than their nearest challengers Niall Maguire and Enda Sherry.
"Yes, we knew from last year that we needed to attack and have a go from the start" explained Kevin at the rally prizegiving on Sunday night. "Luckily it worked for us, they were tricky conditions, but we pulled a bit of time and it opened a bit of a margin for us."By the end of the first loop that gap was extended to forty seven seconds, and from there on it was just a case of keeping the Subaru WRC on the straight and narrow.
Maguire mounted the occasional counter-attack but Barrett never allowed the Monaghan man get too close and while all around complained of wrong tyre choices, the number one seeds sailed serenely on to victory celebrations back at the McWilliam Park Hotel in Claremorris. Game Set and Match to the Kildare / Limerick pairing.Maguire struggled with tyre choices all day as did the man who finished third, Seamus Leonard in another Subaru. At least they finished though, the fourth member of the Subaru WRC clan Adrian McElvanney on his return to rallying after an extended absence forced to call it an early day when his gearbox cried enough.
The conditions were the talking point throughout the day, rain and sleet combining with muddy roads to make it extremely slippery for competitors. One of the first to get caught out was Welsh visitor Phil Collins who failed to get to the end of the first stage in his pristine Escort. It left the way open for Austin McHale to claim the award for the Rally of Legends Champion, and the five times Tarmac Champion didn't disappoint in his wonderfully liveried Xtravision BMW M3, getting ever quicker throughout the day to finish in a more than creditable 11th overall.
In what was a difficult day for two wheel drive cars, Camillus Bradley's Escort was the highest placed non-4WD after rally long battles with the similar class 14 cars of Declan Boyle and Trevor Mulligan. Ahead of them Trevor Bustard was fourth and the winner of Group N, but that was only after Stuart Darcy, who had last year's Clerk of the Course Eamonn Walsh from Claremorris co-driving, suffered the cruel disappointment of a differential failure – as they went past the finish of the final stage. Rallying can be a cruel sport sometimes.Geoffrey Dolan put in impressive times all day in his Sunbeam, while Jonathan Folan belied his number 41 seeding to take ninth in his Subaru ahead of Michael Conlon's Escort.
The Sligo Pallets Drive of the Day Award went to Meath's James Cassidy and John Norris for their fastest time in class 12 on Special Stage Three while among the five winners of the Honda Challenge who each won prizes to the value of €500 was Ballinrobe's Ciaran Walsh. Brothers Colin and Michael Loughney brought their Ford Escort home in 17th place to claim the prize for the highest placed Mayo & District Motorsport Club finisher despite late gearbox dramas.
A popular victory for Kevin Barrett and another hugely successful rally for Mayo & District Motorsport Club despite the challenging weather conditions.


Mayo Stages Rally 2011 Local Competitors


The 2011 Mayo Stages rally will go down in the history books as one of the toughest ever! With hail, sleet, snow and bucket loads of rain the elements were really working against the local competitors on their home stages. But this could not dampen their spirits, the resilient Mayo men and women battled on valiantly.
The first Mayo crew to cross the finish ramp at the McWilliam Park Hotel on Sunday evening were Colin & Michael Loughney, the Killala pairing finished in an excellent 17th overall and 2nd in class twelve. Colin was ecstatic at the finish, delighted to have finished what proved to be a very tough event. It wasn't all plain sailing for the famous red Ford Escort though when it entered first service of the day after three stages it showed signs of an excursion, Colin takes up the story "We were passing a car that had gone off and was stuck in a hedge, Just as I thought we were gone by it I put the power on and the back of the car stepped out and hit the other car! Then the second stage we had another big moment. We were in second gear through a left right kink and the back of the car stepped out and touched the grass. I thought it was all over as we took both sides of the road with us, we were very lucky " after that it was a steady run into the first service of the day.
After a fraught morning Colin was trying to take a steady approach to the next loop of 3 stages but it shows even when you are not on the limit accidents can still happen. Colin: "There was a fast approach into a chicane on stage 4 and the braking zone was extremely slippy. We locked up the brakes and were heading straight for the bales but somehow we found grip just as we neared them and I managed to get it around. We had a lucky escape. After clean runs over stage 5 and 6 Colin found himself in 19th overall and the highest placed Mayo & District Motorsport Club member. Now he just had to complete the final loop safely to claim one of his own personal best finishes.


The penultimate stage and all was looking good as they had a clean run but when they came to a stop car the wipers stopped working and then the gearbox came loose. It seemed like fate was conspiring against them but nothing could stop the Loughneys from finishing. They temporarily tightened the gearbox and made it through the final stage to be the fastest Mayo crew home.
Colin "I am delighted as it is my best finish ever!" and he had every right to be happy as they were the quickest Mayo crew in such challenging conditions and it was a credit to Colin & Michael and the team.
Next Mayo man home was James Culliney from Bekan, with navigator Andrew Grennan they finished in 23rd overall.

The pair had possibly one of most interesting drives of the rally. It all started well as there was just 5 seconds down on James Cassidy the class leader over the first stage. This was a very good time considering that the year before he only made it a mile into that stage before the car broke down. So he was happy to finish it. Stage 2 also went well, James sliding his immaculately prepared Ford Escort Mark 2 around the stage and was only 2 seconds slower than James Cassidy. The class battle was really hotting up.

Going into stage 3 there was only 7 seconds between the two James's, but it all went wrong for the Bekan man, he was caught out on a very slippy section with the car sliding wide. James tried to correct it by applying the handbrake but it was too late.

He hit a rock which wrenched the steering wheel from his hands breaking his thumb in the process. Finally the car came to rest in a gate. Luckily there was not an awful amount of damage done and after help from spectators they got back on the road all be it loosing two minutes fifteen seconds in the process.
James fought through the pain on the road section back to service and once in service he and his team got to work on repairing the car.
The broken thumb seemed to have no ill effects on his stage times over the next loop as James reported that once the stage started and the adrenalin started flowing he didn't even notice it. He decided not to take anymore risks and just get the car to the finish which he did, ending the day in an excellent 23rd overall and 3rd in class 12. James would like to thank Eugene Waldron & Associates and PC Plastering for there support.
The distinctive blue Toyota Corolla of Foxford's Ambrose Gaughan had a tough day on the slippy stages but still managed to finish in 29th place overall. Ambrose who is navigated by Derek Molloy from Lahardane was hampered by a lack of heat in his tyres on the first three stages due to the cold conditions, This made him take a cautious approach and left him in 39th place overall after the first three stages. But the Mayo men were lucky to even make the rally as Ambrose had to call on Drifting legend Declan Munnelly to get parts from his gearbox to get the car up and running before the event. Luckily the car ran faultlessly throughout the rally and the team would like to profusely thank Declan for his generosity.

The dramas continued through stage 4 with the windsceen constantly fogging up in the immensely wet conditions. Then on stage 5 it looked like it was all over.

As Ambrose pushed through a tight right hand bend he was confronted with a silage bale in the middle of the road. The bale had been hit by a previous car and the marshals were struggling to get it back into position when Ambrose arrived. With no other option the Toyota ploughed straight through the bale. Ambrose was immediately fearful that the radiator might be damaged but when they got to the end of the stage it seemed that the damage was only cosmetic. A sigh of relief was had in the car and the pair were quite happy to make it back to the final service beside the McWilliam Park Hotel. Here they could do a few more checks before the last three stages.
Before leaving service Ambrose chose to use a soft compound tyre for the last loop which seemed to really work well as he climbed from 34th overall to a final 29th and 2nd in class 9 a brilliant result for the pair on there home stages. Ambrose would like to sincerely thank his navigator Derek Molloy, Declan Munnelly for his generosity and all his sponsors especially Treecare.ie .
Ballinrobe man Ciaran Walsh was hot on Ambrose's heals finishing just sixteen seconds behind the Foxford man. Ciaran with Shane O Brien on the notes had a surprisingly trouble free day.
After winning the junior section of the Galway International Rally in February there was high expectations of Ciaran for the rally, and he delivered. Finishing in 30th place overall a claiming 3rd in the Honda Challenge, in the process picking up €500 worth of prizes, it was a great day for the Mayo man.
Ciaran: "I had a steady run, I was loosing time in the middle loop of stages as I wasn't pushing too hard, I wanted to bring the car home in one piece after last year" On last years event Ciaran had a big accident colliding with a tree so it was a real bonus getting to the finish with not even a scratch on the car. Ciaran was the fourth Mayo & District Motorsport Member to the finish the event.



Nial Morley from Knock was next Mayo finisher in at 51st overall. Niall with navigator Cormac Lyons had an eventful day. After stage 1 and the pair found themselves languishing in 76th place overall this was due to an overshoot and a spin on the stage, Not an ideal start to the rally but Niall battled on, climbing back up the leader board on stage 2. But all his good work was undone on stage 3 as they went off the road in sight of the flying finish loosing 2 minutes.dropped him back to 80th overall leaving him a colossal amount of time to make back in the afternoon stages, but that's exactly what he did. He steadily made his way back up the time sheets finishing the day in 51st place overall a credible result.
Derek Bolton and navigator Trever O Connell, had a very up and down day. The pair suffering teething problems with the new Subaru Impreza WRC. Stage 1 was to set the tone for the day, with cold brakes and tyres at the beginning of the stage Derek put the car into a ditch, luckily an army of Marshall's and spectators descended onto the car, they push and pulled and eventually got the pair back on the road loosing about 2 minutes. After being passed by slower cars while he was in the ditch Derek had trouble being held up by cars, this hampered his recovery. After a few trouble free stages he found himself in 68th overall a brilliant recovery from being as far down the order as 97th.
But stage 6 of the rally almost saw the demise of the Bo-Drive run Impreza, After passing a competitor who had gone off the road the back wheel of the car touched the grass verge at high speed. Derek: "I passed the car and i stayed a bit to close to the grass and once the back wheel touched it I was a passenger! We ended up sideways across the road with drains in front and behind us, I had to do a six point turn to get pointing in the right direction again!" After that stage we just got quicker and quicker I was getting a feel for the car and it was all starting to click but we ran out of stages" Derek finished the rally in 56th place overall and took first in class 15 a great result for the start of the new season with a new car.
Right behind Derek was John Duffy & John Egan. The John's were in flying form with a new sponsor in OnThePacenote.com the car was looking great at the start of the event and it was set to stay that way, as John didn't put a foot wrong all day.first loop proved challenging as they had chosen the wrong tyres this severely compromised the grip levels in the wet conditions, leeding to the Honda Integra clouting a bale on stage 2 luckily no damage was done and the car came back to service in one piece.
It was an undramatic day for the pair, after a 12 month lay off from the sport John admitted to being a little rusty but was starting to get back into the swing of it over the final loop of stages. They finished the rally in 58th place overall.
In 66th overall were Brendan Corcoran & Jarad Gill after being as high as 57th a small error cost them fourteen minutes in penalties. As the timecard was handed out to be filled up at the end of stage 4 the pages got wet in the deluge that engulfed the stages. This lead to the pages getting stuck together and the pair using stage 6 time card instead stage 5 on stage 5. But this massive time penalty didn't deter the Brendan he drove on and gained thirteen places in the overall standings to leave him in 66th overall.

The last Mayo crew to finish were Justin Ryan & Andy Walsh. It was a trying day for Justin, he showed great pace over the opening stages being as high as 63rd overall and beating much more experienced drivers like John Duffy. On stage 6 this was about to change though. On the start line of the stage he lost all gears, after a few frantic seconds the car was rammed into second gear and they set off into the stage.

With only the one gear it didn't take long for them to be caught by the next car, and as they had lost both wing mirrors earlier in the day Justin could not see the car behind him. After holding the car up for a short period of time he saw a safe area to pull in in front of some houses, but unfortunately so did the car behind them, as Justin pulled in the car behind rear ended them and sent them careering towards the wall of the house. Luckily they didn't hit the wall but there was substantial damage to the back of the car.
Considering that the car was stuck in second gear and now damaged in the rear Justin was ready to throw in the towel, but Andy was having none of it. They waited for the last car to go past and then they tried to complete the stage, luckily it was service just after the stage and Justin nursed the car back in. The team got to work temporarily fixing the car and it was just ready in time for the last loop of stages.
Justin and Andy finished in 69th overall after incurring a time penalty.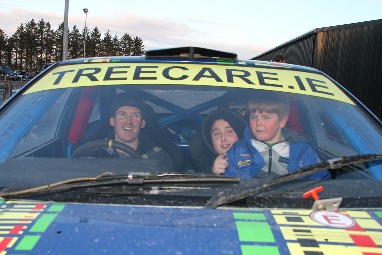 Unfortunately not all of the Mayo competitors were lucky enough to finish the event.
Eamon Walsh from Clarmorris was navigating for Stuart Darcy in his Mitsubishi Lancer. The pair had a flyer of a rally winning the Group N category of the rally and finishing 4th overall but there rally was to abruptly halt just after the finish of the last stage when the diff broke on the car stopping it dead in the road, It was a great shame for Eamonn as it would have been a great result but as the saying goes "That's Rallying!"
Padraic Roche and Chrystal Culkeen were another crew who fell by the wayside. After Padraics excellent result on the Galway International Rally he was hoping to emulate that success in Mayo but it was not to be. They retired after 3 stages with gearbox problems.
Shrules Matthew & Noel Murphy retired less than a mile into the first stage. The WestTyre Toyota Corolla broke a timing belt, It was a great shame for the team and especially for Noel as it was his first time ever navigating.

Locals All Set For Mayo Stages Rally


No fewer than twenty-five Mayo & District Motorsport Club competitors will be taking part on their home rally this week-end, all hoping for a successful and safe rally.
Heading the local runners at number 33 is the class 12 Ford Escort of brothers Colin and Michael Loughney. Sponsored by Hillside Service Station, CBE, Griffiths Garage Claremorris, West Fest, Carnival Marquees, McEllin Plant Hire and Group 4 Fabrications, Ballyhaunis based Colin and Michael from Killala are likely to be locked in battle with the car directly behind them, the similar class 12 PC Plastering, Waldron & Associates Claremorris and Scanbitz sponsored Escort of James Culliney from Bekan at number 34.
At number 55 is the black Toyota Corolla of Foxford'sAmbrose Gaughan and Derek Molloy from Lahardane who will be hoping to continue their class 9 winning form from last year's Border Rally Championship. They carry sponsorship from TreeCare, DM Tyres, Kennedy Motors Belmullet and Gusclad Steel Sheet Profilers, Boyle.
Another class winner last year on the Border Championship was Fergal Loughney, and the Kilfian man is again co-driving for Pauric McGee from Donegal in a class 2 Honda Civic at number 63. At 65Ciaran Walsh from Ballinrobe will be putting his accident on last year's event behind him as he aims for a top finish in his class 2 Civic which is sponsored by David Walsh Jetting Services, Moran Butchers Belcarra, Brian Rodgers Car Sales, Enda Loughlin Truck and Car Repairs and Corrib Oil.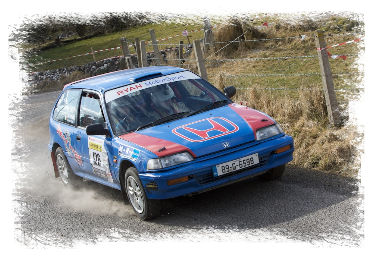 Another class 12 Escort joins the fray at number 75,Padraic Roche from Killala and Chrystal Culkeenfrom Castlebar competing in the Max Tyres, Killala Motors, Merricks Ballina, Carr's of Ballina and Fortknox Security sponsored machine. At 76 is the West Tyres Ballinrobe and Shrule sponsored class 11 Corolla ofMatthew and Noel Murphy.

Brendan Corcoran from Castlebar and Jared Gillfrom Bofeenaun are next up at number 77 in a class 2 Civic, while Niall Morley from Knock wheels out his class 9 Escort at number 85. Crossmolina's John Duffy and John Egan will be gunning for the Honda Challenge prizes at 87 in their class 7 Integra, while behind them Derek Bolton and Trevor O'Connellfrom Ballaghadereen have a class 15 Subaru Impreza in action.
At 95 is Mayo Motor Club's Young Driver ChampionJustin Ryan from Headford who has Ballinrobe'sAndy Walsh co-driving in the Solar Signs Ireland, Flynn's Pharmacy Claremorris and Arrabawn Fresh Milk sponsored Honda Civic. 96 is Padraig Mullenfrom Ballymote who is driving a class 6 Peugeot 206. At 102 Ballinrobe's Adrian and Aidan Fahy wheel out their trusty class 13 Escort, while number 109 sees Liam Devaney from Enniscrone and Ray Carroll from Killala competing in a class 10 Peugeot 205 sponsored by John Munnelly Haulage Killala.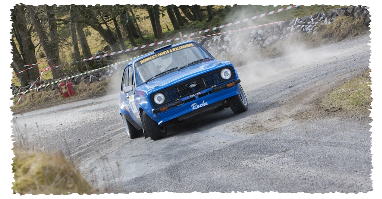 Not competing but providing the important role of course cars which run ahead of the main field to warn of the approaching competitors are Tubbercurry's Pat McGuinness and Paul Kennedy, and Tony Langdon andEddie Quinn from Ballina, while also taking part in the rally is Gerry Ronan from Bekan who runs at number 32 in his class 8 Mitsubishi Evo 6.
Large Crowd Turns Out For Launch of 2011 McWilliam Park Hotel Mayo Stages Rally

Photo by Michael Donnelly

Pictured at the launch of the Mayo Stages Rally 2011 at The McWilliam Park Hotel, Claremorris, from left: Aaron McHale RSA and Assistant CoC; Richard Finn, Mayo Co.Co.; Neil Sheridan, County Enterprise Board, Mayo Co.Co.; Finbarr Burke, Liam Elwood and Donal Byrne of West Fest; Killian Duffy, Danny McHugh, Supermacs and Costcutter; Noel Brett, CEO RSA; Cathal Doyle M&DMC PRO; Kathleen Kennedy, Mayo Stages Rally Secretary; Sean McHugh CoC Mayo Stages Rally; Eugene Waldron, President Claremorris Chamber of Commerce; Joe Corcoran, President Motor Sport Ireland; Tom Walsh M&DMC Club President and Steward for Mayo Stages Rally; Jimmy Flynn, Flynn Pharmacy; Brendan Mellett, Claremorris Credit Union; Tadhg Buckley, EPS and Seamus Coffey Asst, COC
Press Release for Mayo Stages Rally Launch 2011 – Click Here
RSA and Motorsport Ireland Team Up Promote "Keep the Race in its Place" At Mayo Rally

Road Safety Authority (RSA) and Motorsport Ireland, organisers of the Mayo Rally event which is being staged on Sunday 13 March 2011, have issued a joint safety message to fans attending the sporting event to "Keep the Race in its Place"
RSA and Motorsport Ireland are running a safety campaign around the event to convey life-saving road safety messages to the public and to the high-risk target audiences viewing the event.
"We are getting involved because we want to talk directly to the predominantly young men who follow the sport,"explained Noel Brett, Chief Executive, RSA. "We want to remind them of the need to drive safely – hence our "Keep The Race In Its Place"message."
"We're expecting thousands of fans to attend the Mayo Rally,"explained Alex Sinclair, Chief Executive, Motorsport Ireland. "And by teaming up with the RSA we want to emphasise the importance of safety, both on the rally course and on the open road. And anyone attending the rally will be getting the message that 'safety wins' loud and clear."
"Keep the Race in its Place"campaign reminds people to only watch the Special Stages from safety zones, never to enter prohibited areas, and between stages and afterwards, to follow the rally drivers' lead by staying within the speed limits, by staying belted-in, and by never ever drinking and driving.
this example is well known rally driver Aaron McHale, Board Member of the RSA, successful rally driver and son of rallying legend Austin McHale. Aaron is helping to get across these important safety messages to the public as part of an advertising campaign.
"As a rally driver I am acutely aware of the need for safety,"explained Aaron McHale, "It is the top priority for all rally drivers and it should be the top priority for all road users. You simply cannot drive on open roads the same way that professional Rally drivers do on closed roads with a co-driver warning you of upcoming obstacles and hazards. Ordinary drivers just don't drive under the same strict health and safety requirements and when driving on public roads must obey the rules of the road."
travelling to and from the Mayo Rally on 13 March are urged to heed the message from the rally drivers – to 'Keep the Race in its Place', slow down, don't drink and drive and always wear a seatbelt.


Programmes are now on sale
at the following locations:
CLAREMORRIS
Supermac's
Higgins Topaz Service Station
Hillside Service Station (Paul Hunt)
O'Dea's Costcutter Express
Smyths Newsagent
Rafterys Centra
Esso (24hour) N17

BALLINDINE
Topaz/Centra
McHughs Costcutter/Supermac's

IRISHTOWN
McManus Corner shop

BALLYHAUNIS
Murphys Topaz
Gem

BEKAN
Ronans

KNOCK
Burkes corner shop/pub

BALLA
Topaz


Looking for Accommodation for the Mayo Stages Rally 2011?

Our Main Sponsor Mc William Park Hotel.
Contact: Tel +353 (0)94 9378000
Website: http://www.mcwilliampark.ie/
Clar Ird Claremorris have a database of accomodation in the Claremorris and surrounding area.
Contact: Tel: +353 (0)94 9371830
Office hours 09.00 – 17.00hrs
Email: clarird@eircom.net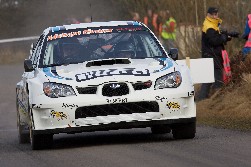 Mayo Competitors Win Junior Section of Galway International Rally


Ciarán Walsh and Aidan Gannon have started their motorsport year in some style. The Ballinrobe / Tubbercurry pairing claimed overall victory on the Junior section of the Galway International Rally at the week-end. It was a superb result for the Honda Civic crew who finished 9.7 seconds ahead of their nearest challengers after six challenging stages.
The traditional season opener, the 2011 running of the Galway International Rally may have been faced with a significantly smaller field of entrants compared to recent years, a reflection of the economic gloom in the country at present, but despite that, and extremely wet weather conditions over the week-end, those that did make it out onto the stages enjoyed a well-run two day event.
Tim McNulty put in a polished drive in his Subaru Impreza WRC to claim his first Galway win, the Meath man and co-driver Paul Kiely always in control from the first stage onwards to finish over four minutes ahead of the similar car of Kevin Barrett and Sean Mullally.
Other Mayo competitors also recorded top results. Padraic Roche from Killala and Fergal Loughney from Kilfian finished 9th overall in the National Category and second in class 12 in their Ford Escort, while David Carney from Aughagower completed the International section of the rally in 12th overall and 2nd in class 2 in his Citroen C2.
And behind Walsh and Gannon, Headford's Justin Ryan and Andy Walsh from Ballinrobe brought their Civic home in fourth place in the Junior category. retirements included co-driver Paul McGee from Carrowmore-Lacken who retired on the first stage with differential problems in the Mistubishi of Stephen Wright, while Seamus Coffey from Ballyhaunis co-driving for John McGettrick had to call it a day after special stage three with damage sustained with a puncture.
All attention now turns to the Mayo Stages Rally which takes place on March 13th, with entries already coming in rapidly for the Claremorris based event.
Mayo Motorsport Club
Celebrates Successful Year


With the motorsport year drawing to a close, members of Mayo & District Motorsport Club gathered at the Gateway Hotel in Swinford on Friday last to commemorate another successful year, and to present club members with awards for their achievements throughout the season.
A busy 2010 saw the club run the highly successful Mayo Stages Rally in March, as well as five Autocross events between May and October. Held at Harrington's Quarry near Swinford, Mayo & District Motorsport Club's Autocross venue is widely regarded as one of the best loose surface circuits in the country, and compére for the evening Willie Durcan thanked Frank and Brian Harrington and their staff for their ongoing support and use of the facility.

Among those to be honoured was James McGreal from Foxford who retained the Frank Harrington Trophy for overall Mayo Loose Surface Autocross Champion for the second successive year against stiff opposition from all over the country. Accepting the award James, who has been a club stalwart since its founding days back in 1976, said he was proud to be a member of Mayo Motorsport Club and – much to the dismay of his fellow competitors – promised to be back in 2011 to defend his title.
Award winners with Mayo and District Club committee members.
Also receiving an award for the second year was Justin Ryan from Headford who retained the Mayo Autocross Young Driver Championship title he won last year. He didn't have it all his own way though, Alan Moran from Foxford pushing all the way to the finishing flag. Designed to encourage young drivers looking to get started in motorsport, the Young Driver Championship has been a huge success, attracting large numbers of local competitors each year.Awards were also presented to the top three club competitors within the overall Autocross championship. Matthew Murphy from Shrule was the top placed finisher ahead of Brendan Doherty from Castlebar and Sean McHugh from Bekan.

Of course it takes a huge amount of work to organise and run these motorsport events, and in recognition of their work behind the scenes two special presentations were made to individuals who had worked tirelessly on behalf of the club all year. Marshal of the Year was awarded to David Jordan from Aughagower, while the Mayo & District Motorsport Club Person of the Year award was presented to Kathleen Kennedy from Tubbercurry. In 2010 Kathleen took on the onerous responsibility of being secretary for every event the club organised – from the Mayo Stages Rally to the five Autocross events, yet still found time to help out on events run by other clubs, as well as compete on selected sprint events.
The club is already looking forward to 2011 with planning for the Mayo Stages Rally in March in full progress, while a full Autocross season is also scheduled to be held commencing in May.
The Mayo Stages Rally 2010 proved to be extremely tough for all competitors, especially for all the local crews. Out of the twenty six local starters only sixteen made it back to the McWilliam Park Hotel. A testament to how challenging the event was.
First Mayo crew home were Mervyn & Derek Deane from Williamstown in there class 13 Ford Mark 2 escort. They finished the day in 13th overall and 3rd in class. An excellent result considering the stiff competition. Mervyn also picked up the coveted Eddie O' Hora memorial for the fastest Mayo modified crew home.
Gerry Ronan was next up in his Mitsubishi Evo 6. The Bekan man put in a sterling drive to finish in an excellent 23rd overall and 3rd in class eight. He also had the honor of taking home the "Best in Bekan Award"(For the fastest crew from the Bekan Area). As the rest of the Bekan challengers fell by the way side Gerry coasted to victory.
In an incredible 40th overall Fiachra Moran & Shane O'Brien from Castlebar brought their pristine Ford Escort Mark 2 home 3rd in class 12. This was an astonishing achievement for Fiachra as it was his first time ever competing in a rear wheel drive rally car. He slowly beaded himself into the car over the first 2 stages and found himself in 80th position and seventh in class. Stage 3 was a turn around for the books though the Castlebar man really put the foot to the floor as he climbed 30 places in the overall standings to be in 50th and 5 places in the class to be in second. He finished the rally 10 places higher in 40th position.
Just one place behind was Fergal Loughney from Killala. Fergal was navigating for Donegal man Pauric McGee and ably guided him through the Mayo Stages. The pair finished in 41st overall.
Walter Burke from Williamston entertained his way to 46th overall. His sideways driving style in his Mark 2 Escort was a real crowd pleaser.
Ciaran Kennedy Co driven by Paul McGinnis, brought his red Honda Civic across the line in 48th overall and 4th in class. The crew thoroughly enjoyed the day. Hot on his heals was David Carney. The young Aughagower man piloted his Citroen C2 R2 to a fine 49th overall only 7 seconds behind Ciaran Kennedy. This was only David's second time using the little French pocket rocket his first being the Galway International Rally in February where he finished 22nd overall. At the finish David said "It's all a learning process .We are getting there! I am feeling much happier with the car and my driving now". David had a relatively trouble free day his only setbacks were two overshoots on stages 1 & 3.
Chrystal Culkeen from Castlebar was co-driving for Ruairi Maguire from Strabane they finished in 52nd overall and 7th in class 6.
Niall Morley from Bekan was to be the next man home and was to be given the honor of being runner up in the Bekan Challenge. Niall was speechless at the finish and was overjoyed to have been runner up to Gerry Ronan. He finished the rally 53rd overall and 5th in class.
Marcus Molloy & Damien Cleary from Foxford had mixed day. It started well with a clean run over stage 1 but things rapidly deteriorated on stage 2 with a spin and an overshoot. This was to set a trend for the remainder of the day. But the biggest moment was to come on stage 8. Marcus takes up the story " We came around a tight left corner and the car broke away from me. There was drain on the outside and we slipped down" "Luckily we were carrying enough speed to get out with minimal time loss and damage but it was a big moment!"
Eoin McGreal with co-driver Jonathan Rice from Castlebar had a great day's rallying. Eoin in his Vauxhall Chevette utilized every horsepower under the bonnet of the car to finish in 63rd overall. He drove the door handles off it all day and was a crowd favourite as the Chevette usually came into view going sideways!
Ballinrobe Mathew Murphy had John Burke shouting the notes. They were very happy with the result at the finish the event 65th overall and 7th in class. At the end of the event they were asked: Did you have any moments or incidents on the stages? "John quickly pointed out that every corner was an incident!"
Padraic Roche & Co driver Paddy O'Hora from Killala came home in 68th overall and 8th in the very competitive class 12 on a welcome return to the stages.
Coming home in 71st place was Kenneth MacHale from Knockmore he swapped his drivers seat for the navigators on the day and sat beside. But what he didn't swap was his winning ways. Himself and driver Eamonn McCafferty took a start to finish victory in class 5. They completed the rally with no back breaks and with two broken suspension units! Just to show how hard they were pushing! Two places behind them in the class was Otto Gropler & Paul McGlinchey the Killala man brought his beautiful Ford Ka home in 83rd overall.
Otto was closely followed by Justin Ryan, who only on his second rally put in a great controlled drive to finish in 84th overall. Justin's co-driver for the day was his father John Ryan. John kept him on the straight and narrow and the pair were delighted at the finish saying "It was an excellent event! Great stages and a great atmosphere, thoroughly enjoyed it"
Unfortunately it wasn't all good news for the Mayo competitors as many of them fell by the wayside early on.
One of them was Sean McHugh. The Bekan man driving his distinctive BMW M3 Compact broke a driveshaft and was forced to retire thus relinquishing any chance he had at winning the "Battle of Bekan". Another man's rally who ended very early on was James Culliney his event ended not even a mile into the first stage with a sensor problem. James was very disappointed but he said he was happy he wasn't beaten by Sean McHugh to the "Battle of Bekan"! James and his team worked tirelessly the day before the event to replace the clutch on the car which had broken. This made his early retirement even worse.
After the demise of McHugh & Culliney it was all down to Colin Loughney to bring the fight to Gerry Ronan, and that is what he did…. for a while. After stage one Colin was lying in an excellent 34th overall and thirteen seconds ahead of Gerry Ronan. Due to the second stage being much quicker Gerry pulled back seven seconds leaving the gap at five seconds going into stage three. But unfortunately that was to be as far as Colin could bring his challenge. Midway through stage 3 Colin cut a corner clipping a rock. This bent the steering arm and sent him into the ditch. The car suffered damage after the impact and their rally was over. An unfortunate end to a great run.
Barry Cuffe from Belcarra was to suffer a blown engine in his Ford Escort only two km into stage one.
Crossmolina man John Duffy driving his Honda Integra had to park up for the day on stage 4 as a broken driveshaft halted his progress.
One mans rally to end in spectacular style was Ciaran Walsh from Ballinrobe. Ciaran maybe took the rally phrase "Win it or bin it too literally" and unfortunately after leading his class for most of the morning he chose the latter. Ciaran Takes up the story " The back just got light over a crest and at that stage I was a passenger. We ended up hitting a tree and that was it"
Well mixed fortunes for the competitors on there local rally.