The Mayo Stages Rally 2010 proved to be extremely tough for all competitors, especially for all the local crews. Out of the twenty six local starters only sixteen made it back to the McWilliam Park Hotel. A testament to how challenging the event was.
First Mayo crew home were Mervyn & Derek Deane from Williamstown in there class 13 Ford Mark 2 escort. They finished the day in 13th overall and 3rd in class. An excellent result considering the stiff competition. Mervyn also picked up the coveted Eddie O' Hora memorial for the fastest Mayo modified crew home.
Gerry Ronan was next up in his Mitsubishi Evo 6. The Bekan man put in a sterling drive to finish in an excellent 23rd overall and 3rd in class eight. He also had the honor of taking home the "Best in Bekan Award"(For the fastest crew from the Bekan Area). As the rest of the Bekan challengers fell by the way side Gerry coasted to victory.
In an incredible 40th overall Fiachra Moran & Shane O'Brien from Castlebar brought their pristine Ford Escort Mark 2 home 3rd in class 12. This was an astonishing achievement for Fiachra as it was his first time ever competing in a rear wheel drive rally car. He slowly beaded himself into the car over the first 2 stages and found himself in 80th position and seventh in class. Stage 3 was a turn around for the books though the Castlebar man really put the foot to the floor as he climbed 30 places in the overall standings to be in 50th and 5 places in the class to be in second. He finished the rally 10 places higher in 40th position.
Just one place behind was Fergal Loughney from Killala. Fergal was navigating for Donegal man Pauric McGee and ably guided him through the Mayo Stages. The pair finished in 41st overall.
Walter Burke from Williamston entertained his way to 46th overall. His sideways driving style in his Mark 2 Escort was a real crowd pleaser.
Ciaran Kennedy Co driven by Paul McGinnis, brought his red Honda Civic across the line in 48th overall and 4th in class. The crew thoroughly enjoyed the day. Hot on his heals was David Carney. The young Aughagower man piloted his Citroen C2 R2 to a fine 49th overall only 7 seconds behind Ciaran Kennedy. This was only David's second time using the little French pocket rocket his first being the Galway International Rally in February where he finished 22nd overall. At the finish David said "It's all a learning process .We are getting there! I am feeling much happier with the car and my driving now". David had a relatively trouble free day his only setbacks were two overshoots on stages 1 & 3.
Chrystal Culkeen from Castlebar was co-driving for Ruairi Maguire from Strabane they finished in 52nd overall and 7th in class 6.
Niall Morley from Bekan was to be the next man home and was to be given the honor of being runner up in the Bekan Challenge. Niall was speechless at the finish and was overjoyed to have been runner up to Gerry Ronan. He finished the rally 53rd overall and 5th in class.
Marcus Molloy & Damien Cleary from Foxford had mixed day. It started well with a clean run over stage 1 but things rapidly deteriorated on stage 2 with a spin and an overshoot. This was to set a trend for the remainder of the day. But the biggest moment was to come on stage 8. Marcus takes up the story " We came around a tight left corner and the car broke away from me. There was drain on the outside and we slipped down" "Luckily we were carrying enough speed to get out with minimal time loss and damage but it was a big moment!"
Eoin McGreal with co-driver Jonathan Rice from Castlebar had a great day's rallying. Eoin in his Vauxhall Chevette utilized every horsepower under the bonnet of the car to finish in 63rd overall. He drove the door handles off it all day and was a crowd favourite as the Chevette usually came into view going sideways!
Ballinrobe Mathew Murphy had John Burke shouting the notes. They were very happy with the result at the finish the event 65th overall and 7th in class. At the end of the event they were asked: Did you have any moments or incidents on the stages? "John quickly pointed out that every corner was an incident!"
Padraic Roche & Co driver Paddy O'Hora from Killala came home in 68th overall and 8th in the very competitive class 12 on a welcome return to the stages.
Coming home in 71st place was Kenneth MacHale from Knockmore he swapped his drivers seat for the navigators on the day and sat beside. But what he didn't swap was his winning ways. Himself and driver Eamonn McCafferty took a start to finish victory in class 5. They completed the rally with no back breaks and with two broken suspension units! Just to show how hard they were pushing! Two places behind them in the class was Otto Gropler & Paul McGlinchey the Killala man brought his beautiful Ford Ka home in 83rd overall.
Otto was closely followed by Justin Ryan, who only on his second rally put in a great controlled drive to finish in 84th overall. Justin's co-driver for the day was his father John Ryan. John kept him on the straight and narrow and the pair were delighted at the finish saying "It was an excellent event! Great stages and a great atmosphere, thoroughly enjoyed it"
Unfortunately it wasn't all good news for the Mayo competitors as many of them fell by the wayside early on.
One of them was Sean McHugh. The Bekan man driving his distinctive BMW M3 Compact broke a driveshaft and was forced to retire thus relinquishing any chance he had at winning the "Battle of Bekan". Another man's rally who ended very early on was James Culliney his event ended not even a mile into the first stage with a sensor problem. James was very disappointed but he said he was happy he wasn't beaten by Sean McHugh to the "Battle of Bekan"! James and his team worked tirelessly the day before the event to replace the clutch on the car which had broken. This made his early retirement even worse.
After the demise of McHugh & Culliney it was all down to Colin Loughney to bring the fight to Gerry Ronan, and that is what he did…. for a while. After stage one Colin was lying in an excellent 34th overall and thirteen seconds ahead of Gerry Ronan. Due to the second stage being much quicker Gerry pulled back seven seconds leaving the gap at five seconds going into stage three. But unfortunately that was to be as far as Colin could bring his challenge. Midway through stage 3 Colin cut a corner clipping a rock. This bent the steering arm and sent him into the ditch. The car suffered damage after the impact and their rally was over. An unfortunate end to a great run.
Barry Cuffe from Belcarra was to suffer a blown engine in his Ford Escort only two km into stage one.
Crossmolina man John Duffy driving his Honda Integra had to park up for the day on stage 4 as a broken driveshaft halted his progress.
One mans rally to end in spectacular style was Ciaran Walsh from Ballinrobe. Ciaran maybe took the rally phrase "Win it or bin it too literally" and unfortunately after leading his class for most of the morning he chose the latter. Ciaran Takes up the story " The back just got light over a crest and at that stage I was a passenger. We ended up hitting a tree and that was it"
Well mixed fortunes for the competitors on there local rally.
Mayo Stages Rally Is Go!
Cathal Doyle

The months of preparation are almost at a close. Officials are checking paperwork one final time, Stage Commanders are conducting last-minute spot-checks, marshals are gathering their bibs and all-weather gear for a day out in the elements, and competitors are fastening bonnet clips and loading their rally cars onto their trailers. It's time for the McWilliam Park Hotel Mayo Stages Rally 2010.
The sense of excitement is palpable as officials, spectators and competitors alike eagerly wait for 9am Sunday morning when the leading cars will be flagged away from rally headquarters The McWilliam Park Hotel. It is no exaggeration to say that this Mayo Stages Rally is one of the most eagerly anticipated motorsport events in this country for a long time.
A new location and rally headquarters, huge support from local businesses in Claremorris and surrounding regions, a host of innovative ideas, and, to top it all, a mouthwatering entry list. Combine that with the Mayo Stages Rally being the subject of two separate television programmes. Is it any wonder that anticipation is sky-high?
And what an entry! Since it was revealed last Thursday night, the rally community has been abuzz with the sheer quality and quantity of the field that is coming together to compete in Mayo. More than one observer has said that a finer entry list will not be seen anywhere this year in Ireland. Testament indeed to the hard work of Clerk of the Course Eamonn Walsh and his team at Mayo & District Motorsport Club.
Six World Rally Cars, a new Super 2000 Ford Fiesta making its debut on the National Rally Championship, a plethora of top Group N machinery and a significant overseas contingent are mouthwatering enough, but it is the modified entry list that has everyone drooling, with what is truly the finest line-up of competitive Escort Mark 2 rally cars seen for a long time.
Ceremonial Start
On Saturday evening, a ceremonial start for the leading rally crews will bring glamour and excitement to Claremorris town centre. With live music from 8pm, the first cars are scheduled to arrive at the start ramp at 8.40pm, for what is a great opportunity for families to see these powerful machines up close.
All New Rally Route
Nine stages featuring three tests each run three times make up the 2010 McWilliam Park Mayo Stages Rally. The opening test Woodstock in the Ballindine / Irishtown area gets underway at 9.30am on Sunday morning. It is immediately followed by the opening Logboy stage near Brickens and Bekan at 10.10am and The Five Crossroads stage near Barranacarroll at 10.45am. Competitors then return for service in Claremorris before repeating the loop a further two times. The leading rally cars will return to rally headquarters The McWilliam Park Hotel at 5pm. Full details of the rally route and stage times will be available on the official rally programme which goes on sale in selected newsagents and service stations in the area from Friday evening, price €5.
Marshalling Information
A small army of volunteers is needed to ensure a safe running of the Mayo Stages Rally. If you would be interesting in lending your support to help out on the day, please contact Chief Marshal David Doherty on 087 2323113 – your assistance would be greatly appreciated.
The meeting points and times for marshals on Sunday morning are as follows:
Stage 1 Woodstock: Meeting at Costcutters Ballindine at 7.30am.
Stage 2 Logboy: Meeting at Costcutters Ballindine at 8.00am.
Stage 3 The Five Crossroads: Meeting at Hillside Service Station (Hunts), Ballyhaunis Road, Claremorris at 8.20am.

The Mads Ostberg Challenge
Before the main field comes through, watch out for course car 002, a Ford Escort driven by World Rally Star Mads Ostberg. The Norwegian has a special co-driver alongside him, Mark Kilgannon from Kiltimagh. Mark was selected by country music star Mick Flavin in a prize draw to sit alongside one of the best drivers in the world. He is certain to have the day of his life!.
Leading Entries
The overall winner will probably come from the leading half dozen cars which are lead away by Mayo & District Motorsport Club member Aaron McHale, a former National Rally Champion and winner of this event in 2008. Recently Aaron has been concentrating on the Irish Tarmac Championship, but will have his work cut out to take a second win in Mayo against the quality opposition lined up against him.
Welsh visitor Melvyn Evans makes his first trip to Mayo, but the Subaru WRC driver is the man to beat at the moment, having taken victory on the Dunlop National Rally Championship's opening round in Birr a fortnight ago. Can he make it two from two?
At three and four are championship stalwarts Niall Maguire and Kevin Barrett in their matching Triton Showers sponsored Subarus. Runner-up last year, Niall is a former multiple national champion and winner here, while Kevin has also achieved national success in the past year.
Seeded five is former Irish Tarmac Champion Derek McGarrity who has a busy week-end, competing on the Bishopscourt Stages Rally in Northern Ireland on Saturday, before heading to Mayo for Sunday's event.
The outside bet for victory could well be car number six, the Fiesta S2000 of Kilkenny's Craig Breen. This car forms the basis for World Championship Rallying from next year, and despite being less sophisticated and cheaper compared to the current batch of World Rally Cars, in the hands of young Breen it has been flying, beaten only by the Focus WRC of Gareth McHale on last month's Galway International Rally. Will we see it claim its first national win on Sunday?
Kevin Kelleher from Cork leads the Group N challengers, and will face stern opposition from the likes of Danny McBride, Sean Flanagan and Trevor Bustard. All of them though may struggle to beat the leading modified crews, with any of the top six crews in class 14 alone capable of finishing in the top five or higher. It is almost impossible to pick a favourite from the likes of Daniel McKenna, Manus Kelly, Maurice Moffett, Camillus Bradley, Damien Gallagher and Trevor Mulligan, while right down into the thirties and forties are competitors who would normally be seeded in the top twenty, such is the level of competition here this week-end.
Watch out also for the cars competing in the Gerry Ronan Transport Group A Challenge. Among those who will be in contention for the prize will be the Toyota Celica of Mark Courtney, the Subarus of Richard Burke and Gary McElhinney and the Escort Cosworth of Colin Flanagan.

Local Crews Ready For Action On Mayo Stages Rally
Once again, the Mayo Stages Rally has attracted a strong local entry, all of them hoping to make an impact on their home event.
Aaron MacHale is not only the highest placed Mayo & District Motorsport Club competitor but the number one seed. Can he repeat his win of two years ago?
Mervyn Deane from Williamstown wheels out the EMP Furniture sponsored class 13 Escort at number 33. Trevor Burke co-drives.
At 41 James Culliney and Eddie McLoughlin are the leading Bekan crew in the PC Plastering, Western Brand Chickens and Roachford Motors sponsored class 12 Escort.
The red class 12 Escort of brothers Colin and Michael Loughney is at 45 with support from JJ Griffith Car Sales, Hillside Service Station and PC Plastering.
Gerry Ronan and Connie Kirrane from Bekan wheel out the class 8 Mitsubishi Evo 6 at number 58.
From Ballisodare, husband and wife pairing Andrew Mullen and Elaine Doherty compete in another class 8 Mitsubishi, this one an Evo 8 at number 60.
At 61, Bekan's Sean McHugh's lines up his BMW M3 Compact in class 14.
Ambrose Gaughan from Foxford and Lahardane co-driver Derek Molloy achieved a number of giant-killing results last year in class 9, but face a race against time to fit a new engine and gearbox for this week-end. Starting at number 69, their Toyota Corolla is sponsored by TreeCare.ie, DM Tyres and TDP.ie.
Barry Cuffe from Belcarra wheels out the Elverys Sports and Cuffe Car Sales sponsored class 12 Escort at number 80, while Fiachra Moran and Shane O'Brien from Castlebar are at 84 in another class 12 Escort, carrying sponsorship from Moran Butchers of Belcarra, Corrib Oil, Express Windscreens, James Doyle Tyres, and APM Alarm Systems.
At 87 and 88 are the Crossmolina contingent, the Class 11 Honda Civic of Marcus Molloy and Damien Cleary with support from Murphy's Garage Ballina and Headford, Derek Molloy Tyres and Judges Honda Ballina just ahead of the class 7 Honda Integra of John Duffy and John Egan.
Ballinrobe's Ciaran Walsh and Aidan Gannon from Tubbercurry are at number 91 in their class 2 Honda Civic which is supported by D. Walsh & Sons Jetting Ballinrobe, Moran Butchers of Belcarra, Corrib Oil, Enda Loughlin, Murphy John Deere and Brian Rodgers Car Sales. After a class win on last year's Border Championship, a good result in Mayo may see another championship assault in 2010.
Another class 2 Honda Civic at number 95, that of Belmullet's Ciaran Kennedy and Paul McGinnis from Ballina. The pair have already opened their National Championship challenge with fifth in class in Birr two weeks ago.
Sponsored by West Tyres Ballinrobe and Shrule, Matthew Murphy from Shrule takes to the Mayo Stages in his class 11 Toyota Corolla after a long break from competitive action. John Burke co-drives.
At 100 David Carney from Aughagower wheels out his Citroen C2R2 Max competing in class 6.
At 101 Kenneth McHale from Knockmore forsakes his usual driving position in his Toyota Yaris to co-drive for Donegal's Eamonn McCafferty in a class 5 Ford Puma, while at 103 Westport's Ed Muldoon co-drives the Citroen C2R2 of English visitor Joe Shrimpton.
Padraic Roche and Paddy O'Hora from Killala are at number 107 in their class 12 Escort which is sponsored by Fortknox Security, Max Tyres and Carr's Ballina. Meanwhile Castlebar's Eoin McGreal has last year's Clerk of the Course Jonathan Rice co-driving at number 109 in a class 10 Vauxhall Chevette supported by Castlebar Tool & Plant Hire.
Niall Morley's Escort is at 111, the Knock / Bekan man with Simon McGuinness co-driving. One place behind are Otto Gropler and Paul McGlinchey from Killala in a class 5 Ford Ka.
Chrystal Kulkeen from Castlebar co-drives for Ruairi Maguire from Strabane at number 115 in a Honda Civic, while Killala's Fergal Loughney does similar duties in another Civic driven by Pauric McGee from Ballybofey at number 117.
Adrian and Aidan Fahy from Ballinrobe wheel out their class 11 Escort at number 121.
At number 126 Mayo & District Motorsport Club Young Driver Justin Ryan from Headford starts just his second tarmac rally in a class 11 Honda Civic. Dad John Paul Ryan co-drives.
And at number 133, Tom Jordan from Ballinrobe is out in his class 2 Honda Civic.
Best of luck and a safe day's rallying to all the local competitors.

Entry List Mayo Stages Rally 2010

1
2
3
4
5
6
7
8
9
10
11
12
14
15
16
17
18
19
20
21
22
23
24
25
26
27
28
29
30
31
32
33
34
35
36
37
38
39
40
41
42
43
44
45
46
47
48
49
50
51
52
53
54
55
56
57
58
59
60
61
62
63
64
65
66
67
68
69
70
71
72
73
74
75
76
77
78
79
80
81
82
83
84
85
86
87
88
89
90
91
92
93
94
95
96
97
98
99
100
101
102
103
104
105
106
107
108
109
110
111
112
113
114
115
116
117
118
119
120
121
122
123
124
125
126
127
128
129
130
131
132
133
134
135

Driver


Aaron MacHale
Melvyn Evans
Niall Maguire
Kevin Barrett
Derek McGarrity
Craig Breen
Kevin Kelleher
Daniel McKenna
Manus Kelly
Maurice Moffett
Danny McBride
Camillus Bradley
Michael O'Brien
Sean Flanagan
Damien Gallagher
Trevor Mulligan
Trevor Bustard
Mark Courtney
Eugene Ferry
Russell Woods
Victor Hunter
Raymond Conlon
Stuart Darcy
Anthony Hand
Neil Pierse
Samuel Kelso
Richard Burke
Gary McElhinney
Declan Boyle
Daniel Conaghan
Raymond Drury
Mervyn Deane
Gary Reidy
Michael Conlon
Daniel Harper
John McGettrick
Damian Toner
Gerry Smyth
James Browne
James Culliney
Jack Maguire
David Leonard
Mark Wedlock
Colin Loughney
Daniel Breslin
Llyod Hutchinson
Richard Moffett
Joe Connolly
Pat Price
Shane Maguire
Alan Sweeney
Chris Melly
Stephen Baxter
Thomas Carolan
Joe McGonigle
Rory Byrne
Gerry Ronan
Colin Flanagan
Andrew Mullen
Sean McHugh
Brendan McAree
Adrian Cannon
Stephen Furey
P.J Bonner
Terence McHugh
Colin Currid
Eamon McCrystal
Ambrose Gaughan
Rory Carroll
Patrick Bonner
Ian Hynes
Seamus Gallagher
Richard McGaugh
Walter Burke
Gary Gallagher
David Moffett
Kevin Kelly
Paddy Walker
Barry Cuffe
John Kelly
Paul Clarke
Alan Sheridan
Fiachra Moran
Roger Kennedy
Pakie Duffy
Marcus Molloy
John Duffy
Anthony Masterson
Michael Peoples
Ciaran Walsh
Dermot Cannon
Shane Briscoe
Paddy Boyce
Ciaran Kennedy
Mathew Murphy
Pa Bellew
Andrew Knox
Declan McShane
David Carney
Eamonn McCafferty
Peter McCarry
Joe Shrimpton
Vincent Collins
Seamus Doherty
Jonathan Thompson
Padraic Roche
Barry Gallagher
Eoin McGreal
Shane Timoney
Niall Morley
Otto Gropler
Barry Treanor
Alan Egan
Ruairi Maguire
Michael Carbin
Pauric McGee
Andrew Stewart
Kieran Sweeney
Stephen Bradley
Adrian Fahy
Gary Egan
Liam Branley
Damien Scanlon
Stevan Rushe
Justin Ryan
John Feeney
Thomas McGlinchey
Patrick Bradley
Avril Hynes
Derek Bolton
John Walsh
Tom Jordan
Martin McLoughlin
Eamonn McGuigan

Navigator


Dermot Falvey
Patrick Walsh
Enda Sherry
Sean Mullally
James McKee
Dai Roberts
Paddy Robinson
Andrew Grennan
Donall Barrett
Martin McGarrighty
Ambrose Given
Crawford Henderson
Martin Brady
Brian Miller
Paul Garry
Sean Hayde
Kenny Bustard
Mick Courtney
Derek Heena
Martin Byrne
Michael Doherty
James O'Reilly
Lee Jordan
Emmet Sherry
Enda O'Leary
Gareth Doherty
T.B.A
Damien Connolly
Brian Boyle
Trevor Graham
Sean Brunton
Trevor Burke
Paul Sheridan
Aidan Boyle
Paula Swinscoe
James McDermott
Paddy McCague
Gregory McQuillan
Terence Magee
Eddie McLoughlin
T.B.A
L Jordan
Adam Kinnade
Michael Loughney
Johnny Jordan
Kevin Flanagan
Laura Moffett
John Connolly
Stephen Price
Paul Kelly
Timmy Lunn
Daniel Melly
Karl Atkinson
Declan Smith
Niall Burns
Jeremy Patterson
Connie Kirrane
T.B.A
Elaine Doherty
T.B.A
T.B.A
Ivan Hernon
Niall McCalliog
Paddy Boyle
Patrick McHugh
Raymond Currid
Kevin Bann
Derek Molloy
Michael Melly
Anthony Bonner
Martin Collins
Leonard Craig
Ronan Flanagan
Alan Gibbons
Paddy Duffy
Andrew Spears
Paul Hegarty
T.B.A
Jason Flynn
Adrian Flynn
Gary Copperthwaite
Gerry Conlon
Shan O'Brien
Wendy Blackledge
Colin Duffy
Damien Cleary
John Egan
Tommy Clinton
Stephen Gallinagh
Aidan Gannon
John McLoone
Greg Campbell
Kevin Kearney
Paul McGinnis
John Burke
Willie Fitzpatrick
T.B.A
Bobby Trimble
Ray Fitzpatrick
Kenneth McHale
Patrick Gallagher
Ed Muldoon
Fintan Kilroe
Peter Byrne
Finbar Boyle
Paddy O'Hora
Diarmuid Dunne
Jonathan Rice
Niall Timoney
Simon McGuinness
Paul McGlinchey
Colm Connolly
Michael Haran
Chrystal Culkeen
T.B.A
Fergal Loughney
Tony Gallagher
Adrian Sweeney
Jonathan Gallagher
Aidan Fahy
Darragh Mullen
Joseph Devanney
Paul Wims
Liam Fleming
John P Ryan
Anne-Marie Carroll
Tony Curran
Gavin O'Donnell
T.B.A
Trevor O'Connell
Philip Walsh
T.B.A
T.B.A
T.B.A

Address


Dublin
Wales
Monaghan
Maynooth
Glengormley
Kilkenny
Clonakilty
Monaghan
Leterkenny
Monaghan
Convoy
Draperstown
St. Albans
Meath
Letterkenny
Kells
Donegal Town
Meath
Gweedore
Virginia
Creeslough
Clones
Bruckless
Smithboro
Galway
Letterkenny
Galway
Donegal
Glenties
Donegal
Baileboro
Williamstown
Limerick
Castleblaney
England
Ballymote
Armagh
Castleblaney
Letterkenny
Bekan
Castleblaney
Sligo
Cootehill
Ballyhaunis
Donegal
Wicklow
Monaghan
Kilkenny
Dublin
Monaghan
Kilmacrennan
Pettigo
Fermanagh
Meath
Donegal
Down
Bekan
Boyle
Ballisodare
Bekan Cross
Monaghan
Donegal
Donegal
Letterkenny
Portnoo
Sligo
Scotland
Foxford
Sligo
Donegal
Clonberne
Donegal
Caherlistrane
Williamstown
Donegal
Monaghan
Letterkenny
Carndonagh
Castlebar
Emyvale
Kells
Oldcastle
Castlebar
Antrim
Drumlish
Crossmolina
Crossmolina
Oldcastle
Derry
Ballinrobe
Glenties
Louth
Falcarragh
Belmulet
Shrule
Navan
Donegal
Donegal
Westport
Ballintra
Creeslough
England
Roscommon
Donegal
Cootehill
Killala
Curry
Castlebar
Donegal Town
Knock
Killala
Scotstown
Sligo
Strabane
Smithboro
Ballybofey
Convoy
Ballybofey
Killygordon
Ballinrobe
Sligo
Ballyshannon
Ballymote
Monaghan
Headford
Castlerea
Letterkenny
Letterkenny
Ballinasloe
Ballaghadereen
Tuam
Ballinrobe
Scotland
Derry

Car


Ford Focus WRC
Subaru Impreza S12
Subaru WRC
Subaru WRC S11
Subaru Impr WRC
Ford Fiesta S2000
Evo 9
Ford Escort
Ford Escort
Toyota Starlet
Evo 8
MK2 Escort
Ford Focus WRC 03
Subaru Impreza N12
Ford Escort
MK2 Escort
Evo 8
Toyota Celica
MK2 Escort
MK2 Escort
Ford Escort
Toyota Corolla
Toyota Corolla
MK2 Escort
Honda Civic
Ford Escort
Subaru
Subaru Legacy
MK2 Escort
MK2 Escort
Ford Escort
MK2 Escort
Mk2 Escort
MK2 Escort
BMW Mini
MK2 Escort
MK2 Escort
Ford Escort
Ford Escort
Ford Escort
T.B.A
Citreon Saxo
Ford Escort
Ford Escort
Toyota Corolla
Mini Cooper S
Toyota Starlet
Ford Escort RS
Subaru N12B
Subaru Impreza
Ford Escort
Vauxhall Chevette
Ford Fiesta R2
Ford Escort
Citreon C2R2
Evo 9
Evo 6
Escort Cosworth
Evo 8
BMW M3 Compact
Evo 9
Honda Civic
Toyota Corolla
Ford Focus
Ford Escort
Vauxhall Nova
Ford Escort
Toyota Corolla
Ford Escort
Ford Escort
Honda Civic Type R
Toyota Corolla
Ford Escort
Ford Escort
Ford Escort
Toyota Starlet
Ford Escort
Puegeot 206 Xsi
Ford Escort
Toyota Corolla
Ford Escort
MK2 Escort
Ford Escort
Peugeot 306
Honda Civic
Honda Civic
Honda Integra
Honda Integra
MK2 Escort
Honda Civic
Toyota Corolla
Honda Civic
Peugeot 205
Honda Civic
Toyota Corolla
MK2 Escort
Ford Escort
Honda Civic
Citreon C2R2
Ford Puma
Ford Escort
Citreon C2R2
Talbot Sunbeam
MK2 Escort
Ford Escort
MK2 Escort
Suzuki Swift
Vauxhall Chevette
Ford Puma
Ford Escort
Ford Ka
Peugeot 205
Ford Escort
Honda Civic
Peugeot 205
Honda Civic
MG ZR
Opel Corsa
Honda Civic EK4
Ford Escort
Subaru Impreza
Puegeot 205 cup car
Honda Civic
Ford Escort
Honda Civic
Honda Civic
MK2 Escort
Vauxhall Nova
Suzuki Swift
Subaru Impreza
Honda Civic
Honda Civic
MK2 Escort
Mk2 Escort

Class

8
8
8
8
8
4
4
14
14
14
4
14
8
4
14
14
4
15
14
13
13
13
11
11
11
13
15
15
14
13
14
13
14
13
14
13
14
12
13
12

6
11
12
11
9
11
14
4
4
11
13
6
9
6
4
8
15
8
14
4
2
11
14
12
9
7
9
12
12
3
11
12
12
11
11
13
6
12
10
10
14
12
7
3
11
7
7
12
2

2
13
2
11
9
11
2
6
5
13
6
11
11
11
12
9
10
5
11
5
10
10
6
10
2
6
9
2
11
11
6
2
10
11
11
11
10
9
11
6
2
11
Two TV Programmmes On Mayo Stages Rally

The McWilliam Park Hotel Mayo Stages Rally is set to receive unprecedented coverage with the news that the rally will be the subject of two separate television programmmes.
As part of the Dunlop National Rally Championship series, the well-established motorsport programme On The Limit Sports will feature a half-hour review of the Mayo Stages Rally. This programme will be shown on Setanta and other satellite channels such as Motors and Men & Motors.
Additionally, the Mayo Stages Rally will become the first event to be featured as part of a new series on terrestrial television channel TG4. Focusing on the HASS Border Rally Championship, the programme is set to be shown at the prime viewing time of 11.30 am on a Saturday morning a few weeks after the rally, and will be repeated later in the same week.
It means the Mayo Stages Rally will be one of the most widely covered rallies ever, great news for Mayo as well as sponsors, competitors and rally enthusiasts alike.


Mayo & District Motorsport Club Launches McWilliam Park Hotel Mayo Stages Rally 2010

At the official launch of the 2010 McWilliam Park Hotel Mayo Stages Rally, Mayo & District Motorsport Club outlined information about the event and some of the exciting innovations planned. These include a ceremonial start on the Saturday evening, a special competition for Group A cars from 1987 to 1997, and an opportunity to win a prize to co-drive World Rally star Mads Ostberg on the Mayo Stages Rally.
The club also outlined details of its collaboration with the Road Safety Authority (RSA) to promote road safety around the event. The RSA is bringing its Interactive Shuttle to Claremorris and will be open to the public over the rally weekend….

Speaking at the rally launch Mayo & District Motorsport Club Chairman Sean McHugh said, "It is great to welcome the rally to my own local area. Many thanks to the McWilliam Park Hotel which has provided us the opportunity to move to this location. With fresh stages for competitors to sample, it's a new era for the Mayo Stages Rally".
Clerk of the Course for the 2010 McWilliam Park Hotel Mayo Stages Rally, Eamonn Walsh said "Tonight's press launch has set a precedent for the Mayo Stages Rally, and we look forward to running a successful event on March 14. Many thanks to all our sponsors who have made the running of the 2010 Mayo Stages Rally possible".
Welcoming the rally to the Claremorris region John Cribben, Chairman of Mayo County Council said "I would like to thank Mayo & District Motorsport Club for inviting me to the launch of the 2010 Mayo Stages Rally. This is the first time the event has been held here in Claremorris. It is a huge event for Mayo and for the West of Ireland, bringing thousands of people here over the rally week-end, and will be a major boost to local businesses."
Sales and Marketing Manager of title sponsors The McWilliam Park Hotel David Glynn said "We are delighted to be associated with the 2010 Mayo Stages Rally. There has been great enthusiasm for the event so far as evidenced by the large turnout here tonight. Congratulations to Eamonn, Killian and their team for their ambition and hard work in bringing this event to this area. We look forward to welcoming all our visitors to Claremorris and the McWilliam Park Hotel on rally week-end."
Joe Corcoran, President of Motorsport Ireland said "It is wonderful to see a big crowd here tonight for the launch of the Mayo Stages Rally. With a young organizing team and some great sponsors in The McWilliam Park Hotel, Supermacs and Costcutters on board, the 2010 rally is shaping up to be an excellent event. The Mayo club has been to the forefront in promoting initiatives such as road safety in recent years, and having the Road Safety Authority Interactive Shuttle in Claremorris for the rally week-end, will continue to highlight this important message. I would also like to acknowledge Dunlop and Henderson Auto Sport & Spares for their continued contribution to the sport of rallying".
Speaking on behalf of the Road Safety Authority (RSA), leading rally competitor and RSA Advocate Aaron MacHale said "It is encouraging that there has been a reduction in road deaths in Ireland recently. However a lot of deaths are still related to speed and we need to continue to get the message across to drive carefully on public roads. I would like to thank Mayo & District Motorsport Club and Fleet Transport Magazine for inviting the RSA Interactive Shuttle to the Mayo Stages Rally, and for working with local schools and communities to promote the road safety message".
http://www.mayomotorsportclub.com/files/mayo_autocross_2010_promo_video1.wmv
Report from October Autocross:

Click here for Results


Lannon Wins Mayo Autocross, McGreal Takes Championship Title
Cathal Doyle
James Lannon from Boyle in Co. Roscommon achieved a long-held ambition on Sunday by claiming his maiden victory on Mayo & District Motorsport Club's final Autocross of the year. In doing so he became the fifth different winner of the popular loose surface series in as many events, in what has been an enthralling season of motorsport at the challenging 2.7 km circuit at Harrington's Quarry near Swinford.
It was also a successful day for local hero James McGreal whose third place finish was enough to ensure he retained the Frank Harrington Trophy for Overall Autocross Champion for the second successive year.

Winner of Mayo Autocross on Sunday, James Lannon negotiates the watersplash.


Once again an exciting day's action saw an incredibly close finish, with Lannon taking victory over the similar car of Peter McCullagh of Maynooth by a mere 0.08 seconds. Indeed after two runs, McCullagh had eased his way to the top of the leaderboard by over a second, but a determined effort from Lannon on the final test saw him take the win by the slimmest of margins. A regular at Mayo Motor Club's autocross events, the Roscommon man was delighted to have finally achieved the top podium position, after coming close on previous events.
For once James McGreal was unable to match the pace of the leading protagonists, finishing nearly four seconds adrift in third. However another consistent season which has included a win, two seconds and a fourth has ensured the Foxford man in his trusty Subaru Impreza has once again clinched the overall Autocross Championship ahead of Lannon and the winner of the previous round, Walter Burke.

Fourth place on Sunday went to Martin Tynan from Clones in another Mitsubishi, while in fifth was the leading two-wheel drive competitor Benny Quinn from Omagh, who also took the award for winning class 4 in his Escort. Clones man Michael Tynan was sixth ahead of the fabulous sounding JB Buggy of Jason Harron from Kesh who won class 6.
In 8 overall was one of the drivers of the day, Padraic Cawley from Coolaney beating a host of more powerful cars to win class two in a Peugeot 205. The Escort of Williamstown's Walter Burke suffered gearbox problems on his final run, finishing ninth and second in class 4, while Brian Dunlop from Clogher in Tyrone rounded out the top ten, taking third in class 4 in the process.

Other competitors picking up class awards included Ryan Donnelly from Beragh and Ciaran McCullagh from Maynooth, second and third respectively in class 2. Leroy and Nigel Mills from Trillick in Tyrone were first and second in class 1 in their shared Vauxhall Corsa ahead of Sean Mullervy from Drumlish. On her first visit to a Mayo Autocross, seventeen-year-old Amy Cox from Omagh impressed with her speed in an Escort and collected the ladies award. The Mayo & District Motorsport Club award for the leading club member was presented to Derek Bolton from Ballaghaderreen.

Click here for full results for Frank Harrington Challenge

---
Report from August Autocross

Click here for results


Burke Wins Mayo Autocross By A Whisker

An extraordinary close finish saw Walter Burke from Williamstown take victory on Mayo & District Motorsport Club's Loose Surface Autocross event on Sunday. The Ford Escort driver defeated James McGreal from Foxford by the smallest possible of margins – a mere one hundredth of a second!
A healthy field of forty competitors had assembled for round four of Mayo Motorsport Club's popular autocross series held at Harrington's Quarry near Swinford, with all eyes on James McGreal to see if the Subaru driver could repeat his victory of the previous round. The Foxford man wasn't long getting into his stride, setting a fastest time of 4:26.07 on the first of three timed runs. He was less than half a second up on nearest challenger Andrew Mackarel from Fermanagh, with the class 2 Vauxhall Nova of Maynooth's Ciaran McCullagh an incredible third overall – this despite breaking an engine mount, and up against much more powerful machinery.
Walter Burke languished in eighth place at this point, but things were to get worse for the Williamstown man. Clipping a bank, he failed to set a time on the second run, pulling out with damaged steering. McGreal meanwhile was on a mission, taking a whopping fifteen seconds from his first effort. Nobody could live with his pace, the Mitsubishi of Martin Tynan from Clones now the nearest rival, but nearly six seconds behind – a lifetime in motorsport terms.



On to the final run, and when McGreal pulled another two and a half seconds out of the bag to set a time of 4:08.24, most assumed that victory was his. That was to ignore former winner Burke however. Fired up after the disappointment of his second run, and with the Escort now back to full health, Walter positively flew around the course, stopping the clocks at 4:08.23, nearly twenty three seconds faster than his opening attempt. Victory was his, but it couldn't have been closer.
Andrew Mackarel took third in his Mitsubishi albeit over four seconds adrift of the leading duo, with James Lannon from Boyle in another Mitsubishi fourth. Martin Tynan was fifth ahead of the leading class 6 buggy of Joe Cullen from Wexford.
The top ten was rounded out by Michael Sweeney from Boyle in another Mitsubishi followed by the leading class 2 car – the Peugeot 205 of Padraic Cawley from Coolaney. Behind him Ciaran McCullagh had failed to set times on either the second or third runs, but his effort from the opening test was still good enough to net ninth overall and second in class 2. Another Mayo competitor was tenth, Shrule's Matthew Murphy putting in a fine drive in his Toyota Corolla to win class 3 in the process.
Other award winners included Ballinrobe's David Walsh and Mervyn Fahy, first and second in class 4 double-driving the same Opel Astra, while in class 1 Sean Mullervy beat his Drumlish team-mate Eamonn Brady by just over half a second in their shared Honda Civic. The Chris Culkeen award for highest placed Mayo Motorsport Club competitor went to Justin Ryan from Headford.
After a period of domination of Mayo autocross events by four-wheel-drive cars, Walter Burke proved on Sunday that a well driven rear-wheel-drive Escort is still a force to be reckoned with. The final round of the 2010 series takes place in October – will the 4WD men bounce back then? Cathal Doyle

Click here for results after round 3 in the Frank Harrington Challenge

---

Report from July autocross:

Click here for results


McGreal Returns to the top


Foxfords James McGreal returned to winning form at Harringtons Quary for the 3rd round of the Mayo & District Loose surface autocross 2010. It was the penultimate round of the 2009 championship when James last won. Since then he has been pipped to the post by Eamon Mimnagh twice and Mark Donnelly once but there was nothing that Eamon could do to reel in the Mayo man on the 4th of July event. James took the event by a convincing two second margin to his nearest rival.
That rival was Damian O'Hagan from Omagh in his Mitsubishi Lancer Evo 6. Damian set consistant 2 fastest times all day netting him second place overall. Next up was Andrew Mackarel in his older Mitsubishi Evo 5 gaining the last place on the podium by a scant .6 of a second from Eamon Mimnagh from Omagh.

Sligo's James Lannon brought his immaculate Mitsubishi Lancer Evo 9 home in 5 after setting the fastest time on the 2 run but unfortunately he was left in the dark on the 3 run posting a time over ten seconds slower than James McGreal winning time. James lannon has shown great pace over the last few events, a podium finish surely must not be far away for the Boyle man.
Stephen Dixon was the first two wheel drive home in an incredible 6 place overall, It was Stevens first time in Harringtons quarry but he showed his sheer talent as he set a scintillating time on his last run just .7 of a second behind the four wheel drive machine of James Lannon. Right on Stephens heels was Conor Kelly from Tyrone in his Nissan Sunny finishing just .6 of a second behind.
Williamstown's Walter Burke was next up in his Ford Escort Mark 2 as per usual Walter drifted his way around the 2.7km course in his tail happy car. He set his best time on his final run to net him 8 place overall. Over two seconds behind was Martin Tynan in his Mitsubishi Lancer.
Rounding out the top ten was Ciaran McCullagh the Meath man put in a stirling drive to clinch the final space inside the top ten.
Galway man Frank Byrnes swapped his single seater hillclimb machine and the tarmac of the hills for the gravel of Harringtons quarry and his Peugeot 206 Cup car. He finished the event in 12 place overall.
Second Mayo man home was Pat Higgins from Granard debuting his Subaru Impreza to a fine 13 place overall just .1 of a second behind Frank Byrnes.
Joe Cullen made the long trip from Wexford bringing his amazing motorcycle engined cart cross buggy. The buggy screamed its way around the track setting a time identical to Pat Higgins. Both drivers stopped the clocks at 4:26.77, Pat eventually finished one place in front after a tie breaker.
Next up in 15 place was Matthew Murphy from Shrule he was ahead of a host of Mayo Drivers: Derek Bolton finished 21 position, Alan Moran from Foxford had an incredible run in his class one Astra finished 22, Adrian Fahy from Ballinrobe was 23, Sean McHugh from Bekan had a torrid day being plagued by mechanical trouble in his Subaru and he finished 24. Mayo & Districts Motorsport Club young driver 2009 Justin Ryan was next in 25 after a bad day also.
Foxford's Stephen Doherty was two places behind in 27 place. Coming home in 28 place was Jared Gill from Bofeenaun in his Peugeot 205, four places ahead of the similar car of Peter MCManamon from Achill.
Eoin McGreal was another four places behind as his day was cut short with mechanical problems. Aidan Fahy from Ballinrobe finished in 40 position overall.
But the day and the overall honours were to belong to one man, James McGreal. The Foxford man shone through with is flat out driving style rewarding him with victory over a very stong field of drivers.

---
Report from June autocross:
Donnelly Heads Tyrone Top Three Triumph On Mayo Autocross

Click here for Results

On his first visit to Mayo & District Motorsport Club's Loose Surface Autocross at Harrington's Quarry near Swinford, Mark Donnelly from Omagh in Co. Tyrone belied his inexperience to claim victory in his Mitsubishi Evo 8. In doing so he emulated the success of his name-sake and neighbour, that Mark Donnelly who is now forging a successful career in Citroen C2R2s having tasted victory on Mayo Autocross events in 2007.
Indeed it was a successful day all round for Omagh competitors as Eamonn Mimnagh and Damian O'Hagan, double driving the same Mitsubishi Evo 5 took second and third respectively.
James McGreal from Foxford in a Subaru Impreza was the highest placed local finisher in fourth after holding second for much of the day, with James Lannon from Boyle in an Evo 9 rounding out the top five.
Over 20 seconds off the pace on the opening of three runs, Mark Donnelly, fresh from his third place finish on the previous week-end's Mourne Rally, rapidly got to grips with the challenging circuit, on a day when heavy rain showers made conditions difficult for competitors.

Mark Donnelly receiving his trophy for fastest drive of the day from Secretary Kathleen Kennedy and Clerk of the Course Brendan Walsh.

An improvement of over 19 seconds on his second run moved him into contention for a strong finish, but it was his final run of 4 minutes 19.24 seconds, taking another 8 seconds from his previous run that nobody could match. Eamonn Mimnagh, the winner of the opening Mayo Autocross last month, was the nearest challenger but his time was still over 1.5 seconds off the pace of his young rival.
With four wheel drive machinery dominating the leaderboard, another former winner Conor Kelly, also from Tyrone, was the top two wheel drive finisher in his class 2 Nissan Sunny ahead of the class 4 Escort of Williamstown's Walter Burke.

Class 1 was won by Glen Irwin from Castlederg ahead of Foxford duo Alan Moran and Stephen Doherty. In class 2 Ciaran McCullagh from Maynooth and Brendan Corcoran from Castlebar claimed the runner's up positions behind Conor Kelly.
Matthew Murphy from Shrule won class 3 ahead of the similar Toyota Corolla of Allen Higgins from Headford and Peter Conroy from Kilmaine. The class 4 runnner's-up spots were filled by Benny Quinn and Sammy Hamilton, while Joe McHale was the sole representative in class 6 in his fabulous sounding buggy.
Achill's Brian Lavelle claimed the award for Best Mayo & District Motorsport Club member for the second successive event.
With only three weeks to the next Mayo Loose Surface Autocross on July 4th, planning for the event is already well under way. With two different winners from two events, who will break the Tyrone stranglehold in 2010?

Brian Lavelle accepting his award as highest placed Mayo Club competitor from Chrystal Culkeen.

Photos from June 13th Autocross in Harrington's Quarry Kilkelly 2010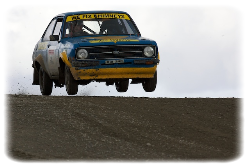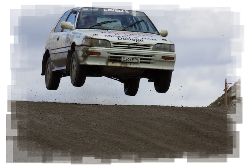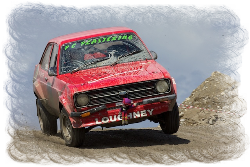 ---
Report from May Autocross 2010:

Click here for results

Mimnagh Wins Autocross Opener
Cathal Doyle

Eamonn Mimnagh from Enniskilen, Co. Fermanagh beat all challengers to claim victory on Mayo & District Motorsport Club's Loose Surface Autocross on Sunday. Driving a Mitsubishi Evo 5, he had to do it the hard way, coming from behind on the final run to beat local favourite James McGreal.
A strong entry of 51 competitors had gathered at Harrington's Quarry near Swinford for the first of five autocross events to be held this year. Clerk of the Course Brendan Walsh and his team had once again laid on a superb course, with each competitor getting three runs of two laps over the demanding route.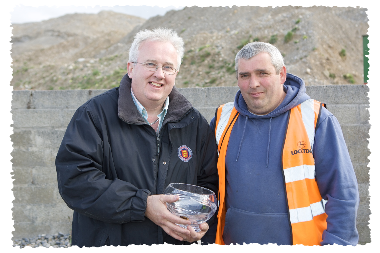 Mimnagh outlined his intentions from the start, setting a time two seconds faster than the Subaru of James McGreal on the opening run, with another Fermanagh visitor, Francis Fee, a further three seconds back. The tables were firrmly reversed on the second run however, with the Foxford man taking nearly ten seconds off his first attempt to lead the Fermanagh duo by two and three seconds respectively.

With hopes high for a home win, McGreal pulled out all the stops on the final run to improve his time by almost another four seconds. It was not enough though. Eamonn Mimnagh put in a dazzling final run in the white Mitsubishi to take almost eight seconds from his previous best, and record victory by two seconds. Behind the battling duo another local – Walter Burke from Williamstown – also reserved his best for last, not only taking third overall ahead of Francis Fee but also winning class four and finishing highest placed two wheel drive competitor in his Ford Escort.
Away from the leading protagonists, competition was just as fierce in the various classes. Behind Water Burke, Enniskillen pair Neil Harron and Ronnie Coulter took the remaining awards in class 4. Nobody could match Conor Kelly in class 3, but locals Matthew Murphy from Ballinrobe and Allen Higgins from Headford kept the Tyrone man on his toes throughout the day to claim the runner-up positions in the category.
Ciaran McCullagh from Maynooth claimed class 2 ahead of Lauris Zdanovics from Oldcastle, while Castlebar's Brendan Corcoran recovered well from not setting a time on the opening run to take third in class. Of note was young Brian Lavelle from Achill who put in one of the drives of the day to finish fourth in class in his Toyota Corolla. In class 1 Glen Irwin from Tyrone took victory, with Alan Moran from Foxford and Andy Walsh from Ballinrobe maintaining local honour with second and third respectively.
A dramatic start then to the Mayo Autocross season. Last year, James McGreal took victory on three of the five events and claimed the Frank Harrington Trophy for overall Autocross Champion. The Foxford man clearly has carried that form into 2010, but with a host of challengers lining up to dethrone him, he faces a tough batte to retain his title. Round two awaits on June 13th.
McHugh Conquers Kerry

Bekan man Sean McHugh and Co-Driver Niall Morley took a respectable 38 place overall on the 2010 Banna Mini Stages Rally Co. Kerry. The two Mayo & District Motorsport Club members were the sole Mayo competitors to tackle the tough event on the Kerry coast.
After a long drive to Kerry and an uneventful recce of the stages on Saturday, the team took an early night in preparation for the gruelling rally the following day. A reasonable eleven o clock rise on Sunday morning allowed the more social competitors a sleep-in but Sean, Niall and the team were up early and ready for road.
This is the second time that Niall has navigated for Sean and the pairing seems to have really hit it off gaining confidence and speed with every stage. It has been an unlucky year for Sean who didn't finish five out of seven events that he started due to mechanical issues, so he was really hoping for a good result in Kerry to finish the year on a high point.
Unfortunately Lady Luck was not on their side, as on the road section to the first stage the car developed a misfire. This was a disastrous occurrence. They crawled through the first eleven-kilometer test losing buckets of time on their rivals in the process.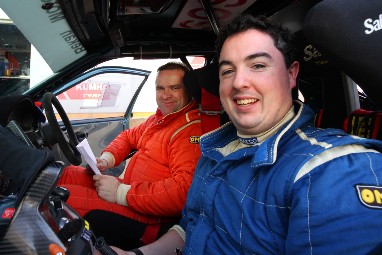 The wounded BMW limped back to the first service in Ardfert where the team descended on it to try and rectify the problems. The short twenty-minute service was too short however and the team could not cure all the cars ailments.
Even though the car was slightly better the pair found themselves running well down the order among slower competitors and this further hampered them as they were held up. A reasonable time through the second and third stage saw them claw back some valuable places on the leader board. This was not helped by an uncharacteristic mistake by Sean that saw the pristine BMW mount a Kerry ditch, with minimal damage but some time loss.
They arrived at the second service halt in 40 place overall, a remarkable achievement in the face of great adversity. Luckily the team was able to diagnose the problem with the engine and rectify it inside the allotted time. It was all too late for Sean and Niall, with only one stage remaining they would not be able to make sufficient time back on their rivals.
But with the car now in perfect condition the Mayo men blasted off the start line of the final stage with a point to prove. Within a short number of kilometers they caught and passed a slower competitor. They pressed on as fast as they dared catching and passing another car before the end of the end of the stage. The glorious sounding BMW echoed between the Kerry hedgerows as Sean wrestled with the steering, the powerful car difficult to handle in the wet and slippery conditions.
The sterling drive on the final stage saw them climb another two places on the leader board to a admirable 38 overall considering all the mechanical maladies it begs the question what could have been?
Sean and Niall were quite happy at the finish of the event, relieved to have finished as it had been a tough day of rallying, "The stages were very slippery, it was a pity about the mechanical problems but that's rallying!"
It was quite a successful trip for the Mayo men as they claimed 5 in class and 38 overall. Sean would like to thank his dedicated team, and Niall Morley who guided him excellently between the ditches on the stages.
Mayo Competitors Claim Class Awards On Sligo Rally

Ambrose Gaughan / Derek Molloy and David Carney / Ray Fitzpatrick upheld local honour on Sunday's Sligo Stages Rally, both crews recording top finishes in their respective classes.
A large Mayo contingent descended on Sligo for the popular event, round 7 of the Dunlop National Rally Championship and round 5 of the HASS Border Championship. The rally was won by Welsh visitor Melvyn Evans to add to his success on the Mayo Stages Rally earlier this year. Niall Maguire and Kevin Barrett finished second and third respectively.
Driving a Toyota Corolla, Ambrose Gaughan from Foxford and his co-driver Derek Molloy from Lahardane were victorious in class 9 for their second successive event. The pair finished in 32nd place overall.
Young Augagower driver David Carney put in a very strong performance to finish 35th overall and take second in class 6 in his Citroen C2R2 Max. After problems on the opening stage where he dropped well over a minute to the class leaders, he recovered well to finish only seven seconds behind the eventual category winner, taking 35th place overall.



Despite having no brakes for the last few stages Derek Bolton from Ballaghadereen and his co-driver Trevor O'Connnell managed to bring their Subaru Impreza home safely in 70th place overall. Also recording a finish was Killala navigator Fergal Loughney who co-drove steered the Honda Civic of Pauric McGee to 66th overall and 5th in class 2.
Among those who failed to see the finish flag were Mervyn Deane and Trevor Burke from Williamstown who retired with propshaft problems on their Escort. A broken wishbone caused the demise of Sean McHugh and John Rowland after stage seven, but the Bekan / Crossmolina pairing were encouraged with their stage times up to that point. Marcus Molloy from Crossmolina and Aidan Gannon from Tubbercurry had been going well until an off on stage five, while other local retirements included Keith McFadden / Brian Harrington, Barry Cuffe / Jason Flynn, Adrian and Aidan Fahy and Kieran Kennedy / Paul McGinnis.
Murphy Claims Top Prize On Galway Grass Autocross

Sixteen year old Noel Murphy from Shrule put in a remarkable performance on last week-end's Galway Grass Autocross event held at Craughwell. Driving a one litre Nissan Micra with support from West Tyre Ballinrobe and Shrule, the young Mayoman recorded the fastest time of the day on Saturday for a saloon car. Putting the skills he developed last year when he won the National Junior Autocross Championship to good use, Noel made the most of the slippery conditions to defeat many far more experienced drivers in more powerful machinery.
With drier conditions on the second of the two day event, the advantage was back with the more powerful cars, but another strong performance saw Murphy almost claim another win, narrowly losing out to the Honda Civic of Cathal Leonard by a mere 0.24 seconds.
Mayo Competitors Win Drive of the Day on Cavan Rally
Ambrose Gaughan from Foxford and his Lahardane co-driver Derek Molloy put Mayo rallying firmly in the spotlight on Sunday by clinching the prestigious HASS Border Rally Championship Drive of the Day Award on the Cavan Stages Rally.
Competing in a Toyota Corolla, they won the award by being the fastest competitors in class 9 on special stage 4 of the rally, round five of the Dunlop National Rally Championship, and round 3 of the HASS Border Rally Championship.

Presented at each of the six rounds of the 2010 Border series, the HASS Drive of the Day Award is a very popular and highly competitive challenge within the overall rally.
A class and a special stage are selected at random before the start of the event, with the winners being the fastest competitors in the class on that stage to subsequently finish the rally.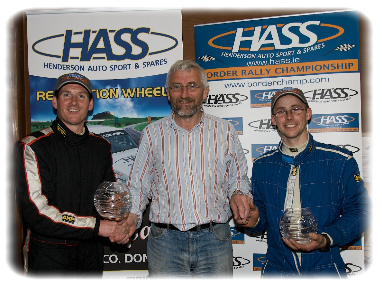 John Duffy, registrar of the Border Rally Championship congratulates Ambrose Gaughan and Derek Molloy on winning the HASS Border Rally Championship Drive of the Day Award.


Not that Ambrose and Derek had been too focused on winning the award as they tackled the stage. Moygownagh native Derek recounts "We were just concentrating on improving our times from the opening run. It was only when we realised that we had taken twenty seconds off our time from the first run over the stage that we remembered that it was counting towards the Drive of the Day."
Their time of ten minutes forty seconds proved to be second fastest in the class, the indecently rapid Mini of Lloyd Hutchinson and Kevin Flanagan setting the category benchmark. But to finish first, first you have to finish as the old adage goes, and as Ambrose and Derek arrived back at rally headquarters the Hotel Kilmore, it was to find that their rivals had fallen by the wayside. It meant the Mayo duo found themselves joining rally winners Tim McNulty and Paul Kiely on the finish ramp where they were interviewed by compére Doughie Hughes and presented with their Drive of the Day trophies. And to complete a successful day's rallying Ambrose and Derek also won class 9 on the rally by a comfortable margin of almost one minute.


…..for more news on Cavan Stages Rally 2010 go to Cavan Stages Rally 2010.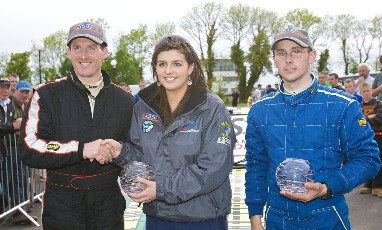 A delighted Ambrose Gaughan and Derek Molloy arrive back at rally finish to find they have won the HASS Border Rally Championship Drive of the Day Award.

Ambrose and Derek are presented with their trophies by Brenda Flynn representing the Border Rally Championship Committee.
Other Mayo & District Motorsport Club members had varying levels of success in Cavan. Williamstown's Mervyn Deane and Trevor Burke overcame brake and fan belt problems to bring their Escort home safely in 19th overall position and sixth in class 13. Killala's Fergal Loughney co-driving for Pauric McGee had been as high as first in class 2 but the pair lost over four minutes trying to get past another stricken car on stage 6 pushing them down to 72nd overall and 6th in class. Happier times though for Chrystal Culkeen from Castlebar who co-drove Donegal's Eamonn McCafferty to second in class 5 and 74th overall.
The hard luck story of the rally went to Bekan's Sean McHugh and John Rowland from Crossmolina. After suffering a series of retirements due to mechanical failures on recent events, the pair were desperate to record a finish in the fabulous sounding BMW M3. All was on course for a morale boosting result until, mid-way through the final stage, a rear driveshaft cried enough. Cue another retirement with the finishing line in sight. So near and yet so far.
Success For Mayo Competitors on Killarney International Rally
Cathal Doyle
Carrowmore-Lacken native Paul McGee is well on his way to clinching the prestigious 2010 Kick Energy Fiesta SportTrophy (FST) Ireland Championship. It follows another successful event for the Donegal based co-driver on this week-end's Killarney International Rally. Navigating for Monaghan's Stephen Wright, the duo took a dominant series victory in Kerry, their third successive win from the three rounds in the FST championship to date. With five rounds from six counting towards the title, Stephen and Paul are now in a very strong championship position ahead of June's Donegal International Rally. The winners of the FST Championship will get a Ford works supported drive in the 2010 Condroz Rally, the final round of the Belgian Rally Championship.

Another Mayo competitor putting in a strong performance in a one make series in Killarney this week-end was Shane Buckley. The Ballyhaunis man is competing in the Citroen Racing Trophy championship in his C2R2 Max. Despite some problems with power steering, Shane, who was co-driven by Meath's Thomas Maguire, was consistently on the pace throughout the event, and finished in a very creditable 3rd in the series and an impressive 13th overall. Another Mayo man, David Carney is also taking part in the championship, and the young Aughagower man brought his Citroen home safely in 22nd overall in the National section of the rally.
In the full International Rally, Mayo and District Motorsport Club's Aaron MacHale fought back well over the closing stages in his Ford Focus WRC to claim second overall behind event winner Denis Cronin. Another Mayo competitor to make his mark was Kiltimagh's John Higgins, who co-drove Cork's Brian O'Mahony to 6th overall as well as finishing the highest placed two wheel drive car in their Renault Clio S1600.

Top Finish For Buckley on Midland Rally


Cathal Doyle
Ballyhaunis rally driver Shane Buckley brought his Citroen C2R2 Max home in a fine 8th place overall on Sunday's Moto Midlands Stages Rally. As well as winning class six by nearly three minutes, Buckley and co-driver Thomas Maguire from Meath were the second highest placed front wheel drive finishers on the Rooskey based event. Indeed they had been as high as 5th overall before losing time on the last batch of stages with a wrong tyre choice.
Having entered the Midland Stages as a shakedown for this week-end's Circuit of Ireland Rally, Buckley will be confident of a strong result on the world famous Easter classic. The Circuit is the second round of the prestigious Citroen Racing Trophy Ireland Championship, and having finished 3 overall on the opening round in Galway in a lower specification C2R2, Shane has now upgraded to the more competitive C2R2 Max that the majority of his rivals are using. With the strong Midland Stages result under his belt, hopes are high for another top finish this week-end.
Also competing on the Midland Stages Rally were Ballinrobe's Adrian and Aidan Fahy who were pleased to bring their Ford Escort safely home in 37th place overall.
Photo courtesy of Ciara Buckley.