Gearing

up for Mayo Stages Rally 2015
Gearing Up for Hotel Ballina – Kennedy Motors Mayo Stages Rally 2015

Mayo & District Motorsport Club are delighted, under the guidance of clerk of the course Padraic Roche, to announce plans for the 2015 Mayo Stages Rally which takes place on Sunday March 8th.
It's a mixture of old and new for 2015 as, for the third year in succession, the Mayo Stages Rally will be based in the North Mayo town of Ballina. However competitors will face the challenge of three entirely new stages, each to run three times. Offering a total distance of approximately 116 stage kilometres and 127 road kilometres, they look set to provide a challenging test for competitors.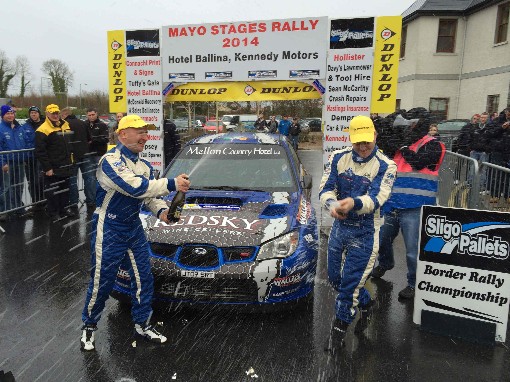 The Club is delighted to welcome on board again Hotel Ballina and Kennedy Motors as joint main sponsors of the 2015 Mayo Stages Rally and thank them for their support.
Hotel Ballina is once again Rally headquarters for the weekend. Just off the N26, but close to the town centre and with scrutiny, trailer park and Parc ferme adjacent to the hotel, this modern four star facility is ideally situated for easy access from all locations, and has proved to be a popular location with competitors and visitors to the rally in the past two years.
Exceptional accommodation deals are available at Rally HQ, Hotel Ballina, for crews and followers alike. Bookings and information at 096-23600
After a Rally Show in Ballina town centre on Saturday, March 7th, the event proper begins on Sunday morning when the cars leave parc-ferme.
The event is round one of the 2015 Sligo Pallets Border Rally Championship.