Hass

Drive Of The Day Winners Cavan 2010
Mayo Competitors Win Drive of the Day on Cavan Rally
Ambrose Gaughan from Foxford and his Lahardane co-driver Derek Molloy put Mayo rallying firmly in the spotlight on Sunday by clinching the prestigious HASS Border Rally Championship Drive of the Day Award on the Cavan Stages Rally.
Competing in a Toyota Corolla, they won the award by being the fastest competitors in class 9 on special stage 4 of the rally, round five of the Dunlop National Rally Championship, and round 3 of the HASS Border Rally Championship.

Presented at each of the six rounds of the 2010 Border series, the HASS Drive of the Day Award is a very popular and highly competitive challenge within the overall rally.
A class and a special stage are selected at random before the start of the event, with the winners being the fastest competitors in the class on that stage to subsequently finish the rally.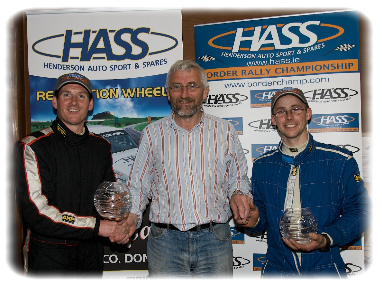 John Duffy, registrar of the Border Rally Championship congratulates Ambrose Gaughan and Derek Molloy on winning the HASS Border Rally Championship Drive of the Day Award.


Not that Ambrose and Derek had been too focused on winning the award as they tackled the stage. Moygownagh native Derek recounts "We were just concentrating on improving our times from the opening run. It was only when we realised that we had taken twenty seconds off our time from the first run over the stage that we remembered that it was counting towards the Drive of the Day."
Their time of ten minutes forty seconds proved to be second fastest in the class, the indecently rapid Mini of Lloyd Hutchinson and Kevin Flanagan setting the category benchmark. But to finish first, first you have to finish as the old adage goes, and as Ambrose and Derek arrived back at rally headquarters the Hotel Kilmore, it was to find that their rivals had fallen by the wayside. It meant the Mayo duo found themselves joining rally winners Tim McNulty and Paul Kiely on the finish ramp where they were interviewed by compére Doughie Hughes and presented with their Drive of the Day trophies. And to complete a successful day's rallying Ambrose and Derek also won class 9 on the rally by a comfortable margin of almost one minute.


…..for more news on Cavan Stages Rally 2010 go to Cavan Stages Rally 2010.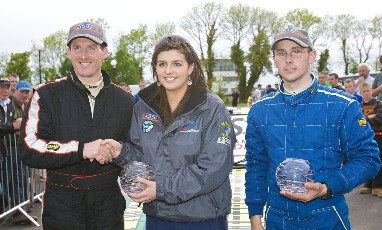 A delighted Ambrose Gaughan and Derek Molloy arrive back at rally finish to find they have won the HASS Border Rally Championship Drive of the Day Award.

Ambrose and Derek are presented with their trophies by Brenda Flynn representing the Border Rally Championship Committee.