Valvoline

Forestry Championship Spreads to Mayo Forests!
This Sunday sees the sixth round of the 2015 Valvoline Motorsport Ireland National Forestry Championship, the Mayo & District Motorsport Club's- Mayo Mini Stages- Forest Rally, based in beautiful Ballina.
Clerk of the Course Trevor O'Connell and his team have brought forestry rallying back to the area after a fifteen year absence, and there is great enthusiasm for this important penultimate championship round. The rally is designed as a user friendly event with centralised service in Ballycastle on tarmac and Rally HQ, Crockets on the Quay in Ballina. Coupled with a 40km compact loop of stages, the stage is set for another chapter in this intriguing Valvoline series.
For championship leader Mick O'Brien in his Focus WRC, this penultimate round is crucial, especially after a drama filled Lakeland Stages event, where Mick struck trouble and finished back the field and Josh Moffett in his Evo 9, took a well-deserved second place and a useful haul of points. The calculators at the ready, and it's all a lot closer than the thirty-one point margin reflected in the overall points tally. With Mayo new to everyone it's a level playing field, and the question is will the stages suit the O'Brien combination in the Focus WRC, or the surprisingly nimble Gerry McGarrity built Group A Evo of Josh Moffett? Bearing in mind Josh is contesting he Cambrian Rally the day before in his Fiesta WRC, it's going to be a hard task for Mick O'Brien. "I haven't really weighed up what way to play it" said Mick. "The stages will be new to everyone and probably haven't been used for a long time, so we don't know what they are like. It's whether to go flat out or make sure we finish it. It certainly is a good way to end the season with the title still in contention!"
Micky Conlon has wrapped up the Valvoline 2wd title, after a season with remarkable consistency to date, as well as some impressive overall performances which see him still lie second in the series before dropped scores are counted. Second place still has to be decided, in the two wheel drive race, with the MK2 Escort's of John Gordon and Hugh McQuaid very much in the hunt.
The Junior battle is fascinating, with the championship turning on its head on the Lakeland Stages event. Patrick O'Brien had made a rapid start in his C2 R2, but slid off on the final stage, leaving Ian Downey in his Corsa the delighted recipient of the two Kumho Tyres from Ears Motorsport Ireland. Second placed Alan Moran in his 206 Cup Car now moves into the coveted Junior series lead, just four points ahead of O'Brien with Derek Mackrel now third, joint one point ahead of Dylan Curley.
It could still all go down to the season finale in November on the Glens of Antrim event, for the overall and junior honours.
Valvoline Motorsport Ireland National Forestry Rally Championship Points after Round Five:
1 Michael O'Brien 91pts
2 Michael Conlon 78
3 Gerard Lucey 64
4 John Gordon 60
= Josh Moffett 60
6 Andrew Fanning 53
7 Niall Henry 52
8 Hugh McQuaid 43
9 Owen Murphy 42
10 Ian Graham 41
For more information including registration details for the series visit- www.irishforestrally.com
F: Irish Forestry Championship T:@IrlForestchamp
Official Press Release issued by Andrew Bushe Promotions
Copyright credit www.barronpix.com
Michael O' Brien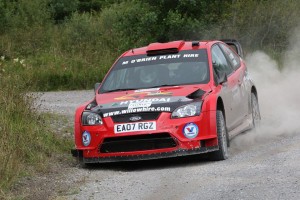 Alan Moran